2022
Graudina and Kravcenoka regain EuroBeachVolley gold
Latvia is back at the top of the continent in women's beach volleyball after the country's elite team of Tina Graudina and Anastasija Kravcenoka won gold at the CEV EuroBeachVolley Munich 2022 on Saturday.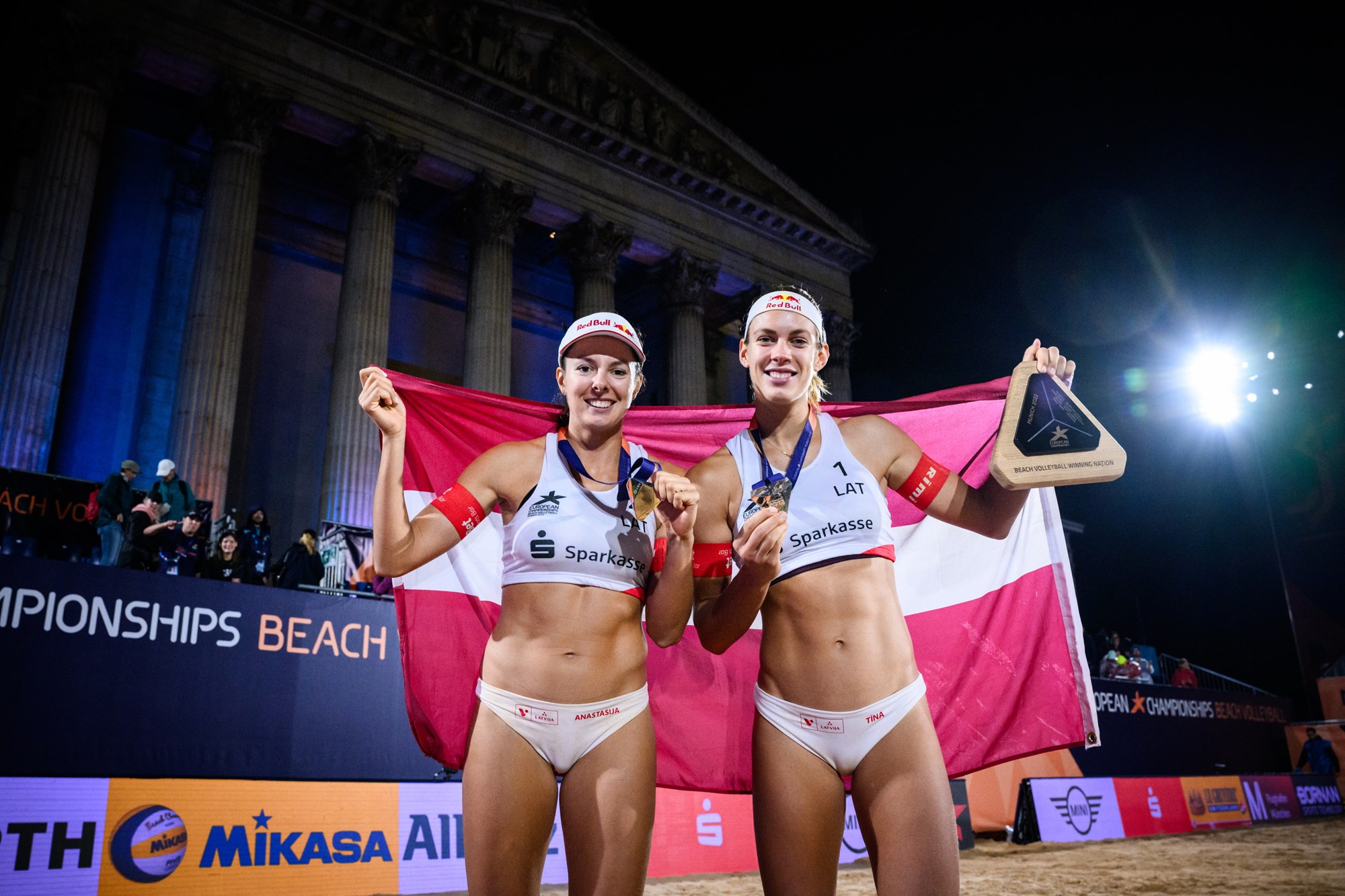 Graudina and Kravcenoka pose with the Latvian flag and their medals at the Königsplatz
The two, who had become European champions for the first time in 2019, in Moscow, secured a dramatic gold medal match victory at the iconic Königsplatz after dealing with a long weather delay due to a strong storm that hit the German city.
When they could finally get on the court, Graudina, 24, and Kravcenoka, 25, came from behind to take down the 2021 EuroBeachVolley winners, Nina Brunner and Tanja Hüberli of Switzerland, in an exciting three-setter (18-21, 21-15, 15-11) that brought the women's tournament to an end.
"We're very proud! This is unbelievable, a really magical moment for us!"
Anastasija Kravcenoka
EuroBeachVolley winner
The two, who had finished fourth in last year's EuroBeachVolley in Vienna, gave Latvia its fourth gold medal in the tournament, following their own victory three years ago and the ones of Inese Jursone and Inguna Minusa in 2009 and Aleksandrs Samoilovs and Janis Smedins in 2015. Graudina and Kravcenoka are, however, the first Latvian players to win multiple gold medals in the event.
The Latvians were nearly flawless in this week's tournament, winning all of their six matches in Munich while dropping only one set, exactly in the gold medal match. Most impressively, they knocked out all three teams that prevented them from standing on the podium last year in the Austrian capital, downing bronze medallists Karla Borger and Julia Sude of Germany in the quarterfinals, runner-ups Raisa Schoon and Katja Stam of the Netherlands in the semifinals and the Swiss champions in the gold medal match.
"I think we did a good job in adjusting after the first set. Switzerland is a really strong team and we always have big battles with them. It's very nice to finally come out on top."
Tina Graudina
EuroBeachVolley winner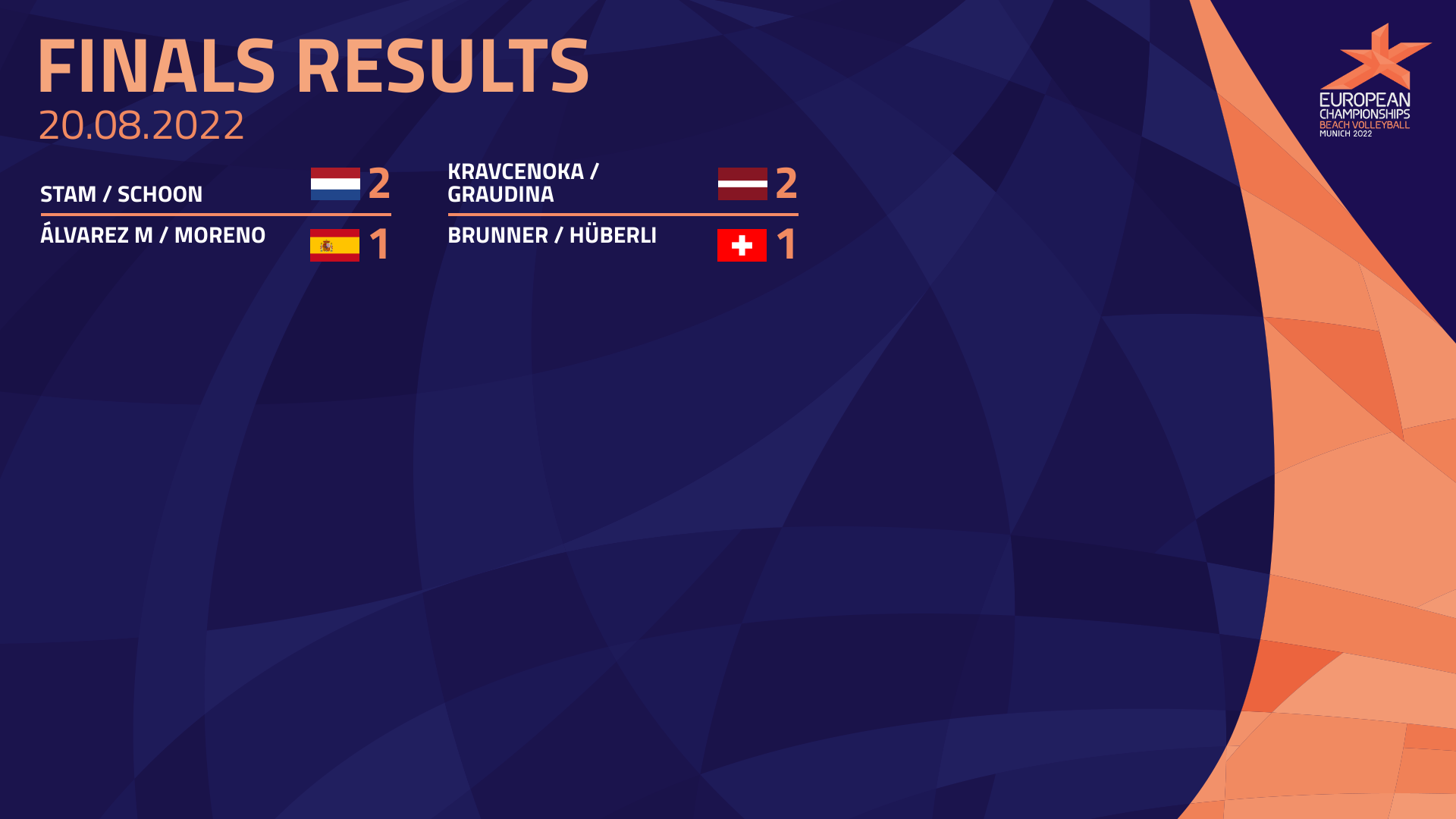 Although they couldn't give their country its third-straight and fourth overall EuroBeachVolley title, Brunner and Hüberli kept Switzerland on the podium for a third consecutive edition of the tournament. They also won their third medal as a team, after taking silver in 2018 and gold last year.
Schon and Stam had a lot of work in the bronze medal match against the sensations of the tournament, young Spanish Daniela Alvarez and Tania Moreno, needing all three sets (19-21, 24-22, 15-11) to top the 20-year-olds, who are the reigning U22 European champions.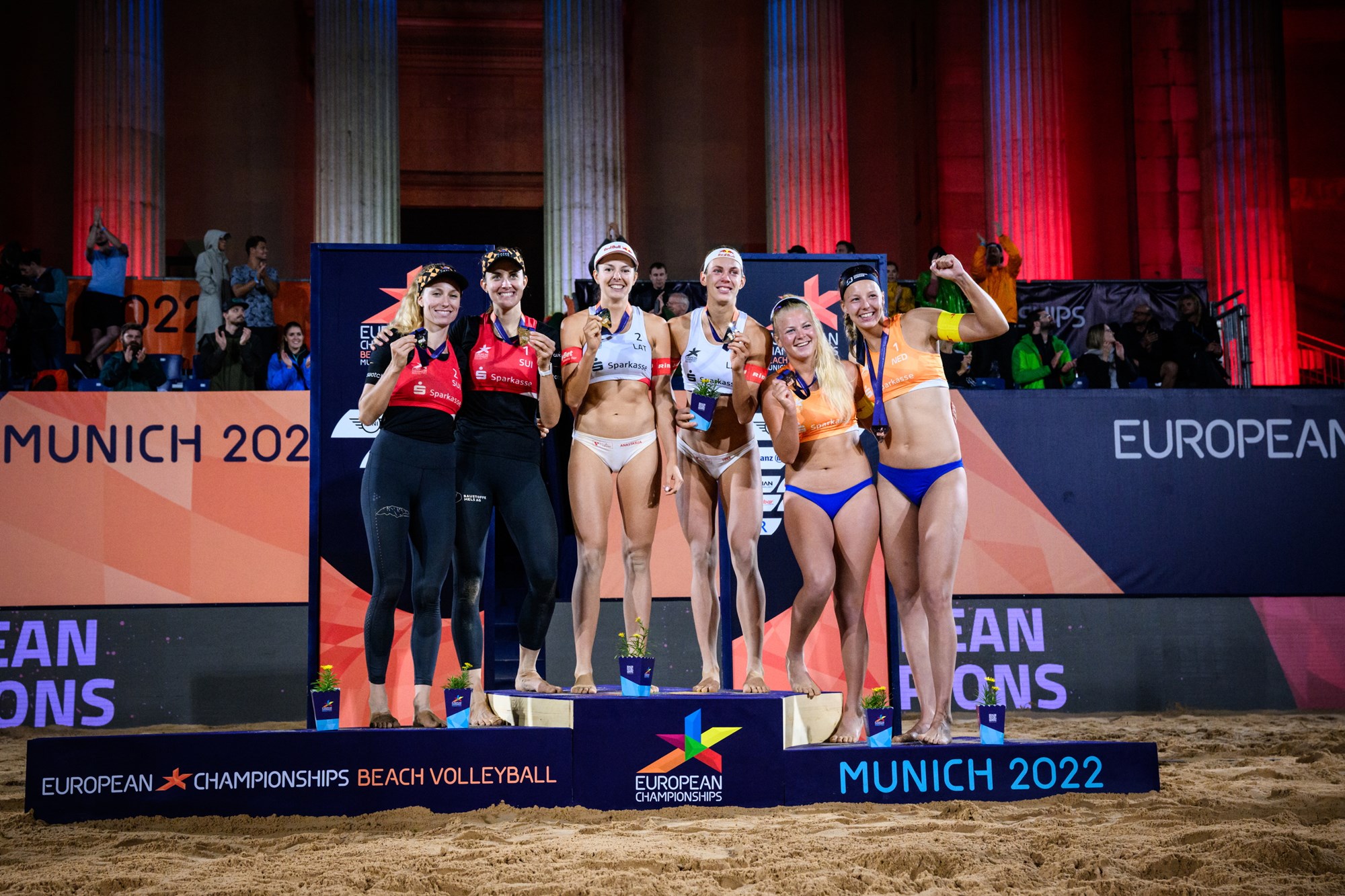 Duos from Switzerland, Latvia and the Netherlands at the podium in Munich