The 'cream of the crop' in European Beach Volleyball will travel to Jurmala in less than a month for the 2020 edition of EuroBeachVolley – the only major Beach Volleyball competition to take place this year after the many disruptions caused by the coronavirus pandemic.
The entry lists resulting from the CEV Country Ranking as of August 17, 2020 feature former European champions, reigning world champions, as well as many up-and-coming teams from a total 17 countries. Beach Volleyball fans can start counting down the days to September 15 when action will begin at the iconic Majori beach in Latvia's most popular seaside resort!
The men's starting field is a truly star-studded one, including the reigning European and World champions – i.e. Anders Mol/Christian Sørum of Norway and Oleg Stoyanovskiy/Viacheslav Krasilnikov of Russia, respectively. Two countries – Germany and Austria – will field the maximum of four teams each – the same figure boasted by hosts Latvia.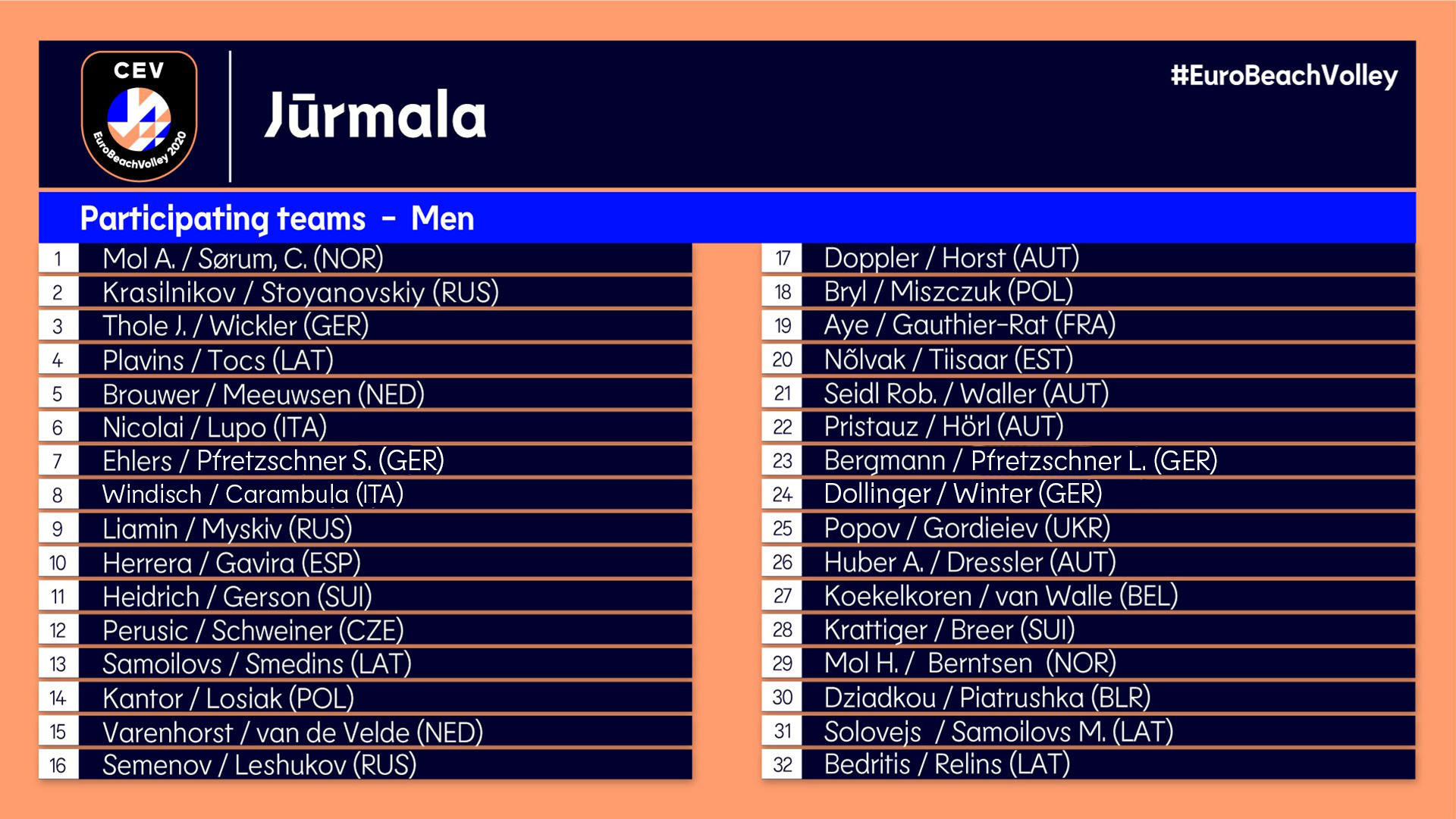 Apart from Mol/Sørum, who will be chasing a third straight title in the competition, the entries from 16 countries include a number of former European champions – such as Italy's Paolo Nicolai and Daniele Lupo, who claimed continental gold in 2014, 2016 and 2017. The Italians will return to the place – Jurmala – where they celebrated their last European triumph three years ago. Home heroes Janis Smedins and Aleksandrs Samoilovs will be trying to use the home-court advantage to repeat their gold-medal winning performance from 2015 in Klagenfurt, Austria. Pablo Herrera of Spain and Clemens Doppler of Austria are by far the most experienced players in the competition – Doppler won gold in 2003 and 2007, what feels almost like ages ago, while Herrera emerged as European champion in 2013 together with Adrian Gavira, who is still his 'partner in crime'.
Out of the 2019 medallists, only Martin Ermacora of Austria will not compete in Jurmala. Ermacora has decided to take a break from competitive sport, so Moritz Pristauz will travel to Latvia together with his current partner Julian Hörl.
Teams from 13 countries will contest the women's competition, which runs from September 15 to 19. Germany and Russia have secured the maximum contingent of four teams – the same as those entered by hosts Latvia, whose representatives include a wild-card holder as well.
There are as many as seven European champions due to play in Jurmala, including home stars and 2019 surprise gold medal winners Tina Graudina and Anastasija Kravcenoka of Latvia. Laura Ludwig will be trying to secure a fifth European crown – the first in tandem with Margareta Kozuch after standing on top of the podium twice with Sara Goller (2008, 2010) and another two times with Kira Walkenhorst (2015, 2016). Other players boasting a EuroBeachVolley title on their resume are Sanne Keizer (2012, 2018), Madelein Meppelink (2014, 2018) and Marleen van Iersel (2012, 2014), all representing the Netherlands – as well as Italy's Marta Menegatti (2011).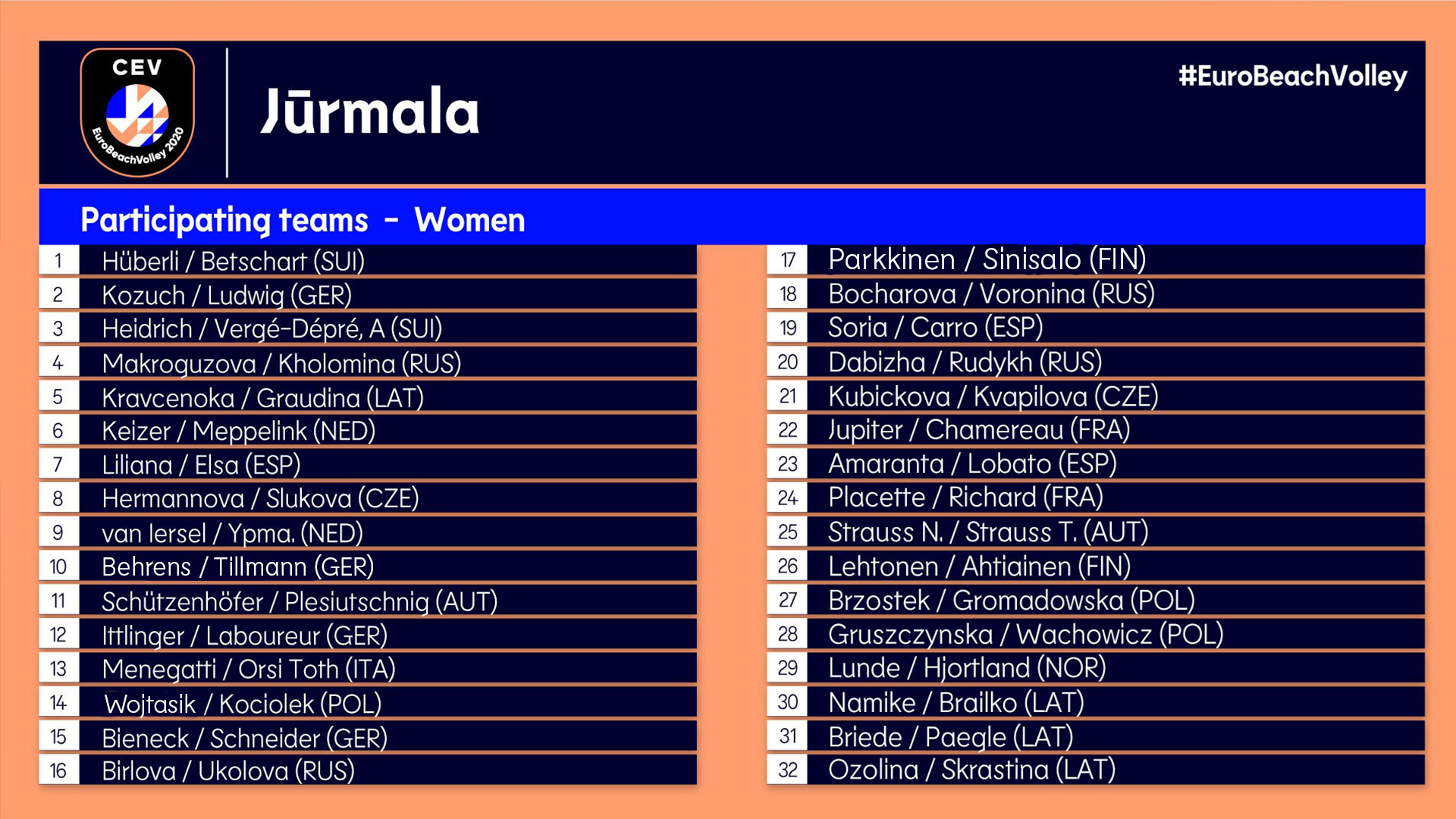 The full podium of the 2019 edition held in Moscow will be vying for more glory in Jurmala – next to Graudina/Kravcenoka, last year's silver and bronze medallists Kinga Wojtasik/Katarzyna Kociolek of Poland and Liliana Fernandez/Elsa Baquerizo of Spain will be in action as well.
Teams from Switzerland and the Czech Republic will be among the medal contenders as well. Nina Betschart/Tanja Hüberli and Joana Heidrich/Anouk Vergé-Dépré of Switzerland are the highest ranked European teams in the world – and Czech superstars Marketa Slukova and Barbora Hermannova will be hoping to claim their third EuroBeachVolley medal after finishing second and third in 2016 and 2018, respectively.