2022
#EuroBeachVolley Previews: Women's Pools E-H
The 30th edition of the CEV EuroBeachVolley is quickly approaching, with this year's tournament set to be part of the European Championships Munich, and to take place from August 15-21 in the German city.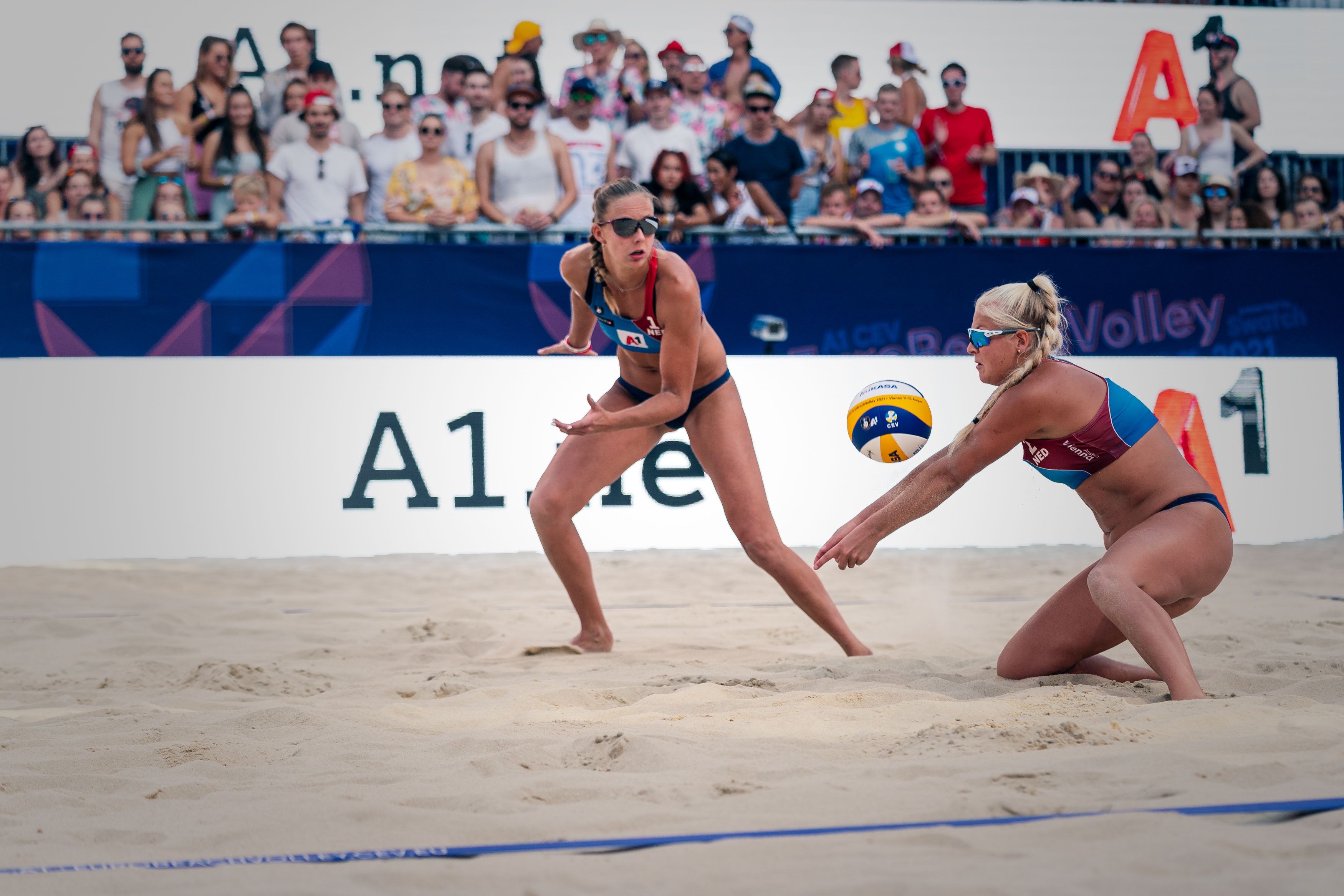 Last year's silver medalists Schoon and Stam are among the favorites to win gold this time
There will be 32 teams in each gender competing for the continental titles and not only the list of duos entered to appear in this year's #EuroBeachVolley, but also their respective pools and the match schedule have all been announced already.
The tournament will begin with eight pools of four teams each and, after the completion of the modified pool play system, three in each group will move forward – the pool winners advance directly to the Round of 16 while the second and third-placed tandems move to the Round of 24.
We looked into the first four women's pools last week, so let's now analyze Pools E, F, G and H and complete our previews.
Pool E
Teams: Raisa Schoon/Katja Stam (the Netherlands), Esmée Böbner/Zoé Vergé-Dépré (Switzerland), Valentyna Davidova/Diana Lunina (Ukraine) and Ieva Dumbauskaite/Gerda Grudzinskaite (Lithuania)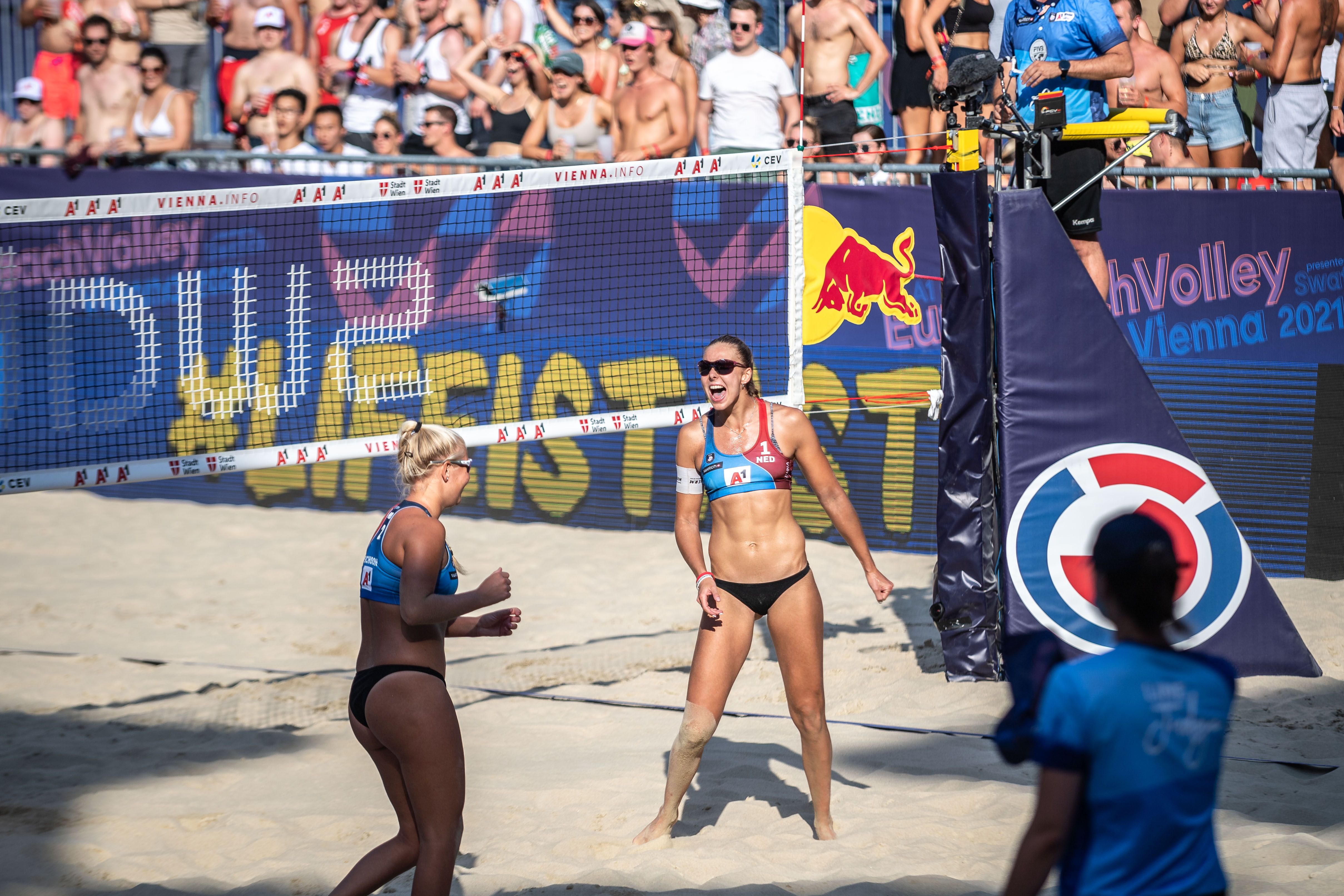 The Dutch are in a good position to take the top spot in the pool
Preventing Schoon and Stam from finishing first in the pool will be a tough task for the other three teams. The Dutch won silver last year in Vienna and have only gotten better since then, winning their first Beach Pro Tour title and climbing to the top of the world rankings.
Truth be told, though, each of the four teams in the pool has achieved growth in varying degrees over the last 12 months. The Swiss have become more experienced and consistent and are now a legit team at the international level.
The Ukrainians, who first became partners last year, have won two medals (one gold, one silver) at Beach Pro Tour Futures, while the Lithuanians have also significantly improved their results from 2021, most notably with a bronze medal won at a Beach Pro Tour Futures tournament.
Fun Fact: A couple of weeks before winning silver in Vienna last year, Schoon and Stam were the youngest players at the Tokyo Olympics aged 19 and 22, respectively.
Pool F
Teams: Julia Sude/Karla Borger (Germany), Marta Menegatti/Valentina Gottardi (Italy), Reka Orsi Toth/Sara Breidenbach (Italy) and Anhelina Khmil/Tetiana Lazarenko (Ukraine)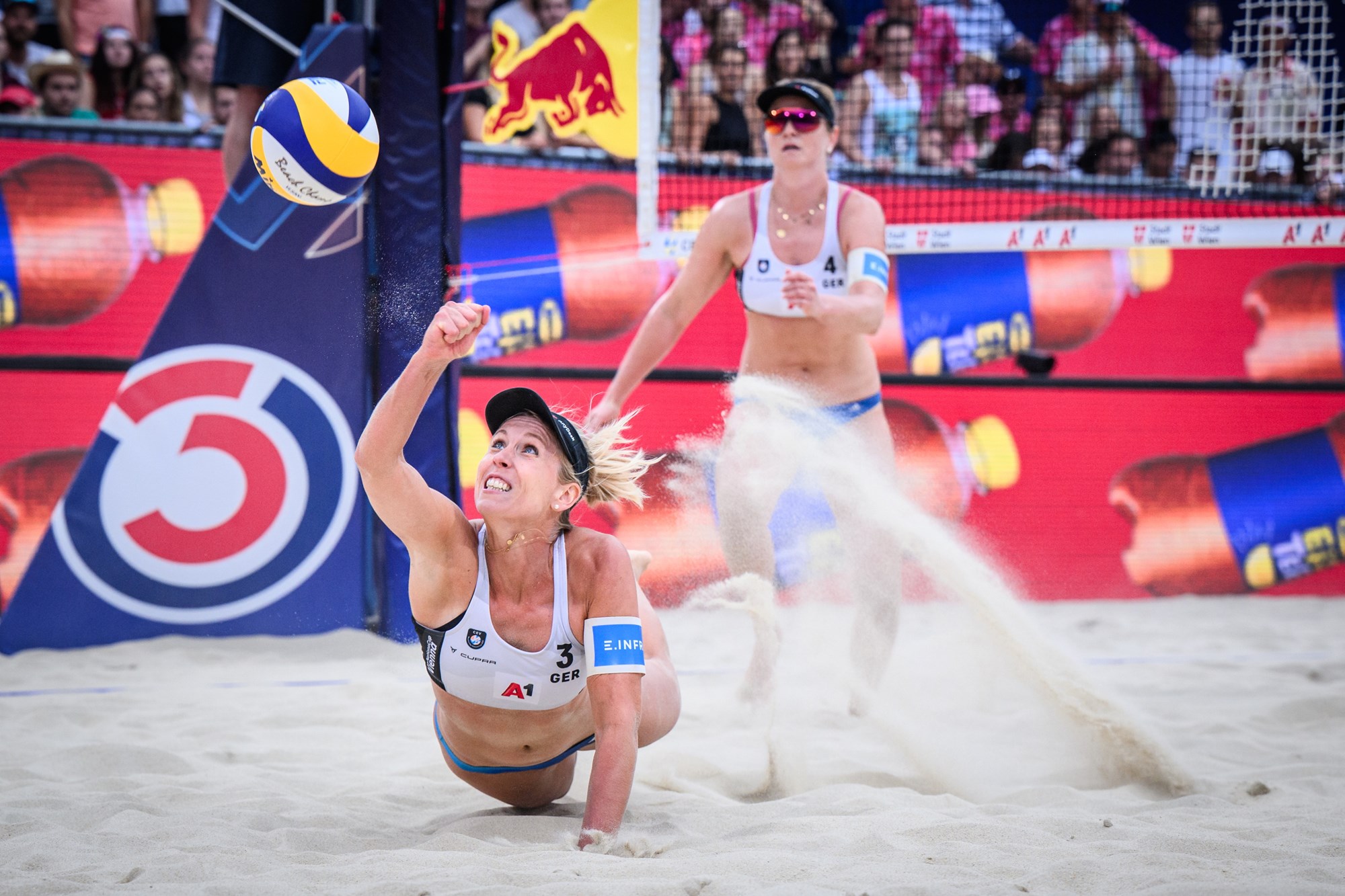 Borger and Sude played excellent volleyball at the Beach Nations Cup, helping Germany take silver
Consider the Germans the favorites here as they have by far the most experience and also the best results among the four teams, most notably having taken bronze last year in Vienna. But all three other teams can challenge them in their own ways.
Menegatti is a savvy veteran with three Olympic appearances and is doing an excellent job in mentoring the 19-year-old Gottardi into the highest level of international beach volleyball. Orsi Toth and Breidenbach are not regular partners but will be teaming up for the #EuroBeachVolley, which could create problems for opponents trying to scout and game plan for them.
Khmil and Lazarenko are one of the fastest-rising teams in European beach volleyball, having won Under Age continental titles in 2020 and 2022 and a U21 world title in 2021. This will be their first opportunity to test themselves among the elite of the continent and they probably can't wait for it.
Fun Fact: Menegatti will play against Reka, the younger sister of her longtime partner Viktoria, in her opening match in Munich.
Pool G
Teams: Chantal Laboureur/Sarah Schulz (Germany), Claudia Scampoli/Margherita Bianchin (Italy), Tjasa Kotnik/Tajda Lovšin (Slovenia) and Dorina Klinger/Ronja Klinger (Austria)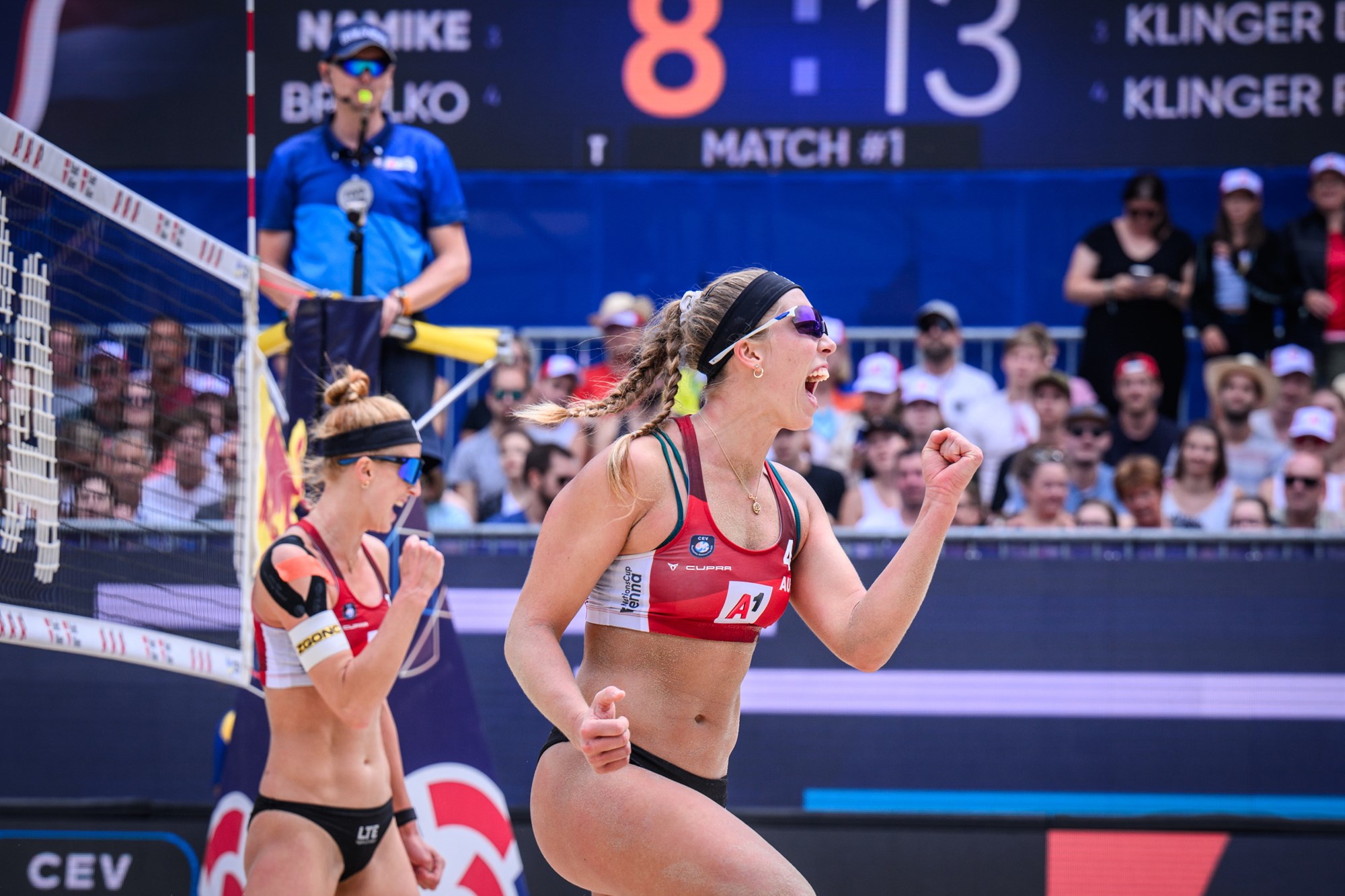 The Austrian Klinger sisters Dorina and Ronja are full of confidence after their recent good results
This is a pool with considerable potential for an upset. The Germans are certainly the favorites and started the international season well, winning silver at a Beach Pro Tour event in Doha, but have been a little bit inconsistent as of late and took 17th in their last three events.
Italians and Slovenians are in a sort of a similar position as both teams have consistently had success at Futures events, but are still looking for an opportunity to break through in a major event – and the #EuroBeachVolley can provide just that.
The Klinger sisters have excellent chemistry, being partners since 2017, and are in great form after winning gold in a Futures event in Ios, advancing from two-straight qualifiers in Beach Pro Tour Challenge tournaments and playing at a very high level at the #BeachNationsCup.
Fun Fact: Scampoli and Bianchin are one of the very few beach volleyball teams at the international level in which both players are left-handed.
Pool H
Teams: Sandra Ittlinger/Isabel Schneider (Germany), Maria Carro/Angela Lobato (Spain), Katarzyna Kociolek/Marta Lodej (Poland) and Pleun Ypma/Emi van Driel (the Netherlands)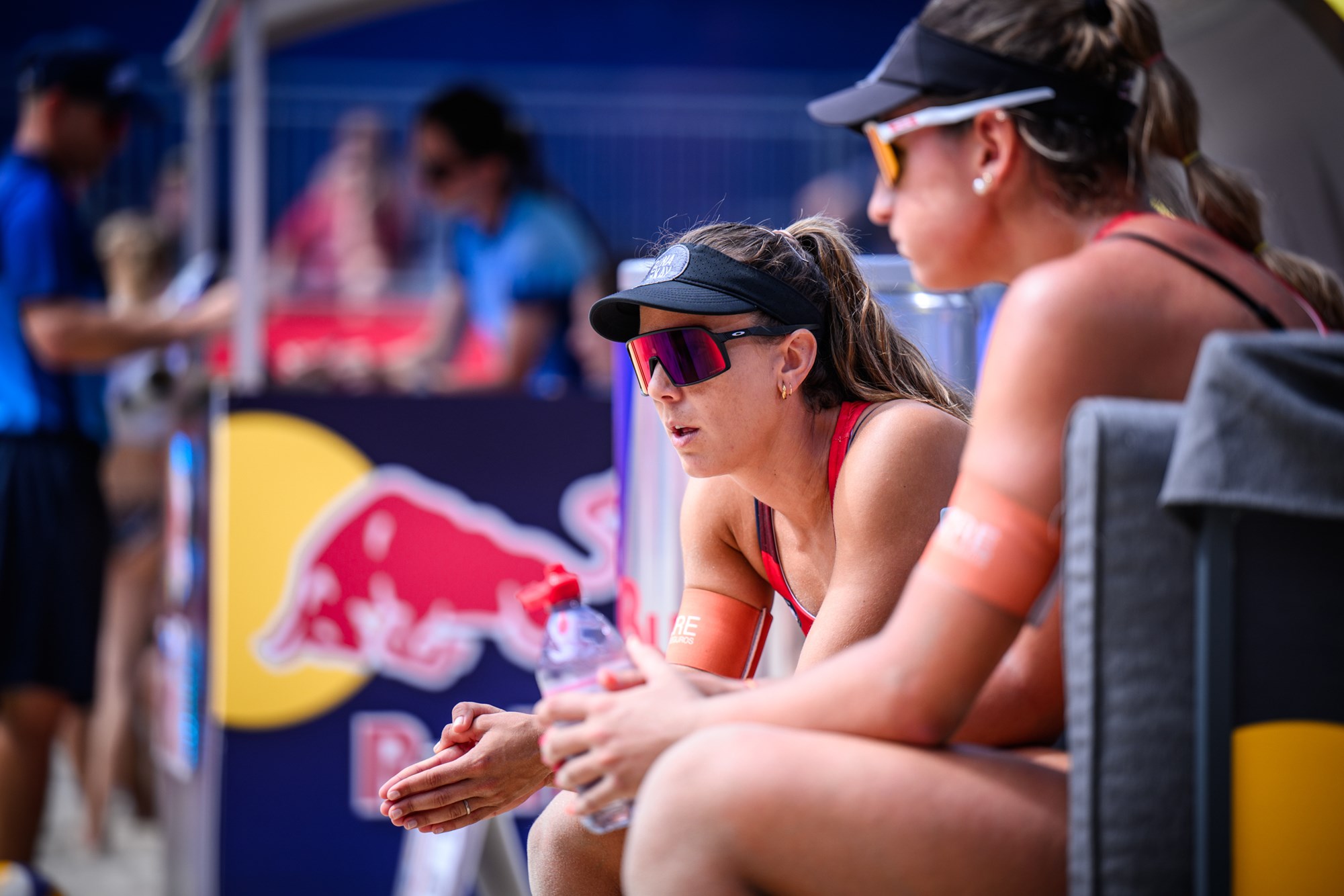 New partners in 2022, Carro and Lobato are the main Spanish hopes of winning a medal in Hamburg
It's nearly impossible to predict how things will play out in this pool such is the balance between the teams. Ittlinger and Schneider have the most experience among the four duos and also the most significant results at the top level and are conceivably the favorites to win the pool.
Carro and Lobato are in their first season as partners and have shown intriguing potential, with five top-ten finishes at the Beach Pro Tour. Their combination of a tall blocker and a skilled defender will probably make of them the top Spanish team for the next few years.
Kociolek and Lodej have been great at the Futures level, having won two silver medals and finishing in the top five in each of the four events they played at, but have just recently become partners and still a little bit of an enigma, somewhat similar to Ypma and van Driel, who have tested themselves at the Challenge level, but with little success.
Fun Fact: Ypma was the partner of Marleen van Iersel in the 2021 #EuroBeachVolley, which was the last tournament of the legendary Dutch defender's career.