2022
#EuroBeachVolley Previews: Women's Pools A-D
The 30th edition of the CEV EuroBeachVolley is quickly approaching, with this year's tournament set to be part of the European Championships Munich, and to take place from August 15-21 in the German city.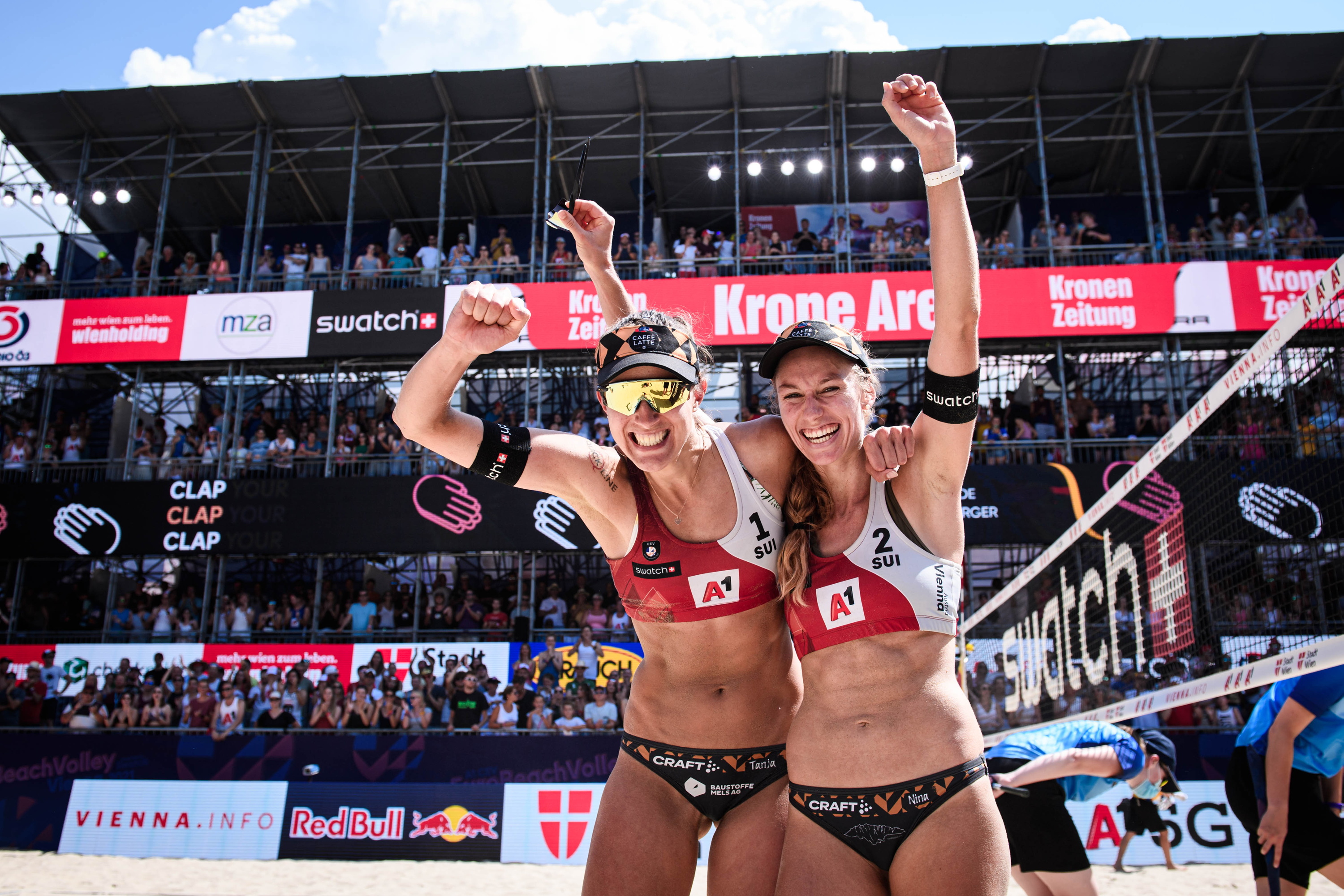 Hüberli and Brunner will try to defend the title they won last year in Vienna
There will be 32 teams in each gender competing for the continental titles and not only the list of duos entered to appear in this year's #EuroBeachVolley, but also their respective pools and the match schedule have all been announced already.
The tournament will begin with eight pools of four teams each and, after the completion of the modified pool play system, three in each group will move forward – the pool winners advance directly to the Round of 16 while the second and third-placed tandems move to the Round of 24.
After going through each of the eight men's pools over the last two weeks, let's switch to the women now, starting with pools A, B, C and D.
Pool A
Teams: Cinja Tillmann/Svenja Müller (Germany), Niina Ahtiainen/Wilhelmiina Prihti (Finland), Daniela Álvarez/Tania Moreno (Spain) and Clémence Vieira/Aline Chamereau (France)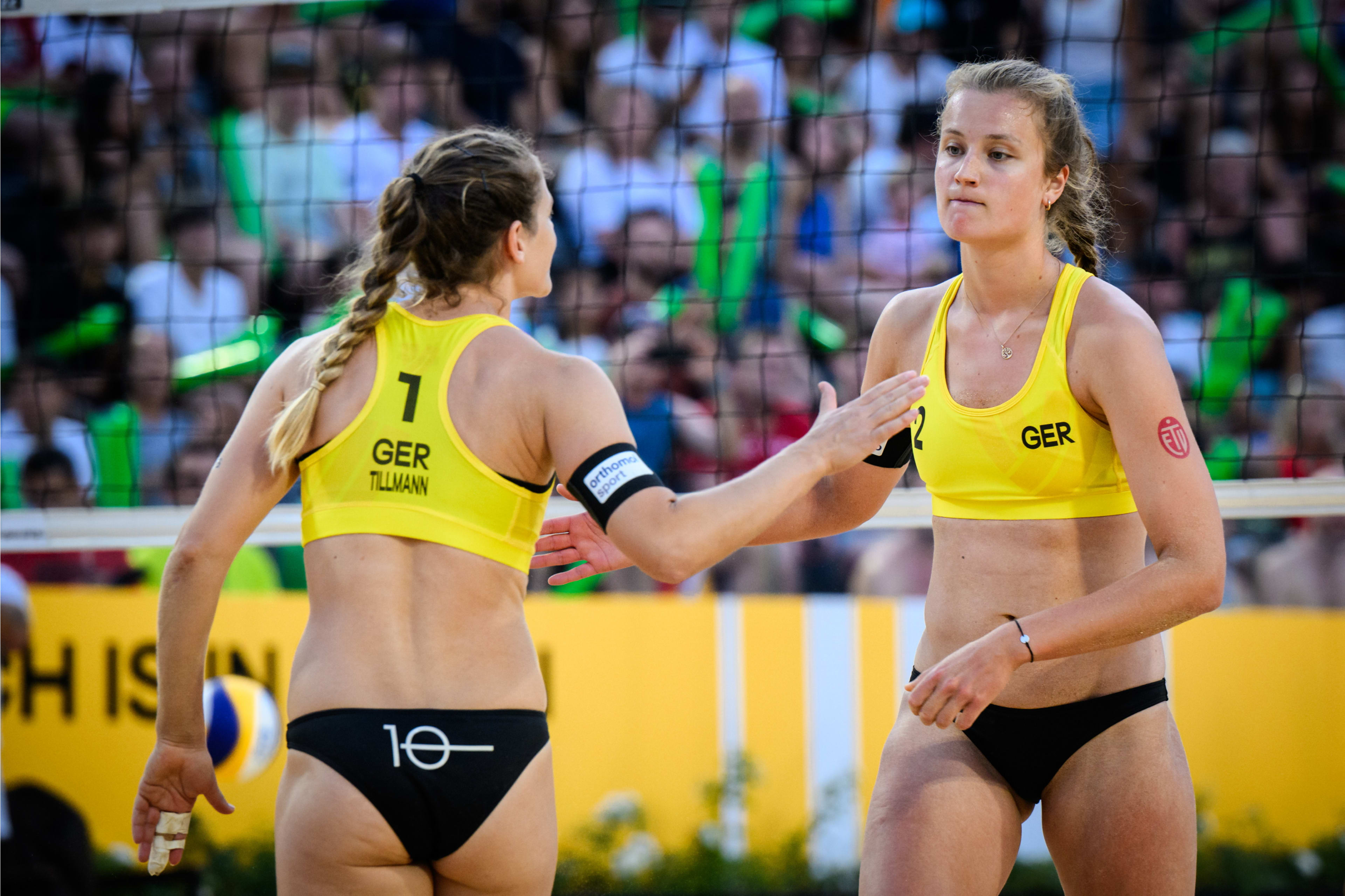 Tillmann and Müller will fight to give Germany another #EuroBeachVolley medal
Playing at home Tillmann and Müller have to be the clear favorites to win the pool. Not only because of the home factor, but mostly due to their great results at the international level this season, which include a recently-won bronze medal at the World Championship.
Moreno and Álvarez have shown they have what it takes to break pool in their first #EuroBeachVolley appearance as a team and it wouldn't be a shock if the Spaniards, who recently became the continent's U22 champions, did it in second place.
That, in theory, leaves one spot in the elimination round to be disputed by Ahtiainen and Prihti, who are taller but will be playing together for the first time in their careers, and the Vieira and Chamereau, who have better chemistry but haven't had much success in 2022.
Fun Fact: Álvarez and Moreno have played in each of the three CEV Under Age #EuroBeachVolleys at least once over the last five years before making their team debut at the senior level in 2022.
Pool B
Teams: Anouk Vergé-Dépré/Menia Bentele (Switzerland), Katharina Schützenhöfer/Lena Plesiutchnig (Austria), Emma Piersma/Mexime van Driel (the Netherlands) and Inna Makhno/Iryna Makhno (Ukraine)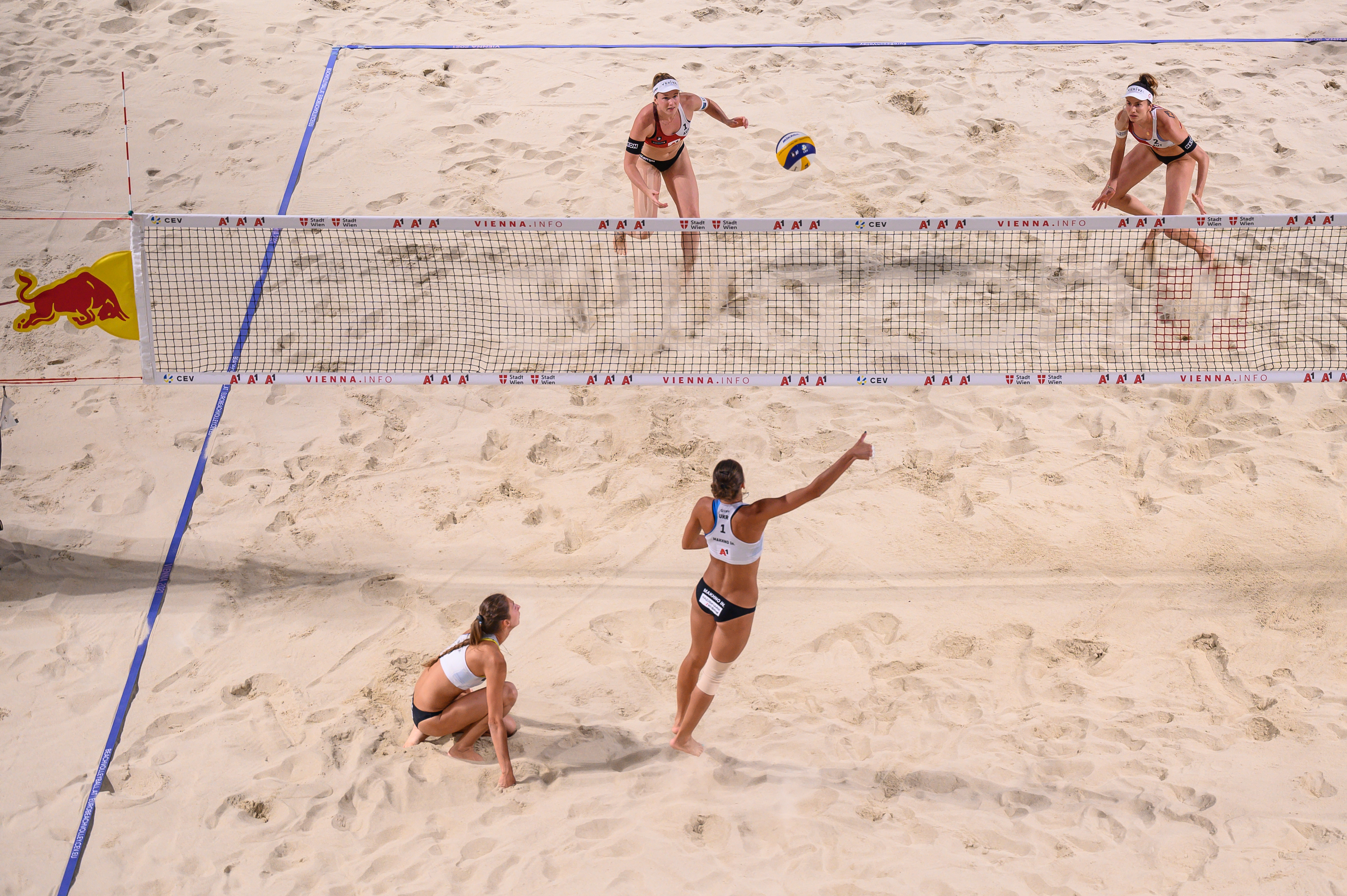 Austrians and Ukrainians could meet for a second-straight time at the #EuroBeachVolley
The injury sustained by 2020 #EuroBeachVolley champion Joana Heidrich left this pool completely open as her partner Vergé-Dépré has picked up the young Bentele to compete with in Munich.
The Swiss won't likely have great chemistry on the court but a team with a veteran as smart as Vergé-Dépré and a talented rookie like Bentele can upset anyone at any time. Schützenhöfer and Plesiutchnig have been partners for quite some time and are capable of challenging any team in the world when they're on a good day and will certainly be candidates for the top spot in the pool.
Piersma and van Driel will arrive in Munich full of confidence after they won a Beach Pro Tour Challenge event in Morocco in July and although they don't play internationally so often, the Makhno twins are always ready to cause upsets, as they did last year in Vienna, beating the Austrians to win their pool.
Fun Fact: This pool has as many as four players who have sisters competing at the #EuroBeachVolley – the Makhnos, Vergé-Dépré and van Driel.
Pool C
Teams: Tina Graudina/Anastasija Kravcenoka (Latvia), Lezana Placette/Alexia Richard (France), Taru Lathi/Anniina Parkkinen (Finland) and Clara Windeleff/Sofia Bisgaard (Denmark)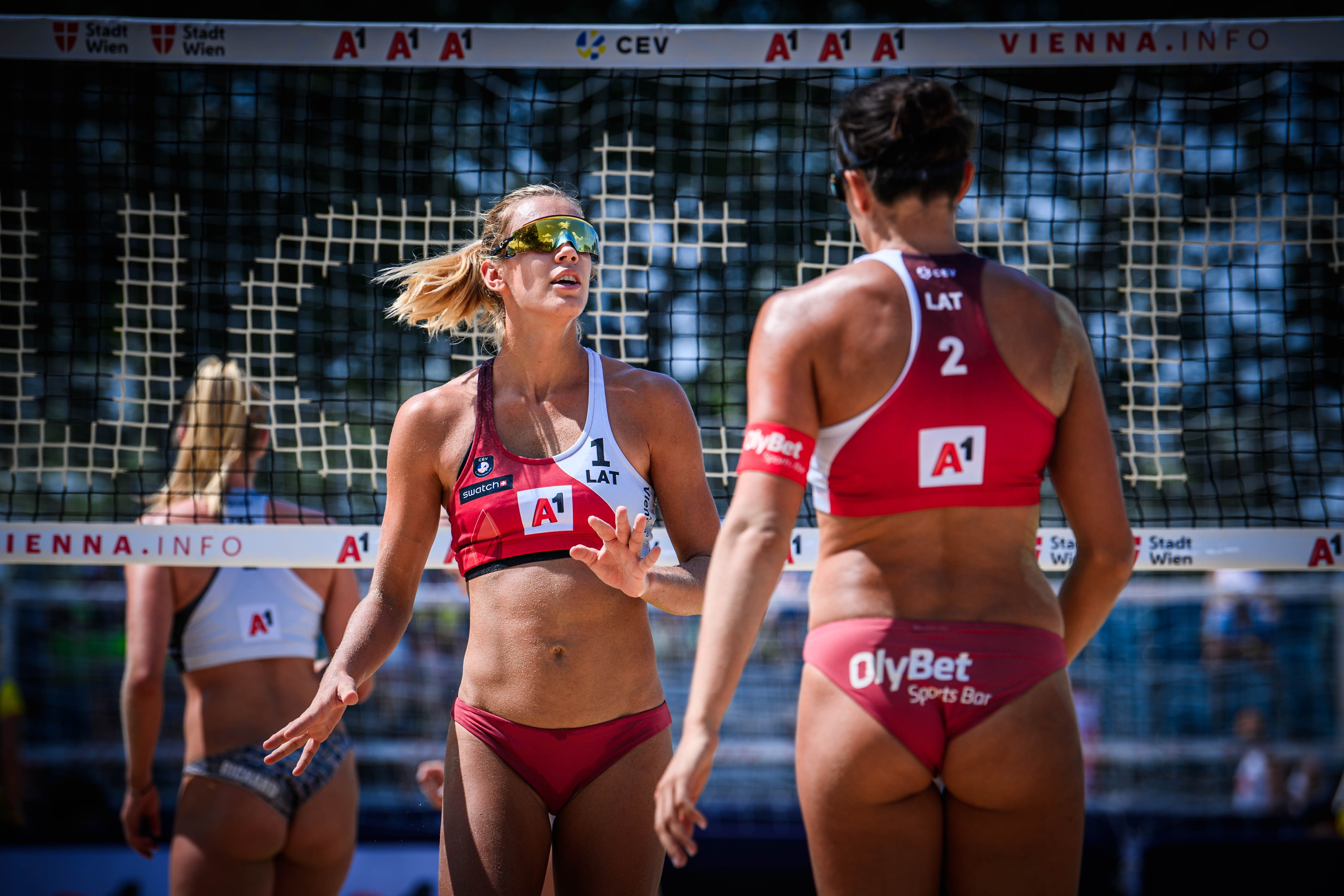 The winners of the 2019 EuroBeachVolley, Graudina and Kravcenoka will be looking for their second title
If all goes as planned, Graudina and Kravcenoka should finish first on this pool. The two won the #EuroBeachVolley in 2019 and have results at the international level (including their semifinal appearance at the Tokyo Olympics) that no other team in the pool came even close to achieving.
The French will certainly try to use their chemistry and great ball control to secure one of the three spots in the elimination round. Richard and Placette have been partners since 2014 and have possibly the greatest year of their careers ahead of them with the Paris 2024 Games coming up.
The Finnish have been partners for three years between 2017 and 2019, but started the season with different teammates before reuniting for the #EuroBeachVolley and will have to regain their chemistry quickly. For the 20-year-old Danish, who will be both playing in the event for the first time, it will be about learning from the experience and capitalizing on any opportunity they have.
Fun Fact: Last year's #EuroBeachVolley in Vienna marked the return of Lahti to the sand after she missed nearly two years as she gave birth to her first daughter Aida.
Pool D
Teams: Tanja Hüberli/Nina Brunner (Switzerland), Erika Kliokmanaite/Monika Paulikiene (Lithuania), Paula Soria/Sofía González (Spain) and Kira Walkenhorst/Louisa Lippmann (Germany)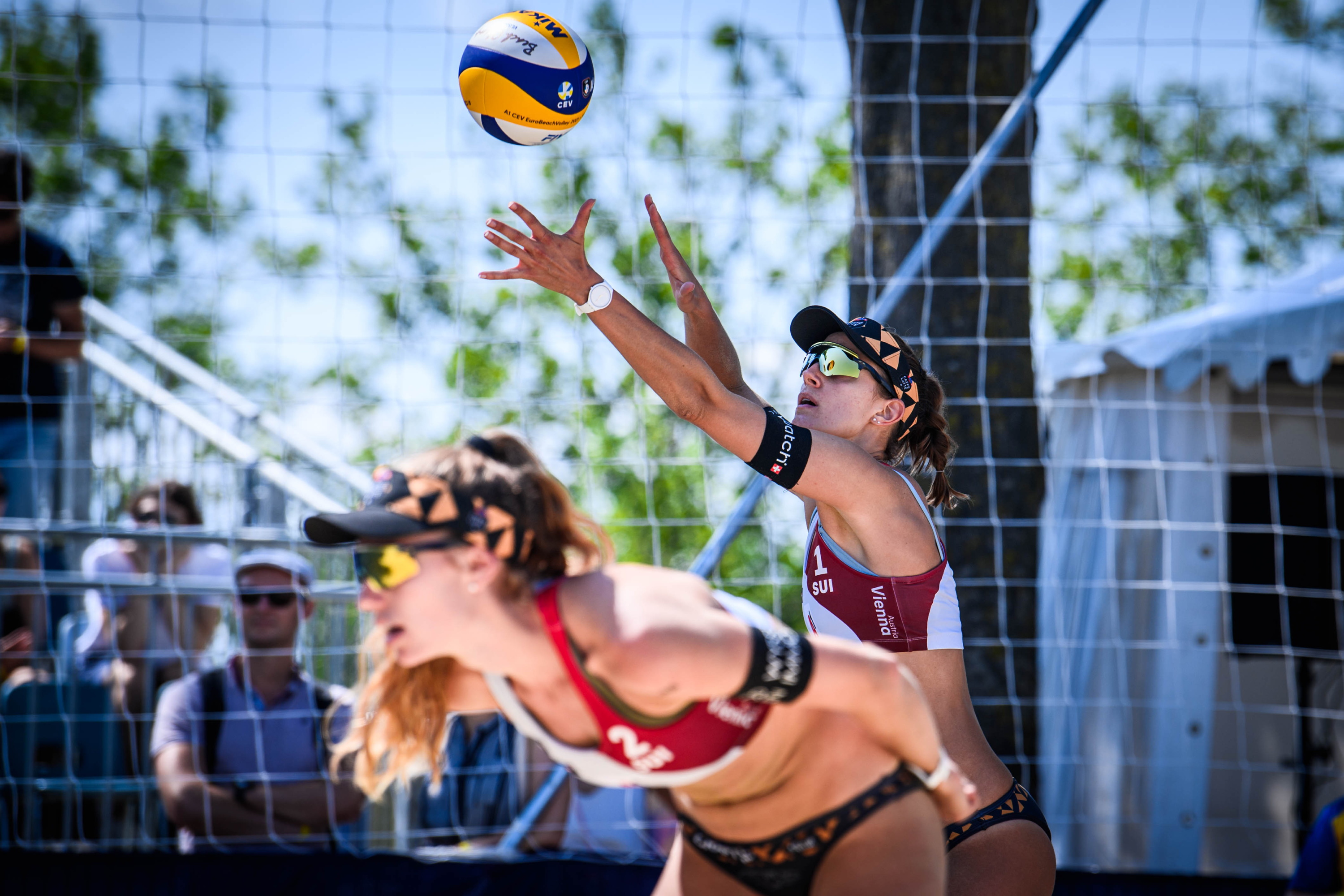 Brunner and Hüberli will have an interesting opening match against Germans Walkenhorst and Lippmann
Reigning #EuroBeachVolley champions Hüberli and Brunner were drawn into a difficult pool. They should still finish at the top of it, especially after regaining their form at the Beach Pro Tour following an inconsistent start to their season, but will have no easy matches in Munich.
In theory, the second place in the pool should be between the more physical and experienced Kliokmanaite and Paulikiene and the scrappy and athletic Soria and González, who recently had a breakout performance at the Beach Pro Tour in Espinho, making it to the semifinals.
It's hard to know what to expect from Walkenhorst, an Olympic and world champion who battled injuries in the last few years and has been playing mostly at the national level, and Lippmann, an indoor star who will be playing her first event on the sand, but never count players of their pedigree out.
Fun Fact: Although she'll be playing with Walkenhorst at the #EuroBeachVolley, Lippmann has recently announced her regular partner on the sand will be Laura Ludwig, who played with Walkenhorst to win the Olympic and world titles.