2022
#EuroBeachVolley Previews: Men's Pools E-H
The 30th edition of the CEV EuroBeachVolley is quickly approaching, with this year's tournament set to be part of the European Championships Munich, and to take place from August 15-21 in the German city.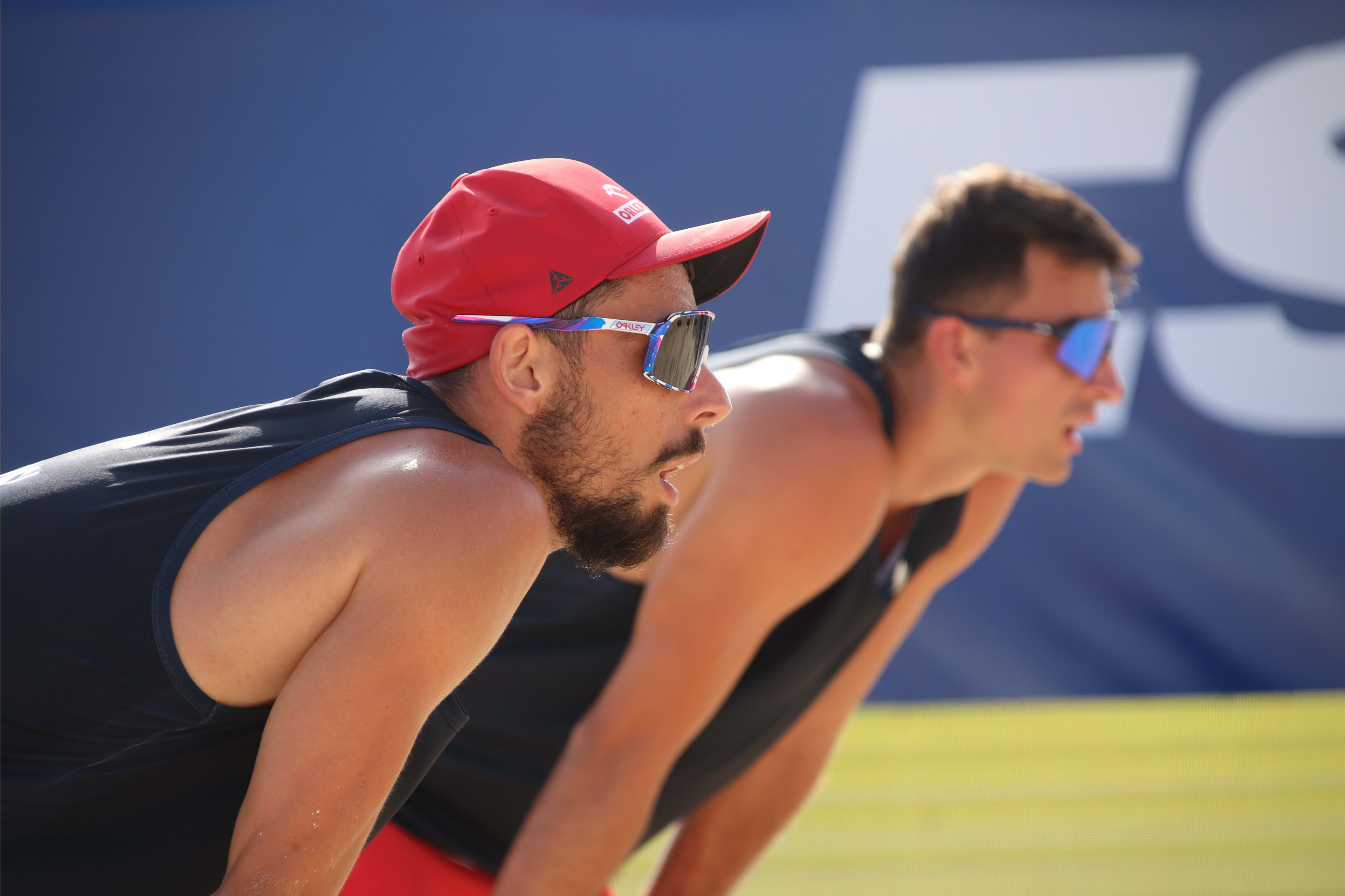 Poles Losiak and Bryl have won three gold medals at the Beach Pro Tour this season (Photo: Volleyball World)
There will be 32 teams in each gender competing for the continental titles and not only the list of duos entered to appear in this year's #EuroBeachVolley, but also their respective pools and the match schedule have all been announced already.
The tournament will begin with eight pools of four teams each and, after the completion of the modified pool play system, three in each group will move forward – the pool winners advance directly to the Round of 16 while the second and third-placed tandems move to the Round of 24.
As we continue to analyze the #EuroBeachVolley pools, let's finish previewing the men's tournament by taking a look at Pools E, F, G and H.
Pool E
Teams: Mart Tiisaar/Kusti Nolvak (Estonia), Daniele Lupo/Alex Ranghieri (Italy), Marco Krattiger/Florian Breer (Switzerland) and Jyrki Nurminen/Santeri Siren (Finland)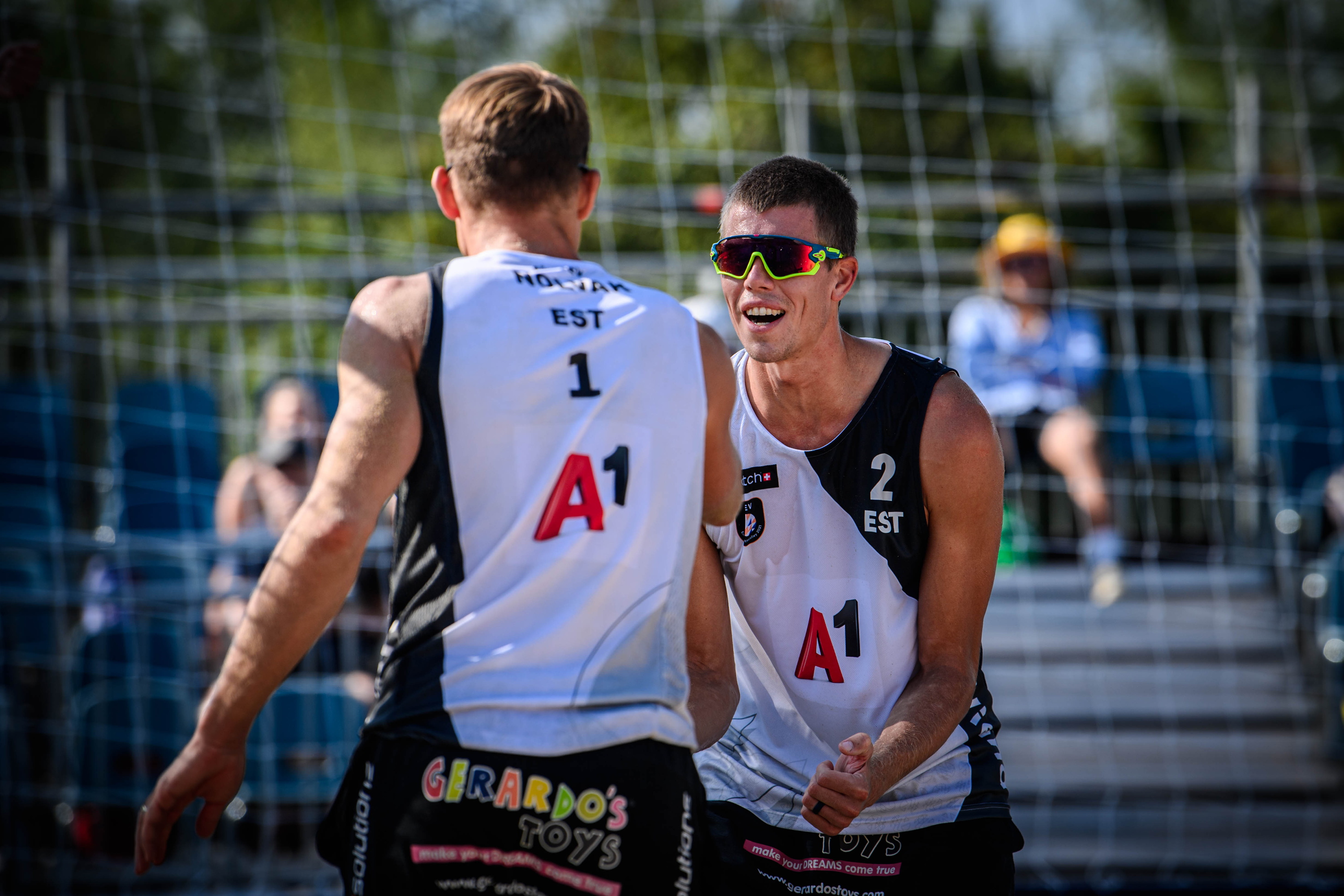 Estonians Nolvak and Tiisaar are having an excellent 2022 season
It's probably fair to say that the only outcome that could be considered a surprise in this pool would be seeing Nurminen and Siren at the top of the standings. The Finnish have had some success in World Tour one-stars and Beach Pro Tour Futures, winning five medals in the last two seasons, but are yet to crack into elite-level tournaments.
Tiisaar and Nolvak are in a good position to give Estonia its first medal in the #EuroBeachVolley after making two semifinal appearances at the Beach Pro Tour and taking fifth at the World Championship, but will have to bring their best game right from the start in such a competitive pool.
Krattiger and Breer are full of confidence after they won their first Beach Pro Tour medal last weekend in Morocco and had top-five finishes in their last three international events. The main strength of the Italians will be their experience, especially when it comes to Lupo, a three-time #EuroBeachVolley winner and Olympian.
Fun Fact: Lupo and Ranghieri were opponents in the last eight editions of the #EuroBeachVolley before joining forces in 2022 – they met just once, in 2015, when Ranghieri won the match.
Pool F
Teams: Clemens Wickler/Nils Ehlers (Germany), Stefan Boermans/Yorick de Groot (the Netherlands), Alexander Horst/Julian Hörl (Austria) and Kristoffer Abell/Jacob Brinck (Denmark)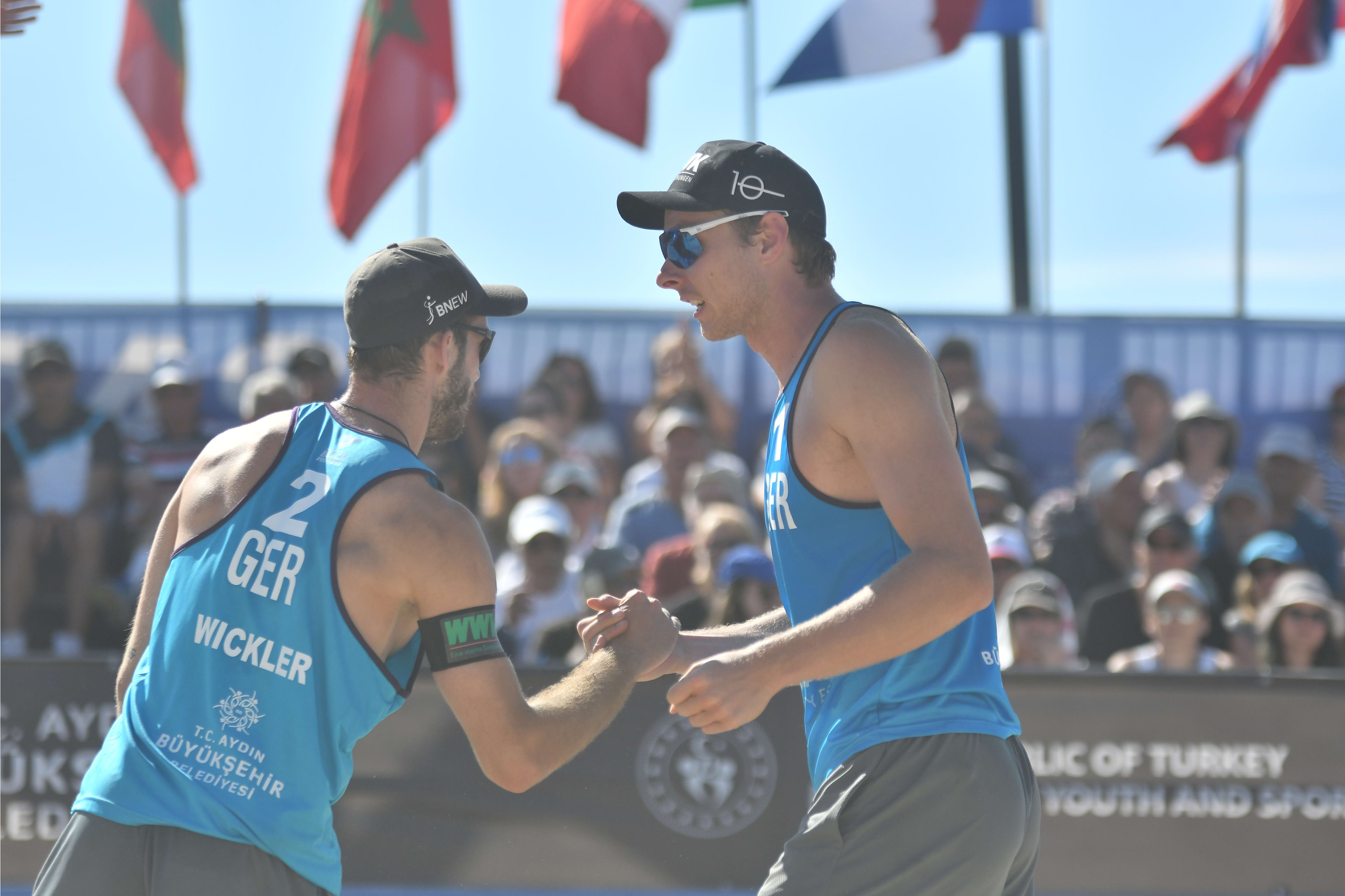 Wickler and Ehlers represent the main German medal hopes among the men (Photo: Volleyball World)
The top-ranked German team in the event, Wickler and Ehlers will try to start the #EuroBeachVolley strong in front of their fans, but will have to push hard to succeed in Pool F after having some ups and downs in their first months as partners.
It's yet to be seen if Boermans and de Groot, who took silver last year in Vienna, will be able to play together as the defender is dealing with an injury. If he's ruled out, Boermans should stick to Matthew Immers and, considering their recent success at the Beach Pro Tour, it's easy to predict they will still be among the contenders.
Horst and Hörl have been established at the international level individually for several years now and are starting to work well as partners, having finished fifth at the World Championship earlier this month. Abell and Brinck are the lowest-ranked team in the pool but have had some good results at the Beach Pro Tour too and it's not inconceivable to think they could pull an upset or two and advance.
Fun Fact: German players will all be feeling at home during this year's #EuroBeachVolley but that's even more true to Wickler, who grew up in Starnberg, just 30 kilometers southwest of Munich.
Pool G
Teams: Adrian Carambula/Enrico Rossi (Italy), Robin Seidl/Philipp Waller (Austria), Yves Haussener/Quentin Métral (Switzerland) and Davide Benzi/Carlo Bonifazi (Italy)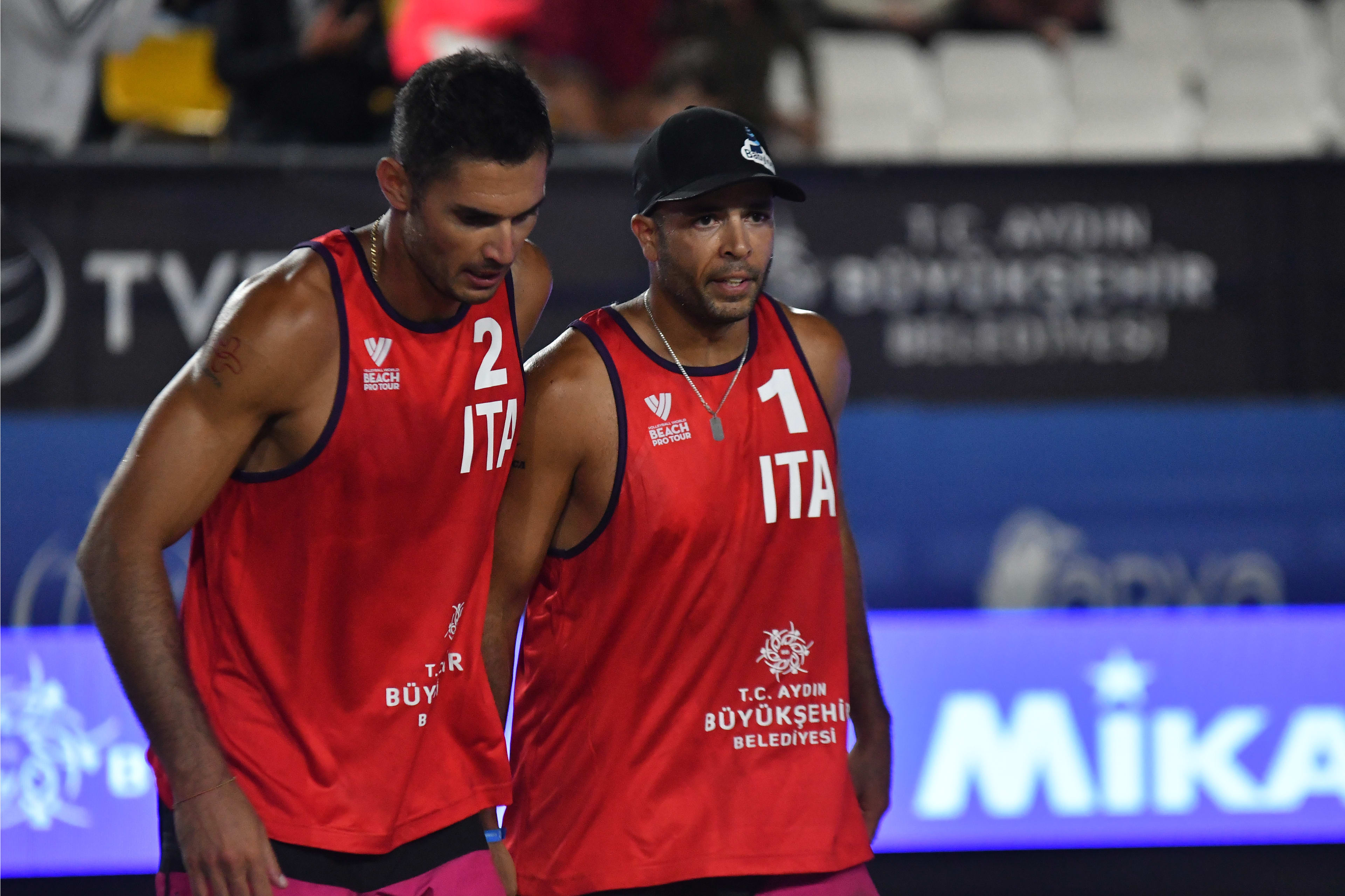 Rossi and Carambula will certainly entertain fans with their dynamic playing style (Photo: Volleyball World)
One of the most entertaining teams in international beach volleyball, Carambula and Rossi will try to confirm their rankings and finish in first place in Pool G with their eye-popping playing style, but they will have three opponents eager to take them down.
Seidl and Waller, who are the most established among them, are the most equipped to do so. The Austrians have shown they can compete with anyone in the world when they're playing at their best and should show better consistency in their third #EuroBeachVolley as partners.
Despite the Italians being slightly older, Benzi/Bonifazi and Métral/Haussener are in somewhat of a similar stage in their career as both teams have found success in Beach Pro Tour Futures, but are yet to show what they are capable of doing at bigger events.
Fun Fact: Although they have been partners since 2019, the Swiss made their #EuroBeachVolley debuts last year with different partners – Haussener paired with Marco Krattiger while Métral joined forces with Adrian Heidrich.
Pool H
Teams: Michal Bryl/Bartosz Losiak (Poland), Pablo Herrera/Adrian Gavira (Spain), Alexander Huber/Christoph Dressler (Austria) and Sven Winter/Paul Henning (Germany)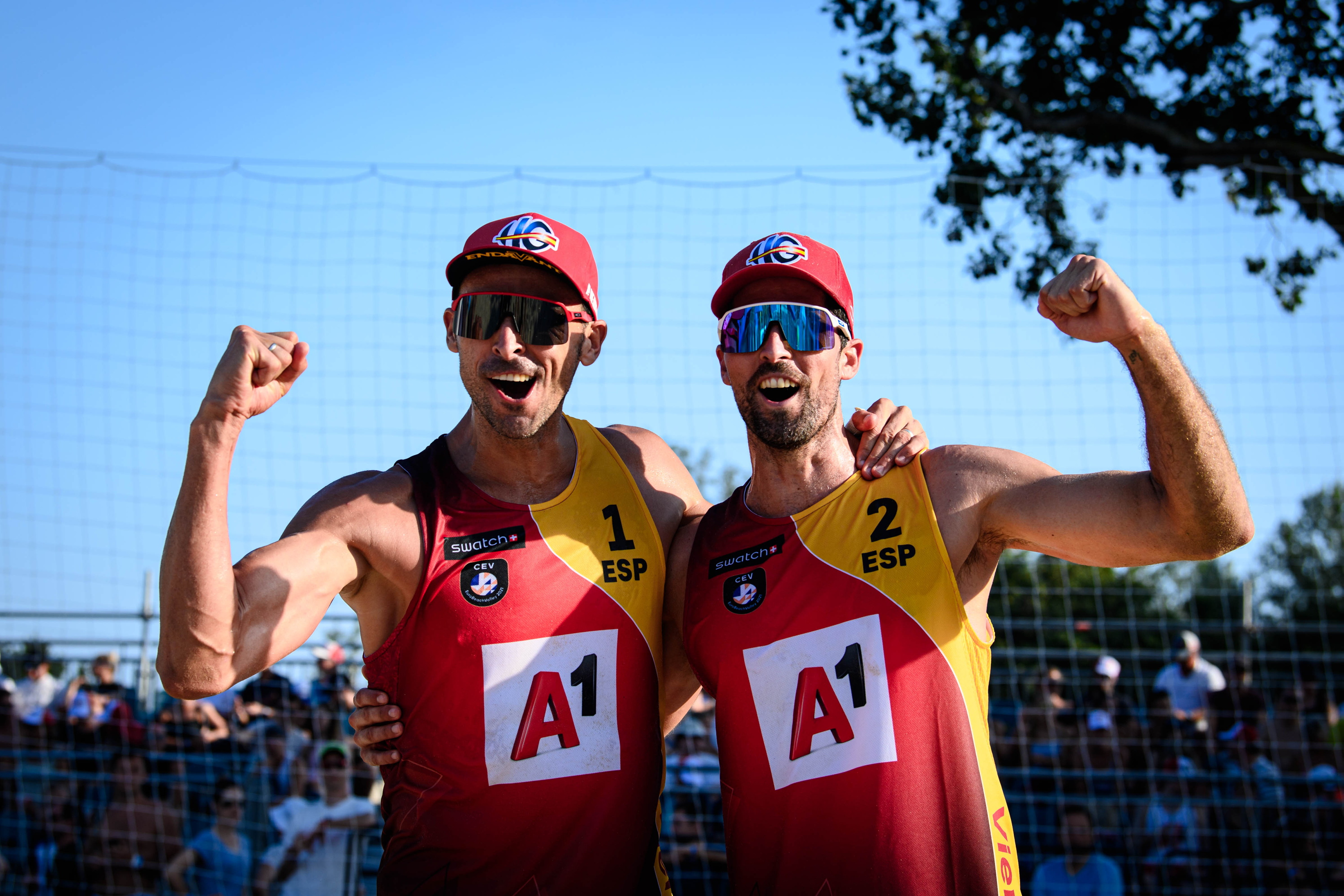 Spanish veterans Herrera and Gavira will be partners at the #EuroBeachVolley for the 13th time
Losiak, a bronze medalist in 2021, and Bryl are having tremendous success in their first year as partners and recently became the first team to win three gold medals in the Beach Pro Tour this year with their victory in Espinho.
Herrera and Gavira, who won the #EuroBeachVolley in 2013, have been among the best teams in the continent for more than a decade and, despite being on the tail end of their careers, cannot be discounted among the contenders.
Considering that Huber and Dressler are also not short in experience and have had some good results in their four years as partners too, the scenario doesn't look much promising to the Germans, especially due to the fact that Henning is in his first year on the sand after completing his indoor career and is still learning the game.
Fun Fact: A five-time Olympian, the 40-year Herrera first appeared in the #EuroBeachVolley in 2004 and has missed just one edition since then, playing in 17 events and winning gold twice.