Moscow, Russia, August 11, 2019. The Men's #EuroBeachVolley reached its climax on Sunday afternoon with the Norwegian top duo Anders Mol and Christian Sørum confirming themselves as the best team at the competition. They were being crowned as champions for a second consecutive time after having claimed the title also in The Hague 2018. On Sunday, they disappointed the home heroes Konstantin Semenov/ Ilya Leshukov outclassing them at 2-0.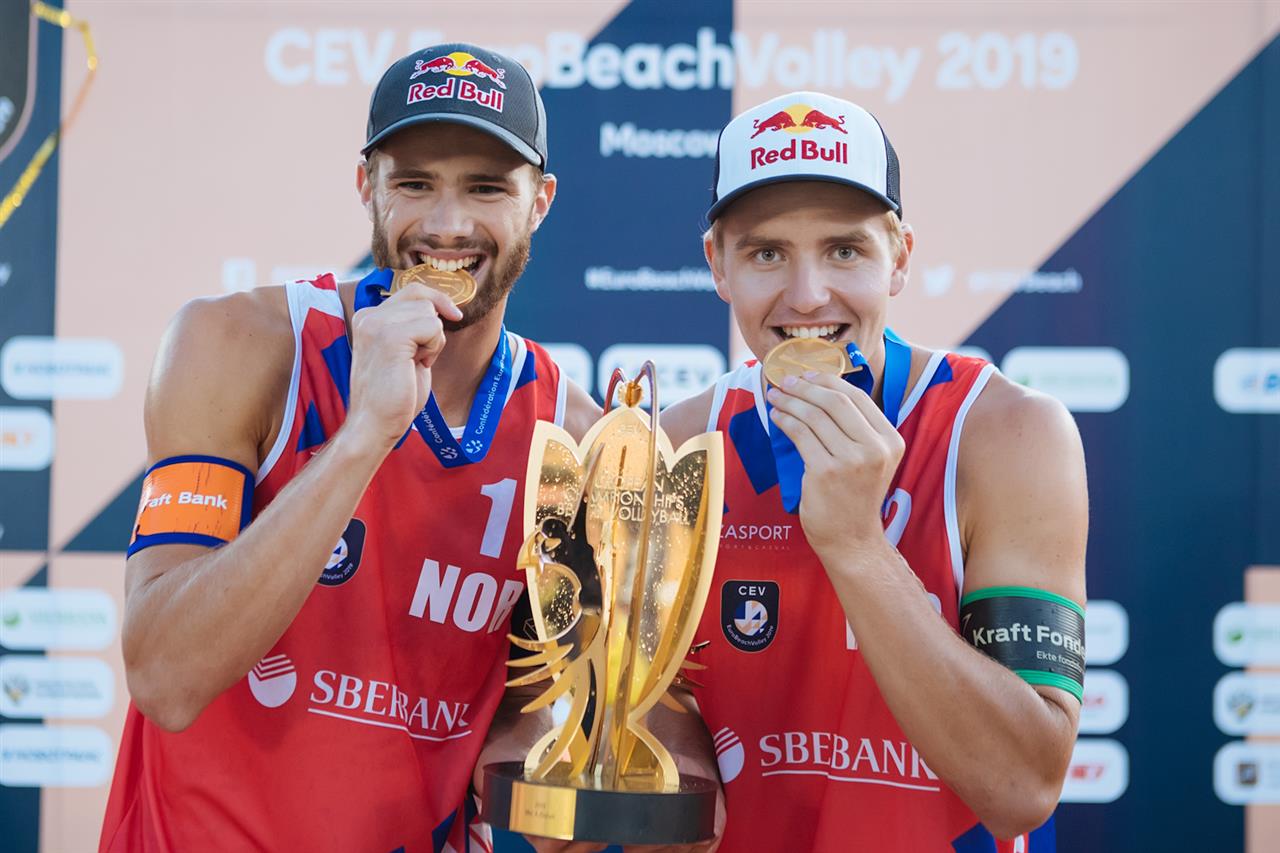 The venue at the famous Luzhniki complex became a scene to wonderful Beach Volleyball moments with more than 2.000 spectators watching the final game.  
Before the Gold medal match a training match between the bronze medallists - Martin Ermacora/ Moritz Pristauz (AUT) and the Russian team Alexander Likholetov /Ruslan Bykanov, took place to warm up the atmosphere. The players helped keep the positive spirit and invited on the court also some of the girls – ball retrievers to play with them in front of the excited fans. Due to an ankle injury the Bronze medal match between Ermacora/Pristauz and Piotr Kantor/ Bartosz Losiak didn't take place.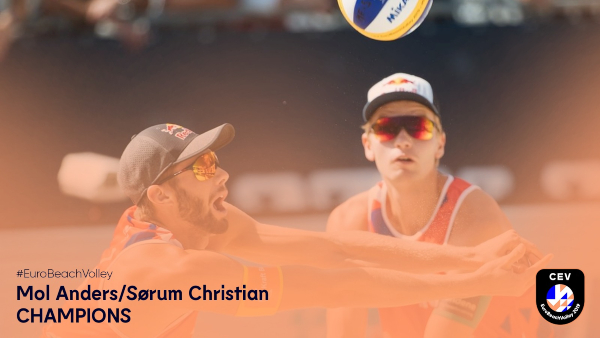 The excited winners thanked to the fans at the venue in Russian and talked to media afterwards:"Finals are always tough. To play a final against a Russian team, in Russia,  is very special. We had a great match and it's amazing to be European Champions back to back. We really had to give it our all,  because they are really, really good players and it is never easy to play against them.  We have huge respect for them. Standing here today with the gold medals means a lot."
The silver medallists Semenov and Leshukov also received a lot of attention and thanked everybody who believed in them during this jorney.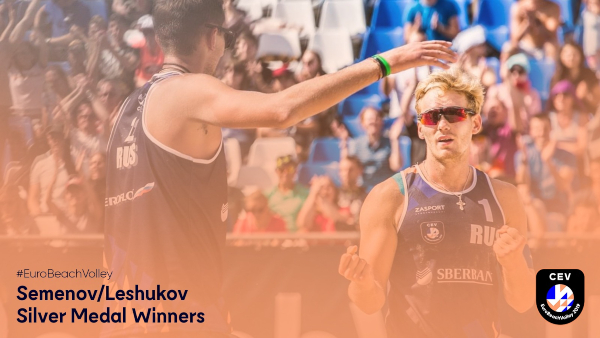 Ilya Leshukov after the match: "In the first set, the Norwegians outclassed us in all the components of the game – they were better at the service line, at reception, on block. They are currently the benchmark on how to be perfect at the block.  In the second set they 'read' us - they were able to find the keys to resist on our attacks.  We had our tactics, but unfortunately it didn't work. Of course, we are upset, but at the same time we are glad that we were able to win silver medals.  We want to thank to all the fans who believed in us until the end."
We did a good job, we are pleased with what we showed. Of course, it would have been to win gold, but we are happy also about grabbing the silver. We showed good Beach Volleyball, and we hope that the Moscow fans who were here today to support us, are pleased with what they've seen.
Konstantin Semenov