Moscow, August 9, 2019. After a long week of exceptional beach volleyball, it has come down to the final eight best teams to battle it out for a place in the semi-finals of the tournament here in Moscow and nobody wanted to go home empty handed after all the hard work put in.
Menegatti/ Orsi Toth (ITA) vs Liliana/Elsa (ESP) 1-2 (20-22, 27-25, 11-15)
The first quarterfinal pairing to take to the Central Court was that of Italians, Marta Menegatti/ Viktoria Orsi Toth and the Spaniards, Liliana Fernandez Steiner/ Elsa Baquerizo McMillan. For both of these teams it was their second match of the day. If the Spanish duo had an easier clash earlier, the Italians had to overcome a massive hurdle, a three-set thriller that definitely cost them precious energy, and after losing their first set (20-22) reaching the semi-finals seemed almost impossible. Second set was beach volleyball at its best, both teams going for it and being one point away from winning the set several times. It was the Italian duo that won it (27-25) and pushed the match into the decider. It was the Spaniards that sealed their place in the semi-final in the end winning the final set (11-15) and now hope for a medal on the last day of the tournament
"It was a really close match, and in the second set we lost a few set points and weren't able to win it. They took advantage of their opportunity and won the second set. The third set was also very balanced, but our defence functioned well and in the end we were the ones to celebrate. We were in the semi-finals last year, now we want to win a medal. It will not be easy but we will definitely fight for it. "
Liliana Fernandez Steiner
Ittlinger/Laboureur vs Graudina/Kravcenoka 1-2 (16-21, 21-17, 10-15)
The second matchup of the quarterfinals brought together team Sandra Ittlinger/ Chantal Laboureur (GER) and Tina Graudina/ Anastasija Kravcenoka (LAT), both winners of their respective pools and confident they can go all the way at this year's #EuroBeachVolley. The Latvian couple had an extra motivation, to celebrate 10 years from the last medal won by Latvia at an European Beach Volleyball Tournament with another achievement, "Celebrating 10 years from the last medal won by Latvia  would be very symbolic, we are very good friends with those girls and we always looked up to them.", said Anastasija Kravcenoka.
It wasn't easy but the Latvians live to fight another day, and that day can bring them a shiny medal and another great landmark achievement.
"Every day we had to come here was so intense but we somehow managed to come on top so far. The third set was very hard, we had to focus on every ball. We know German teams are very experience, and we know that towards the end of a match experience kicks in so we tried not to give them that advantage. Celebrating 10 years from the last medal won by Latvia, European Beach Volleyball 2009, would be very symbolic, we are very good friends with those girls and we always looked up to them."
Tina Graudina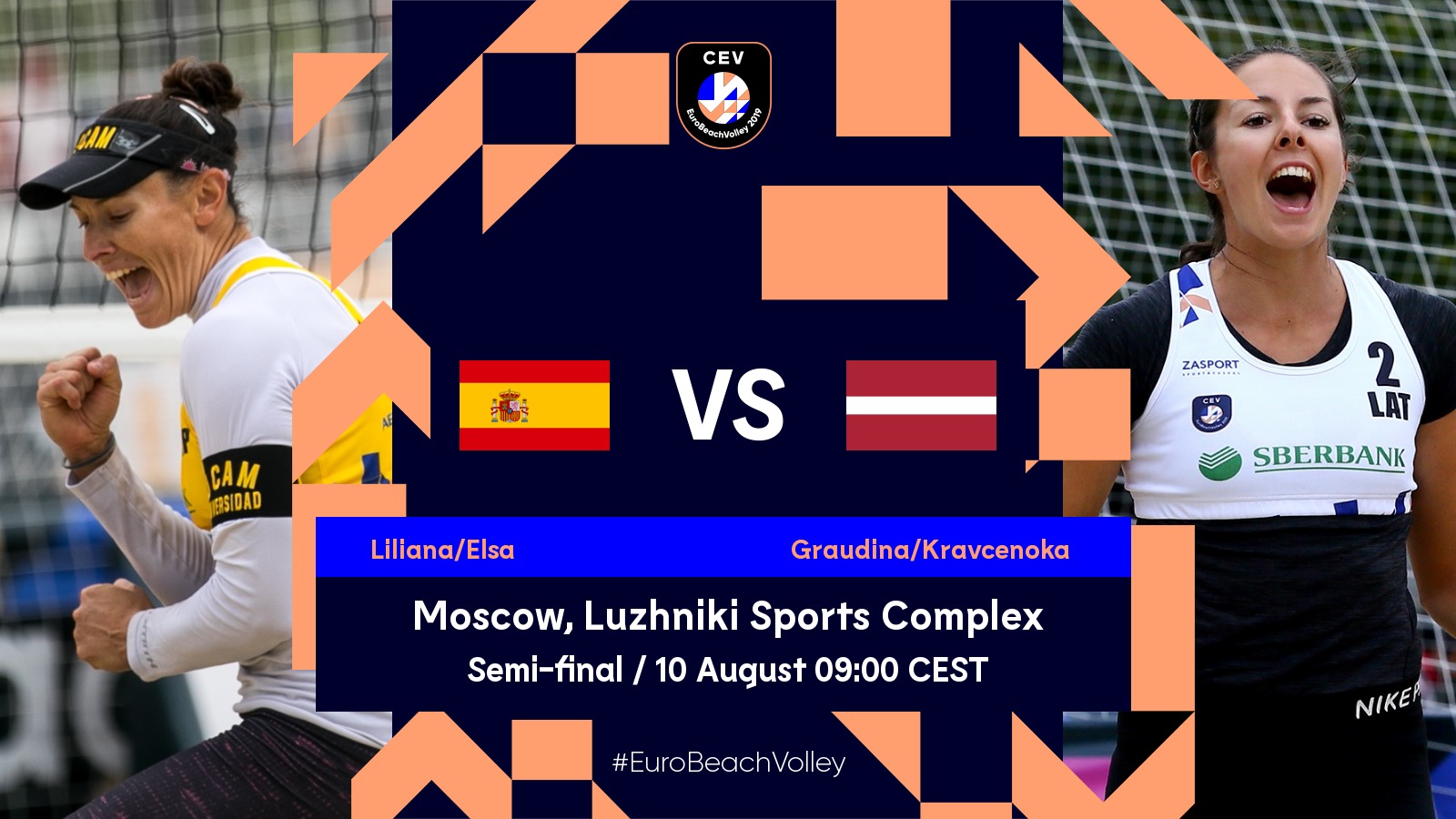 Wojtasik/Kociolek (POL) vs Stubbe, J./van Iersel (NED) 2-1 (16 - 21, 21 - 16, 15 - 11)
It was a long day for the Polish duo Kinga Wojtasik/ Katarzyna Kociolek, the top seeded team still left in the competition, as they started bright and early what would be a series of 3/3 wins on the day. The last hurdle on their way to a semi-final place was the Dutch duo of Joy Stubbe/ Marleen Ramond Van Iersel, who have impressed all throughout their week in Moscow. It was a true rollercoaster for both teams, in a match that had a little bit of everything offering enjoyable beach volleyball along the way. It was the Polish duo that came out on top in the end, and that made all the effort be worth, "It wasn't hard because we won and nothing matter right now, we are so happy!", said Kinga Wojtasik immediately after the game.
"We lost the first set and it was tough for us for a while, but we tried to push again and have fun on the court again. I am super proud of us because we managed to do it! Our objective for tomorrow is gold (smiling), but of course we want to be on the court, have fun and if we win gold it would be amazing."
Katarzyna Kociolek
Kvapilova/Kubickova (CZE) vs Heidrich/Vergé-Dépré, A. (SUI) 1-2 (15 - 21, 21 - 18, 13 - 15)
Then there were two teams remaining and only one semi-final spot. It was the Swiss team of Anouk Vergé-Dépré/ Joana Heidrich that started stronger and seemed more motivated from the get-go, winning the first set in a comfortable manner. Seeing the possibility of a semi-final spot getting away from the, Czechs Michala Kvapilova/ Michaela Kubickova got back in the game and tightened defence to get back in the match.  "It was really hard. I think we started very well and, yeah, we made some mistakes in the second set. We had to fight back and in the third set everything was open again. For sure, we wanted to go to the semi-finals and maybe we were a little bit nervous about it." Said Joana Heidrich after the match.
The third set was neck and neck up until the final points, with the Swiss just having the edge and claiming the last semi-final spot available, following in the footsteps of Nina Betschart/Tanja Hüberli (SUI) who claimed silver at last year's edition.
"Tomorrow we just want to go out there and battle really hard. In this tournament we managed to focus on every single ball, no thinking about what happened before, what will happen next. And we want to go forward with this mentality tomorrow."
Anouk Vergé-Dépré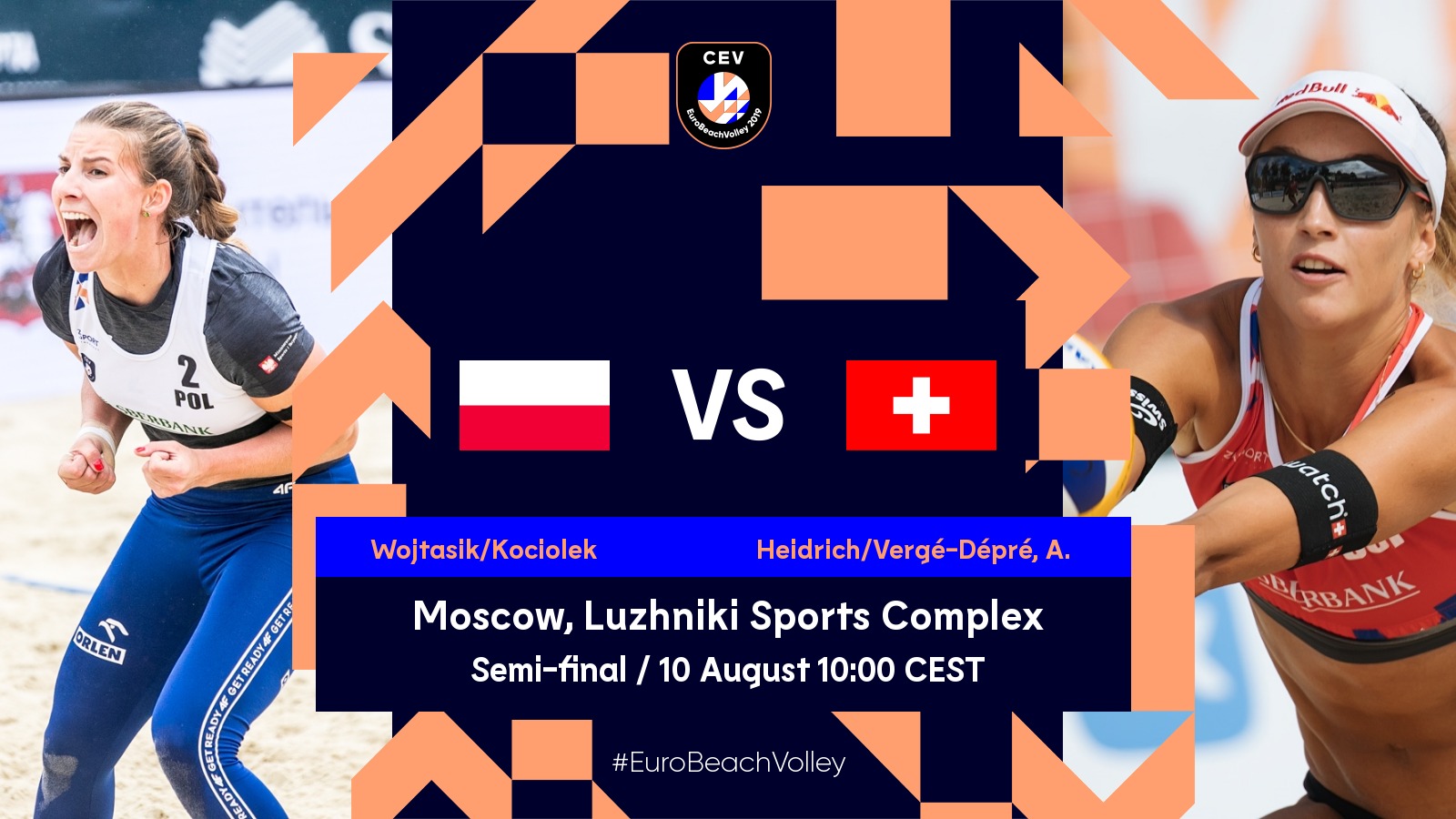 The semifinal matches will be live streamed on EuroVolley.TV and be sure to follow the hashtag #EuroBeachVolley all over social media to stay up to date with the events!