Moscow, 9 August, 2019. Twenty-four teams woke up today to gusts of wind and drizzly rain as they prepared to head out to the Luzhniki Sports Complex for the first eliminatory matches of #EuroBeachVolley.  At stake, qualification to round 2 for teams that had finished their pools on the 2nd and 3rd positions, where they would go on to meet the winners of the eight pools, qualified directly for the second-round matches, and ultimately playing for qualification into the quarterfinals of the competition.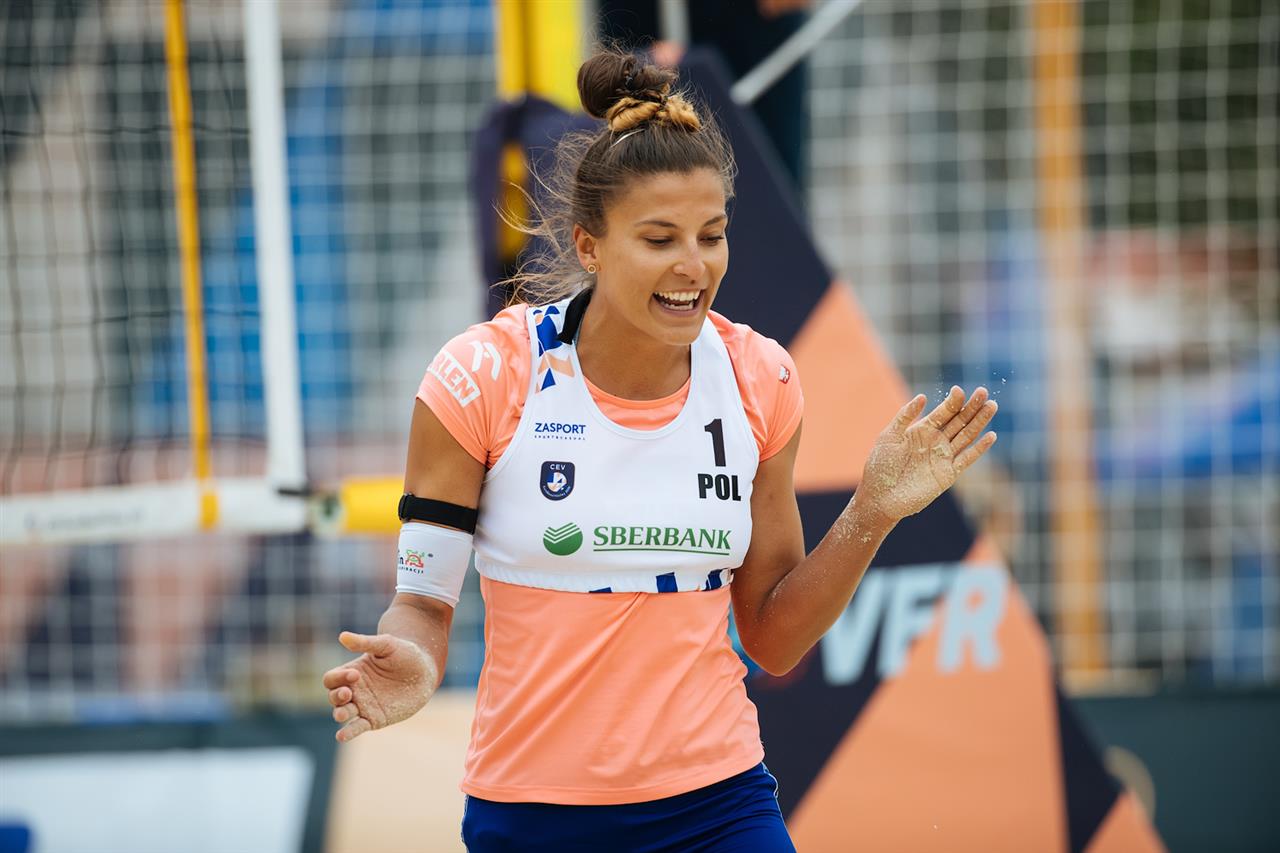 Given the tough weather conditions, the seeding list from the beginning of the tournament became less important and upsets in the Round of 24 were bound to happen. And this is exactly what followed on courts 2 and 3 where favourites Borger/Sude (GER) and Betschart/Hüberli (SUI) were eliminated by Placette/Richard (FRA) and Schützenhöfer/Plesiutschnig (AUT) respectively, both matches requiring a decisive third set.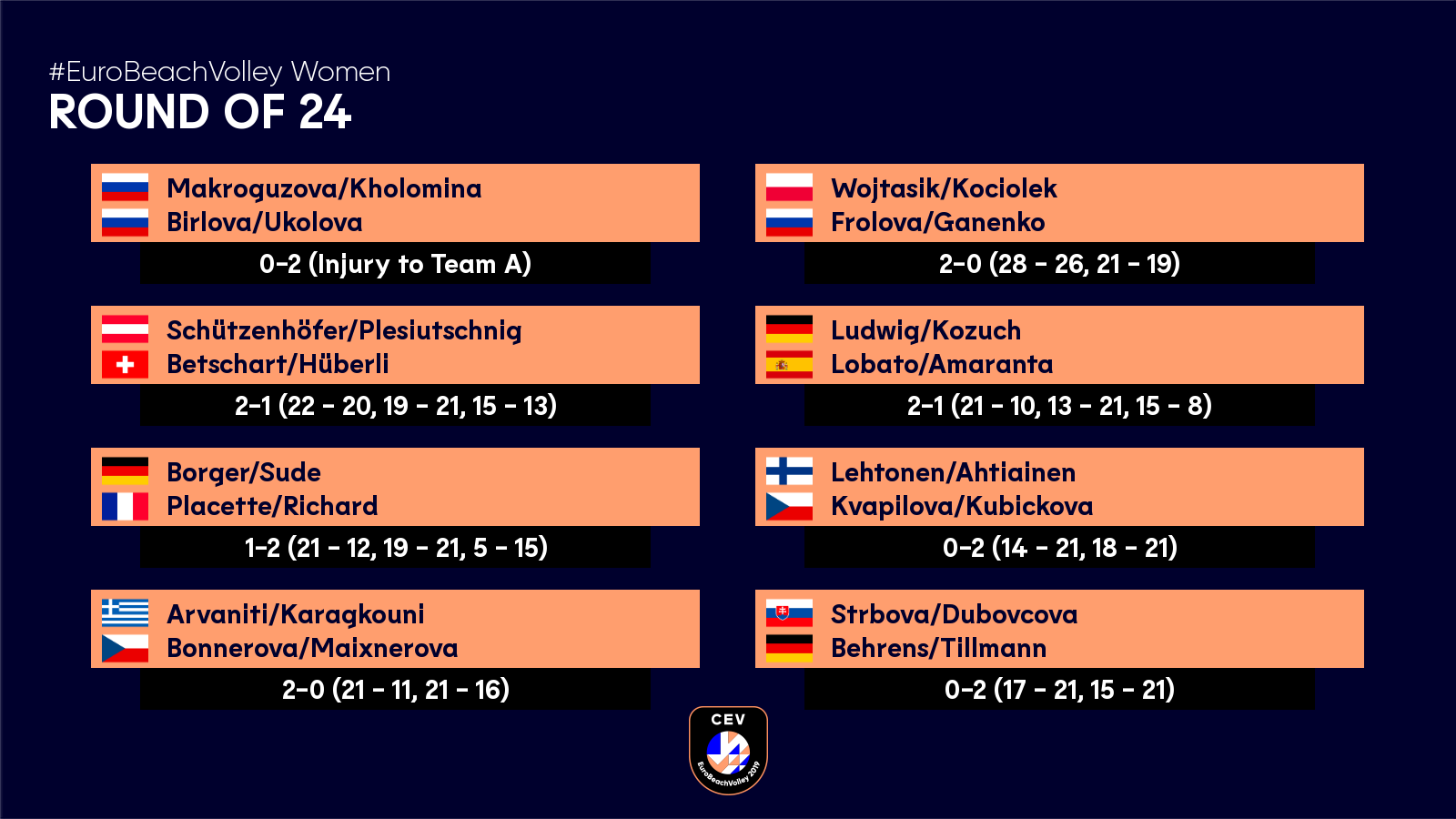 On the other hand, top-seeded favourites Behrens/Tillmann (GER) and Wojtasik/Kociolek (POL) looked very strong on the court, despite the tough conditions, and made easy work of their Round of 24 matchups, managing convincing wins in straight sets.
"I think we have improved on our "windy games" because our last three tournaments were very windy, and I think we started liking playing games in the wind. We are happy about the good game but anything is possible under these conditions. We can be up by 5 or down by 5, it can go either way, you have to be ready for anything. One of our goals for this competition is to have fun."
Cinja Tillmann
Player
The Round of 16 seems to have been good for the teams that topped their respective pools and thus enjoyed a longer recovery time between matches, with 6/8 of the aforementioned teams managing to get wins and thus obtain qualification to the quarterfinals of #EuroBeachVolley.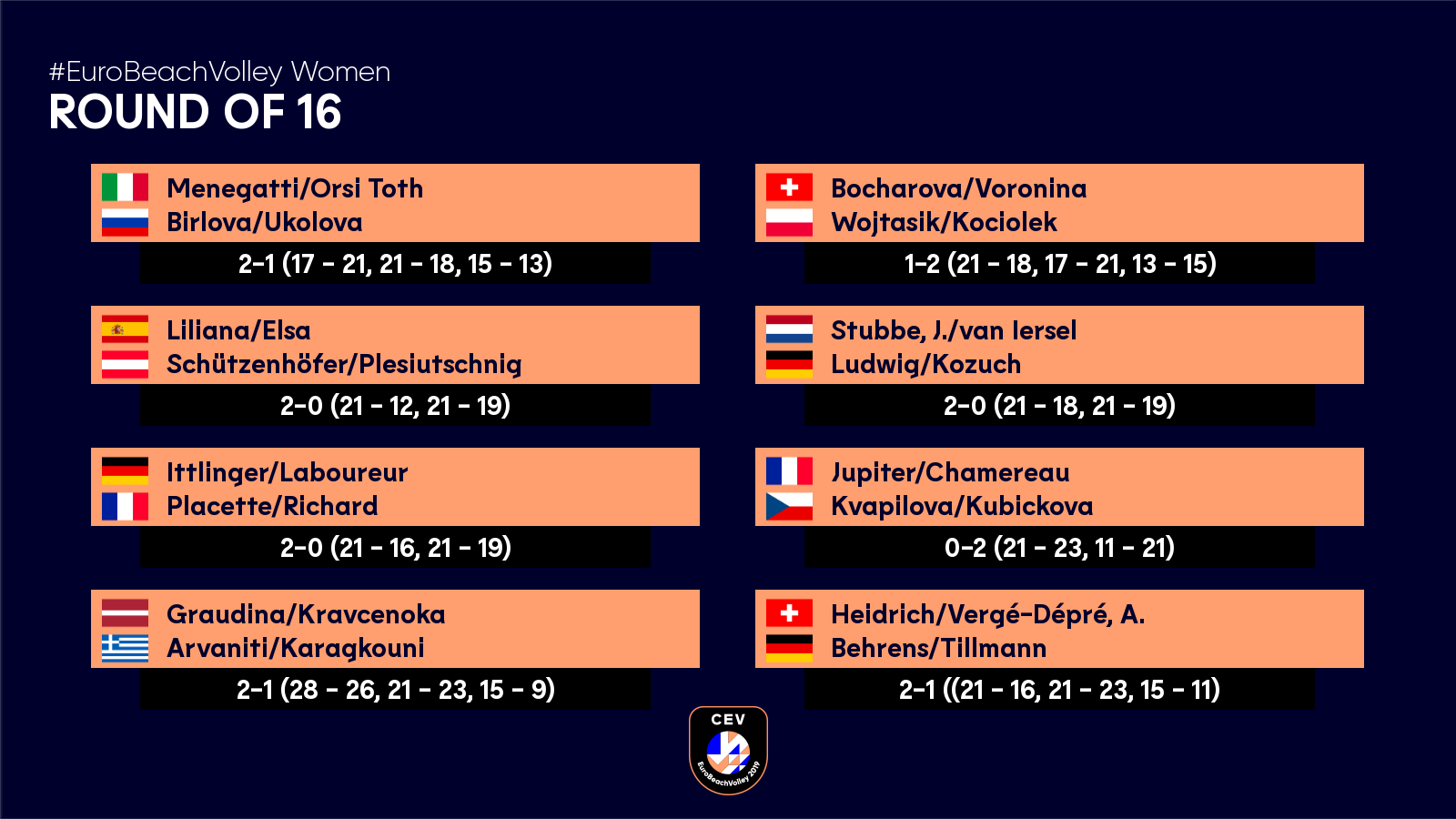 Despite having already played one match in the morning, Polish duo of Wojtasik/Kociolek worked hard and dug deep to find the strength to get another win. As such, they remain the highest seeded team still in competition (seeded as 4th favourites).
"It was a really highly extreme game. We were pushing in the end and that's why we succeed. However, it was really hard – they were leading at some point, but we changed our tactics. The weather changed a little bit, it's windy and cold, but it's the same for everybody. We will fight and hopefully win!"
Kinga Wijtasik
The Spaniards Liliana/Elsa are now the second favourite to win the competition, as they are now the only other team to have been initially seeded in the top 10 still in the running for a medal.
Elsa Baquerizo McMillan (ESP): "I am very excited to be able to play in the quarterfinals. We saw them this morning (team Schützenhöfer/Plesiutschnig ) and we knew they play pretty well with the wind. It's tough under these conditions, we had to be very patient and change our game, but we did a good job, remained focus and now are very happy to get the win."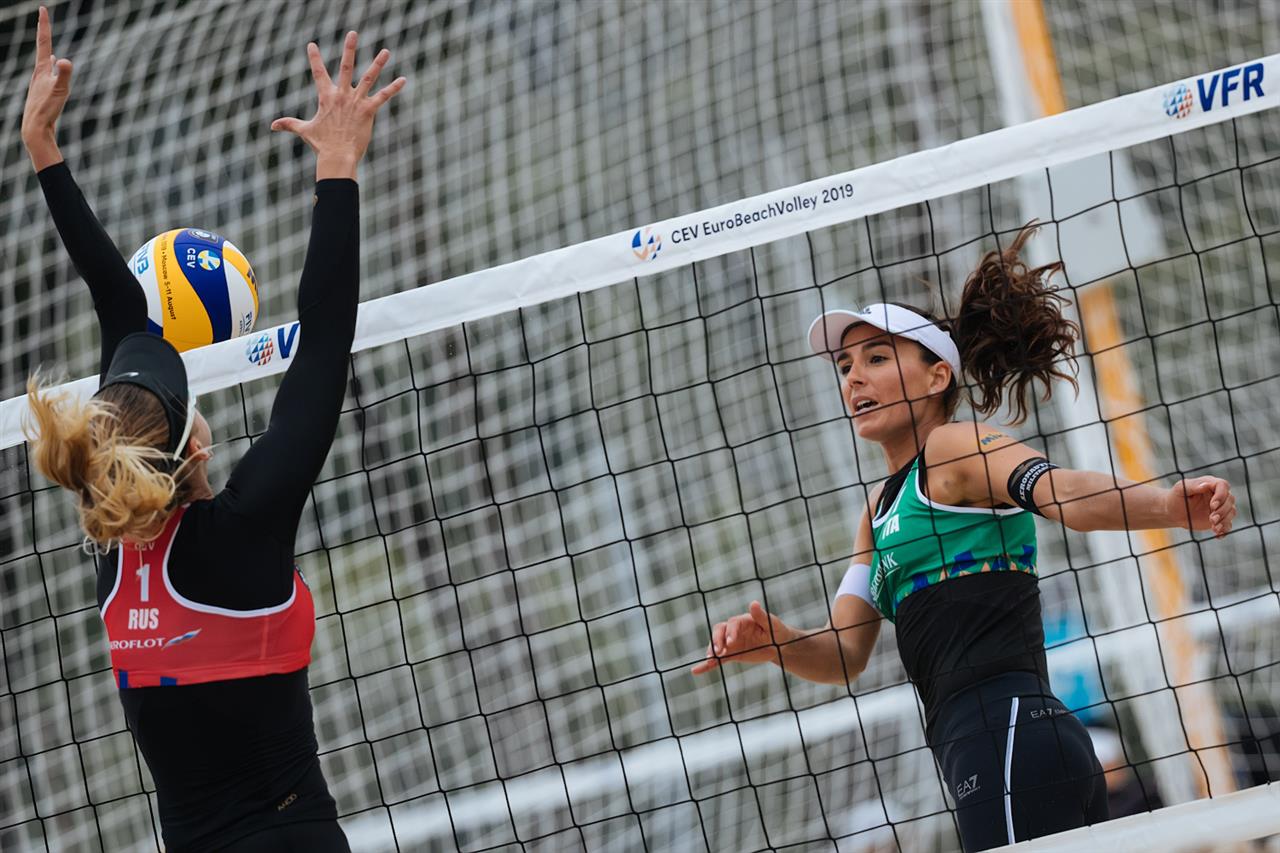 One of the most exciting matches in the round of last 16 was the one between team Menegatti/Orsi Toth (ITA) and Birlova/Ukolova (RUS). A match with many twists and turns and a lot of emotions as local favourites narrowly missed out on a place in the next phase of the competition, showing great disappointment after the match, "Now it is very difficult to talk about the causes of failure.  There were a lot of mistakes, we could not hold the ending. Thanks a lot to the fans, they helped as they could.  In such terrible weather they came, supported us.  Thanks to them, we were able to turn the game around when we lost.  But, unfortunately, we lost anyway.  Thanks for the support", said Ekaterina Birlova.
"It feels super good to be in the Quarterfinals. It wasn't our best performance but we fought a lot, kept it together even when things were not good for us our focus was very high and I think this was our strength today. We know we have to do better in the next match in order to go to the semi-finals, but if we concentrate we can definitely play very well."
Orsi Toth
Player
Now all eyes turn to the Center Court here at Luzhniki Sport Center as we get ready for the Quarterfinal matches of #EuroBeachVolley. All matches will be streamed on EuroVolleyTV.