Moscow, Russia, August 8, 2019. Four days of pool play at women's #EuroBeachVolley have ended and teams can get ready for the real challenge - the play-off stage that will start on Friday morning at the Luzhniki stadium. All teams that have travelled to Moscow are motivated to show their best - and it shows by the results, only four teams topped their pools with three wins in three matches. These are Marta Menegatti/Viktoria Orsi Toth (ITA), Mariia Bocharova/Maria Voronina (RUS), Liliana Fernández Steiner/Elsa Baquerizo McMillan (ESP), Joy Stubbe/Marleen Ramond-van Iersel (NED) and Tina Graudina/Anastasija Kravcenoka (LAT).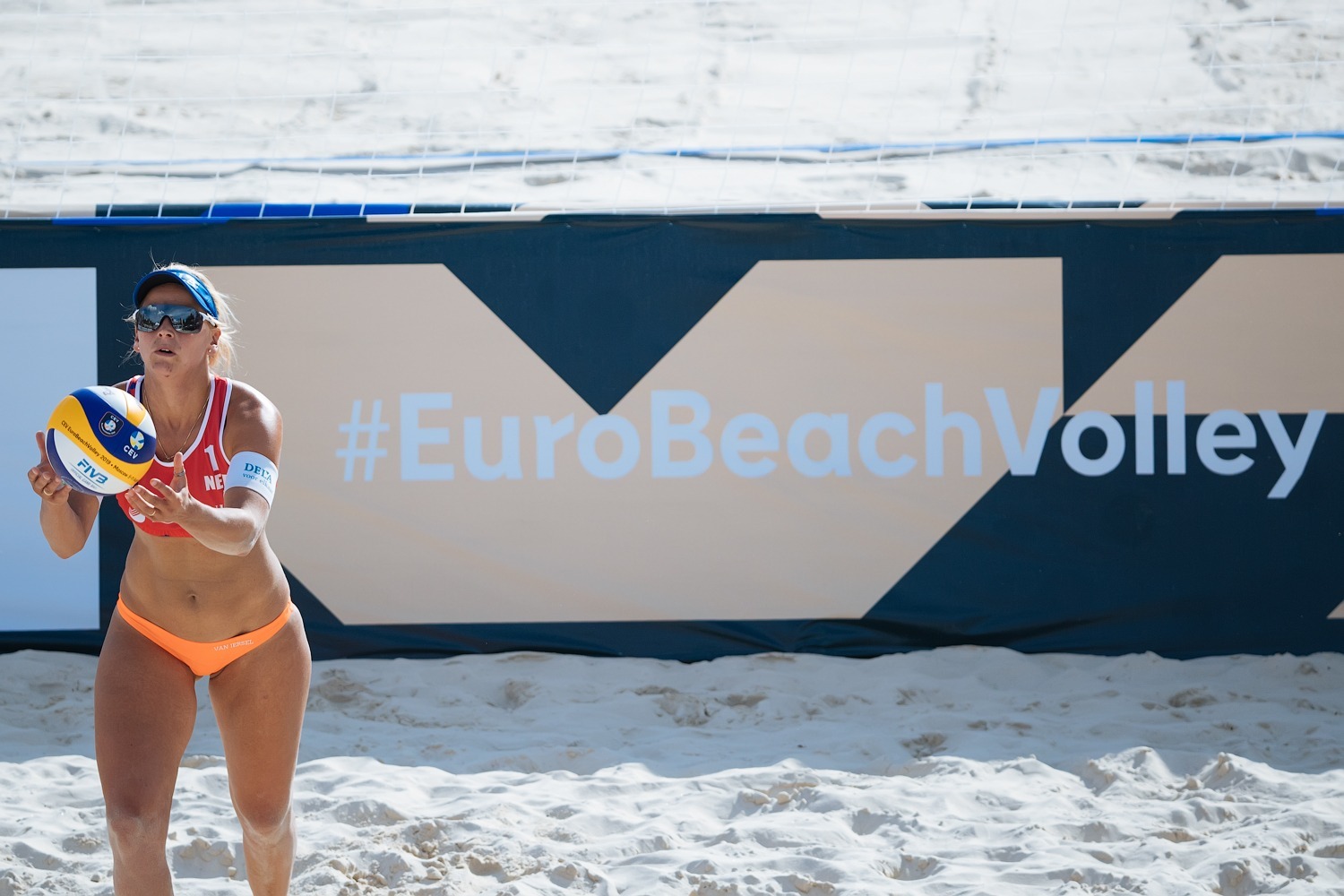 Thursday at the Luzhniki stadium started off with a three-setter win by the young Russian duo Bocharova/Voronina against Martina Bonnerová/Martina Maixnerova (CZE) 2-1 (21-13, 18-21, 15-12). Despite winning the pool the girls showed no intention to celebrate after the match, understanding a lot of work still lays ahead. 
"Since we were able to take first place in the group, we freed up a bit of time to get better prepared for our rivals. We can watch the matches and decide on our tactics"
Maria Voronina
player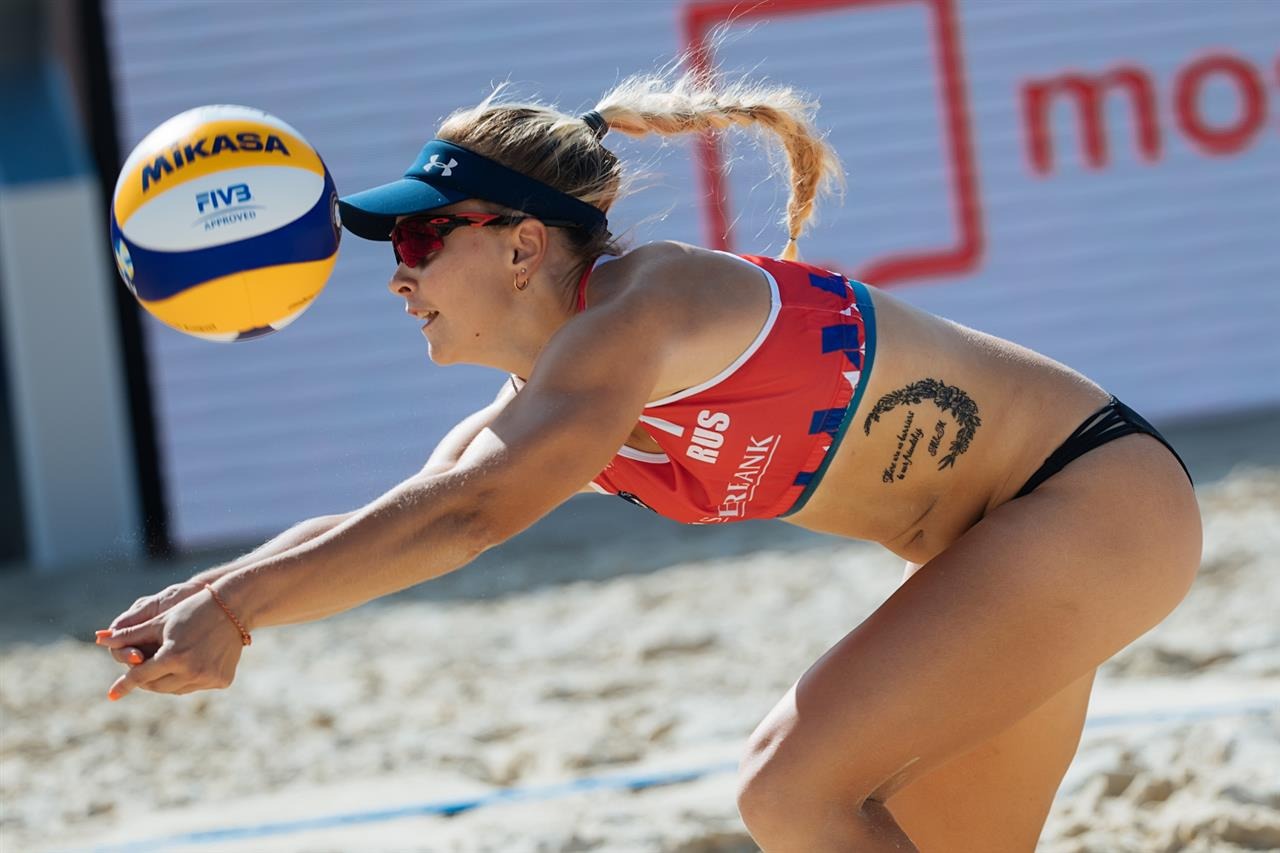 Maria Voronina in action
The pool win of Liliana/Elsa though, came with a negative touch as their last match against Nadezda Makroguzova/Svetlana Kholomina (RUS) was interrupted midway through the second set. Svetlana injured her knee after an unsuccessful landing at the net and was eventually carried off the court to be treated by the medics.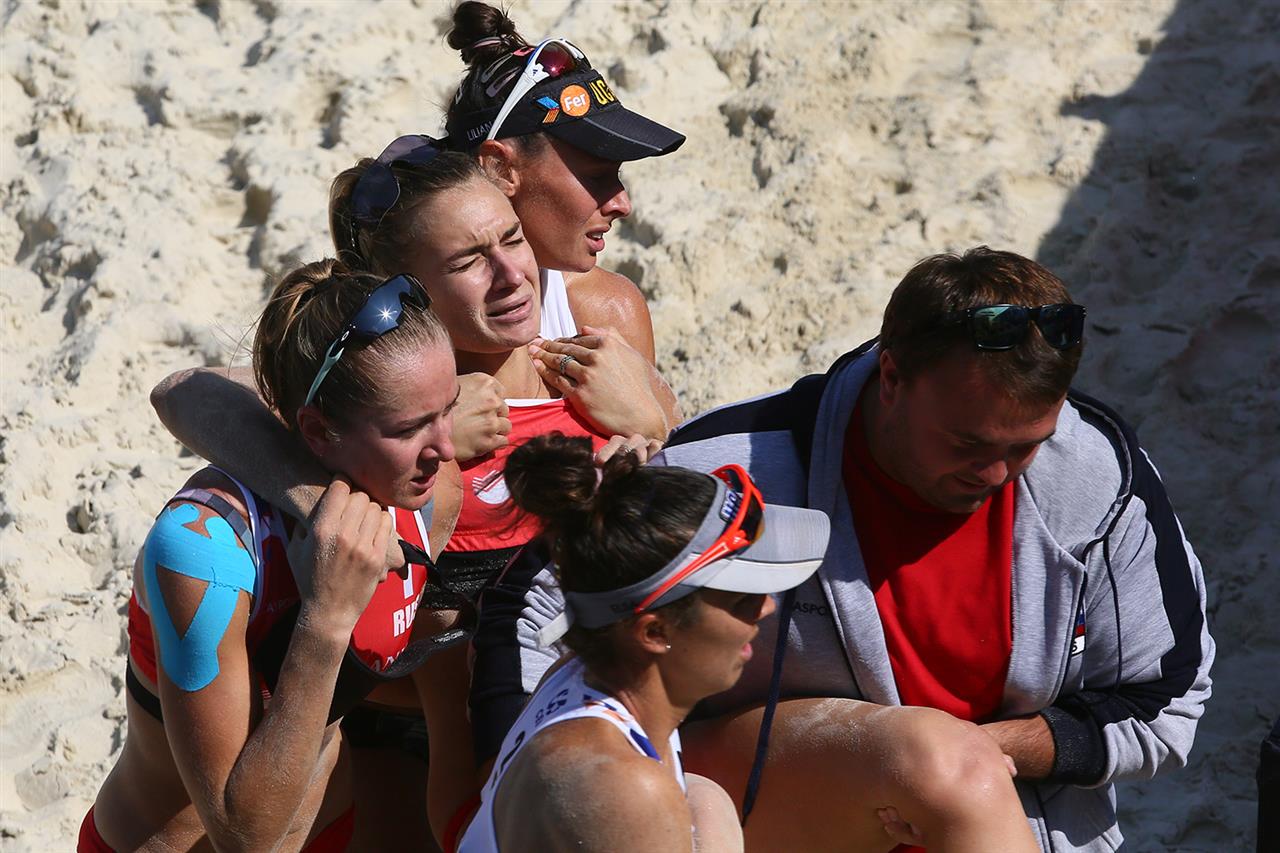 Compassion above everything else - the Spanish girls helping their injured opponent
Stubbe, J./van Iersel however had a thrilling match-up against Julia Sude/Karla Borger (GER) for the first place in Pool F. Both teams were playing cat and mouse all three sets and the Dutch girls could only take the win in three sets 2-1 (22-24 ,21-17, 16-14). The first place in the pool means a shorter competition day on Friday, when asked who would they not want to meet in their next matches, Joy Stubbe said with a smile on her face: "We want other teams to be afraid of us, not the other way around."
Menegatti/Orsi Toth (ITA) and Graudina/Kravcenoka (LAT) also topped the pools with no matches lost. The list of the teams that move directly to the Round 2, thus skipping the early morning session on Friday are Joana Heidrich/Anouk Vergé-Dépré (SUI), Sandra Ittlinger/Chantal Laboureur (GER) and the surprise from France Alexandra Jupiter/Aline Chamereau.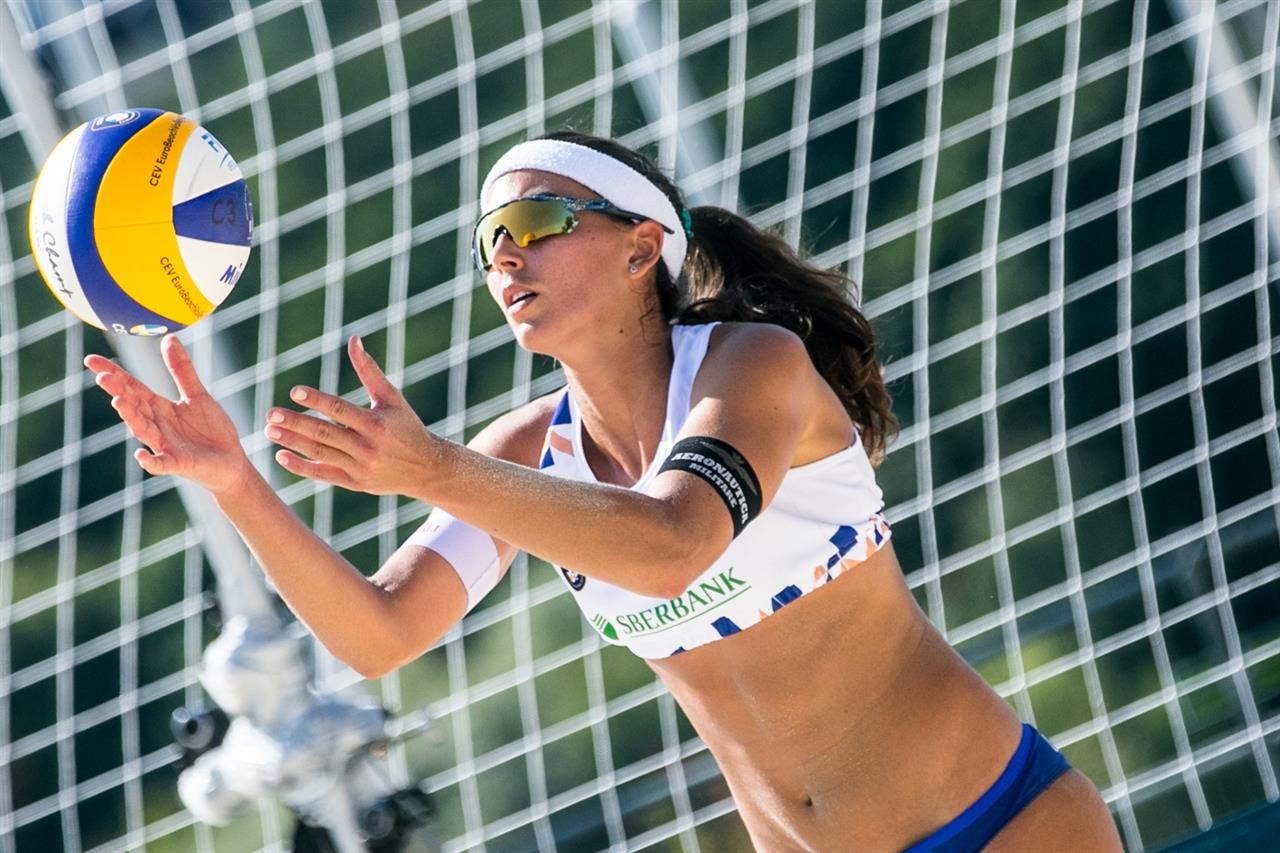 Marta Menegatti on the serve line
When looking at the elimination matches, it is clear an all-Russian match-up is scheduled between Ekaterina Birlova/Evgenia Ukolova and Makroguzova/Kholomina and it is obvious that after the injury the girls will have to closely evaluate, if Svetlana is ready to step on court so soon.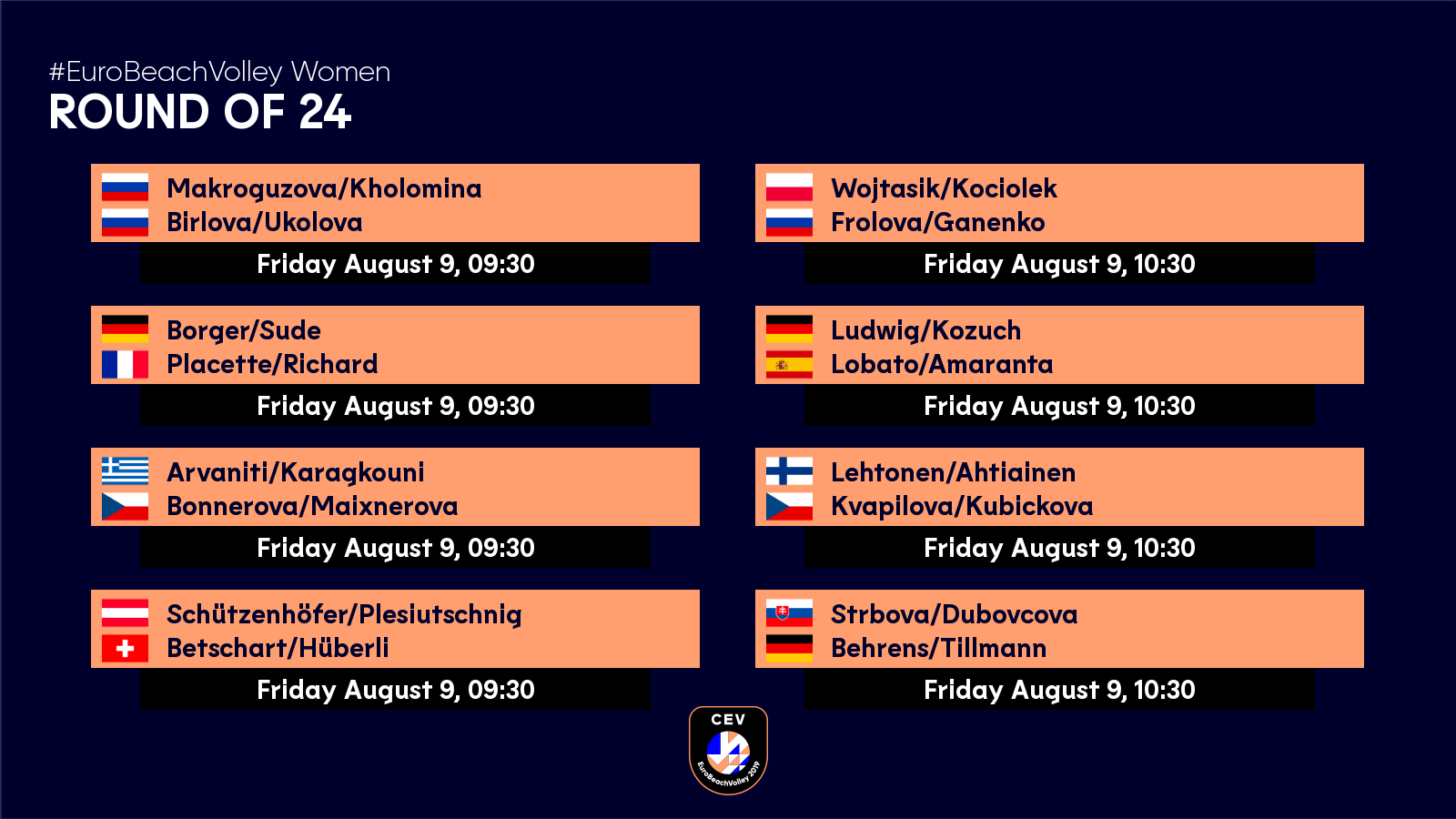 Most teams, who are set to battle on Friday morning, have not met on court before, but the Swiss girls Nina Betschart/Tanja Hüberli and the Austrians Katharina Schützenhöfer/Lena Plesiutschnig have previously met four times with the last one being #EuroBeachVolley 2018 in the Netherlands. In all of these meetings Nina and Tanja have been victorious. Laura Ludwig/Margareta Kozuch (GER) and Angela Lobato Herrero/Amaranta Fernández Navarro (ESP) are also familiar faces as they played each other twice this year and both times Laura and Margareta managed to come on top.
But for all teams the future is obviously not predicted yet and all will depend on their performance on court.
For further information about the tournament, be sure to visit the official website www.eurobeachvolley.cev.eu and follow #EuroBeachVolley all over social media.