2020
The sun sets on the opening day of CEV EuroBeachVolley 2020
Day 1 Recap
Jurmala, Latvia, September 15, 2020. We have waited a long time for it and the opening day of CEV EuroBeachVolley in Jurmala, Latvia did not disappoint with the Women's competition being in the spotlight. With matches from all Pools taking place on 3 of the 4 courts, we were able to see the main contenders at work.
Among the first matches of the day on the Main Court was that from Pool A, with the Swiss stars Tanja Hüberli/Nina Betschart (seeded 1st) taking on the Polish duo of Monika Brzostek/Aleksandra Gromadowska (seeded 32nd). Despite a disparity in expectations, the match proved to be more balanced than expected, the favourites having to work hard for every point throughout the 2-set, for a 37-minute-long match (21-18, 21-16). Speaking after the game, the importance of being able to be a part of a big competition again seemed to be more important than the win for Nina Betschart. "It feels amazing, I think it is really cool that we can still play the European Championships even with the coronavirus, and I think they do a great job here to make us feel safe."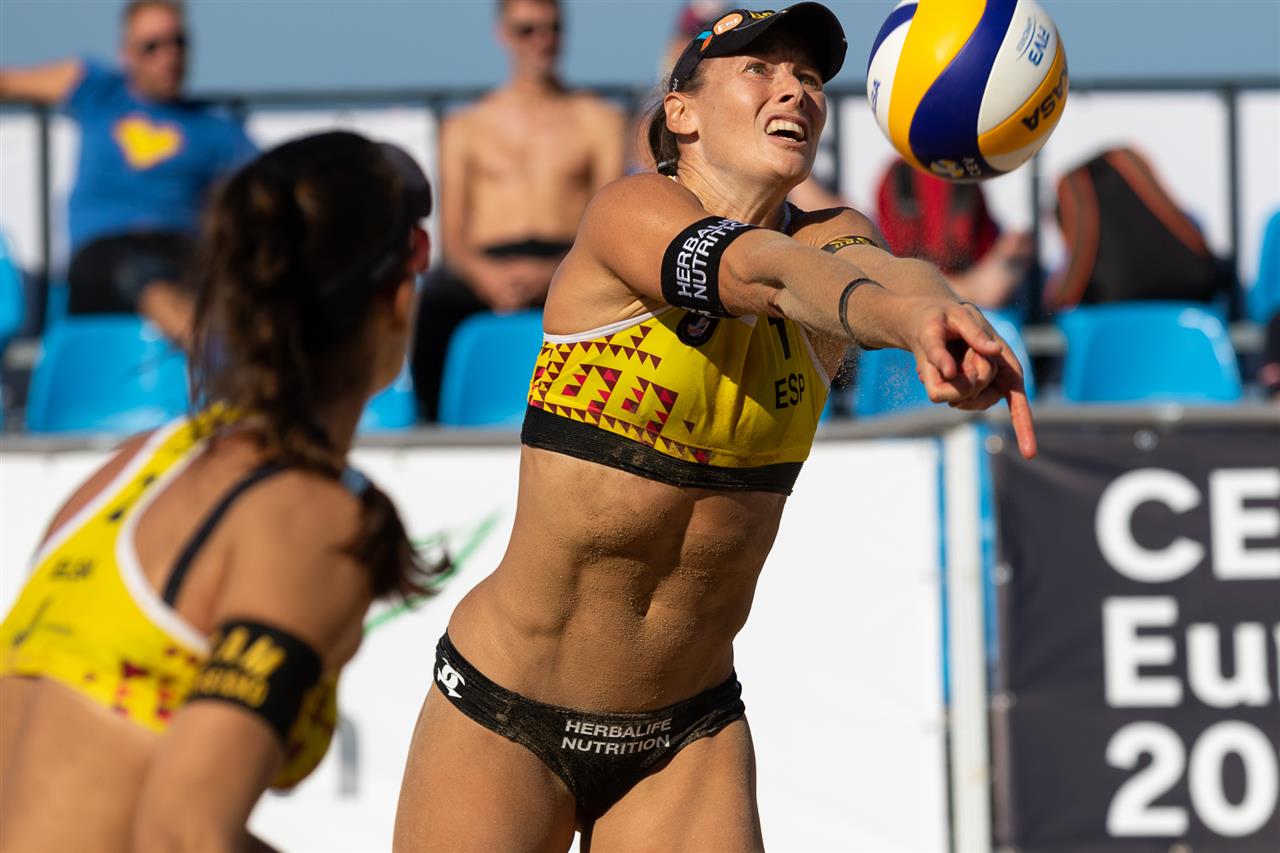 Liliana/Elsa (ESP)
"It was a very tough game. We had several ups and downs, but we managed to win and we are really happy about it,"
Liliana/Elsa
Spain
Elsewhere, in Pool H, Spain's Liliana/Elsa (seeded 8th) also had what proved to be a tough task at hand as they faced Ingrid Lunde/Ane Guro Hjortland from Norway (25th), with the 3-set match (22-20, 20-22, 17-15) lasting 1h 3mins, longest of the day.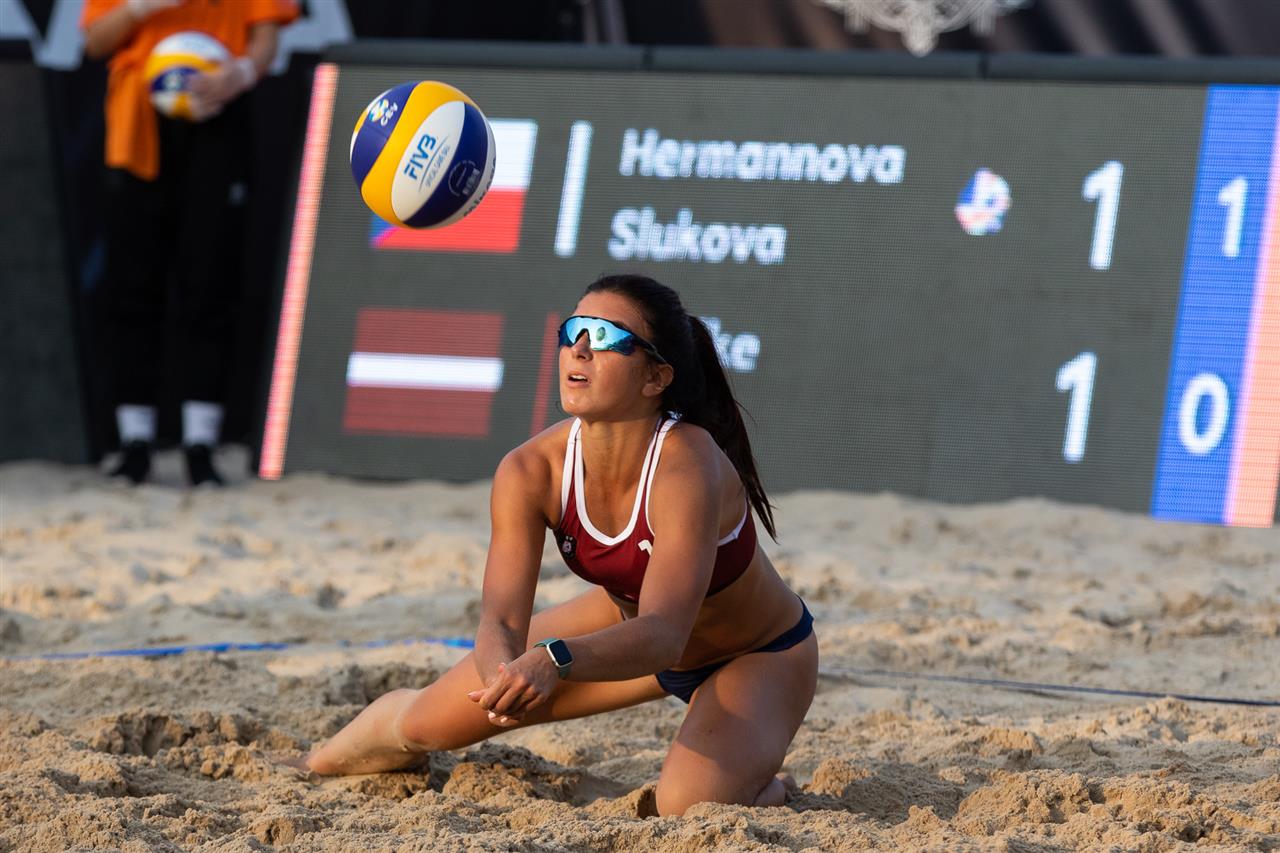 Anete Namike, recently crowned as U20 European Champion!
One of the most exciting matches of the day for the fans present in the Arena was that between the young Latvian duo Anete Namike/Varvara Brailko, crowned U20 European Champions just two days ago, and the more experienced team from the Czech Republic, Barbora Hermannova/Marketa Slukova (seeded 6th). Despite the eventual loss in two sets (21-16, 21-16), Latvian and beach volleyball fans in general can definitely be excited about the future of this young team.
The first day of the CEV EuroBeachVolley also offered us a couple of surprises with unexpected wins for Lézana Placette/Alexia Richard (France) vs the German champions Sandra Ittlinger/Chantal Laboureur in three sets (21-16, 24-26, 15-5) and a win for Spain's Amaranta/Lobato against yet another German team, Kim Behrens/Cinja Tillmann, in straight sets (21-19, 21-12).
The competition resumes tomorrow, until then you can dive into the full list of results, detailed statistics and more on the official website of the competition EuroBeachVolley.CEV.eu
Pool Standings
Matches
Sets
Points
Rank
Team name
Country
Points
Won
Lost
Won
Lost
Ratio
Won
Lost
Ratio
1
Hüberli/Betschart
SUI
4
2
0
4
0
100.000
84
57
1.474
2
Brzostek/Gromadowska
POL
3
1
1
2
2
1.000
79
80
.988
3
Soria/Carro
ESP
3
1
1
2
2
1.000
67
82
.817
4
Ceynowa/Kociolek
POL
2
0
2
0
4
.000
78
89
.876
1
Kozuch/Ludwig
GER
4
2
0
4
0
100.000
84
47
1.787
2
Birlova/Ukolova
RUS
3
1
1
2
2
1.000
77
67
1.149
3
Kubickova/Kvapilova
CZE
3
1
1
2
2
1.000
70
77
.909
4
Ozolina/Skrastina
LAT
2
0
2
0
4
.000
44
84
.524
1
Bieneck/Schneider
GER
4
2
0
4
2
2.000
110
99
1.111
2
Bocharova/Voronina
RUS
3
1
1
3
2
1.500
90
83
1.084
3
Heidrich/Vergé-Dépré, A.
SUI
3
1
1
3
2
1.500
93
90
1.033
4
Strauss N./Strauss T.
AUT
2
0
2
0
4
.000
63
84
.750
1
Makroguzova/Kholomina
RUS
4
2
0
4
0
100.000
84
61
1.377
2
van Iersel/Ypma
NED
3
1
1
2
2
1.000
75
73
1.027
3
Gruszczynska/Wachowicz
POL
3
1
1
2
3
.667
81
94
.862
4
Sinisalo/Parkkinen
FIN
2
0
2
1
4
.250
83
95
.874
1
Kravcenoka/Graudina
LAT
4
2
0
4
1
4.000
97
75
1.293
2
Lehtonen/Ahtiainen
FIN
3
1
1
2
2
1.000
73
76
.961
3
Dabizha/Rudykh
RUS
3
1
1
3
3
1.000
100
108
.926
4
Schützenhöfer/Plesiutschnig
AUT
2
0
2
1
4
.250
87
98
.888
1
Hermannova/Slukova
CZE
4
2
0
4
0
100.000
84
66
1.273
2
Jupiter/Chamereau
FRA
3
1
1
2
2
1.000
83
79
1.051
3
Menegatti/Orsi Toth
ITA
3
1
1
2
2
1.000
80
83
.964
4
Namike/Brailko
LAT
2
0
2
0
4
.000
65
84
.774
1
Keizer/Meppelink
NED
4
2
0
4
0
100.000
84
64
1.313
2
Amaranta/Lobato
ESP
3
1
1
2
2
1.000
76
73
1.041
3
Behrens/Tillmann
GER
3
1
1
2
2
1.000
73
75
.973
4
Briede/Paegle
LAT
2
0
2
0
4
.000
63
84
.750
1
Liliana/Elsa
ESP
4
2
0
4
1
4.000
101
89
1.135
2
Ittlinger/Laboureur
GER
3
1
1
3
2
1.500
89
89
1.000
3
Placette/Richard
FRA
3
1
1
2
3
.667
92
89
1.034
4
Lunde/Hjortland
NOR
2
0
2
1
4
.250
86
101
.851
Results