2023
Champions looking to build from EuroBeachVolley title
The A1 CEV EuroBeachVolley was back in Vienna for the second time in three years last week and once again the Austrian capital delivered a memorable edition of the continent's premier beach volleyball event.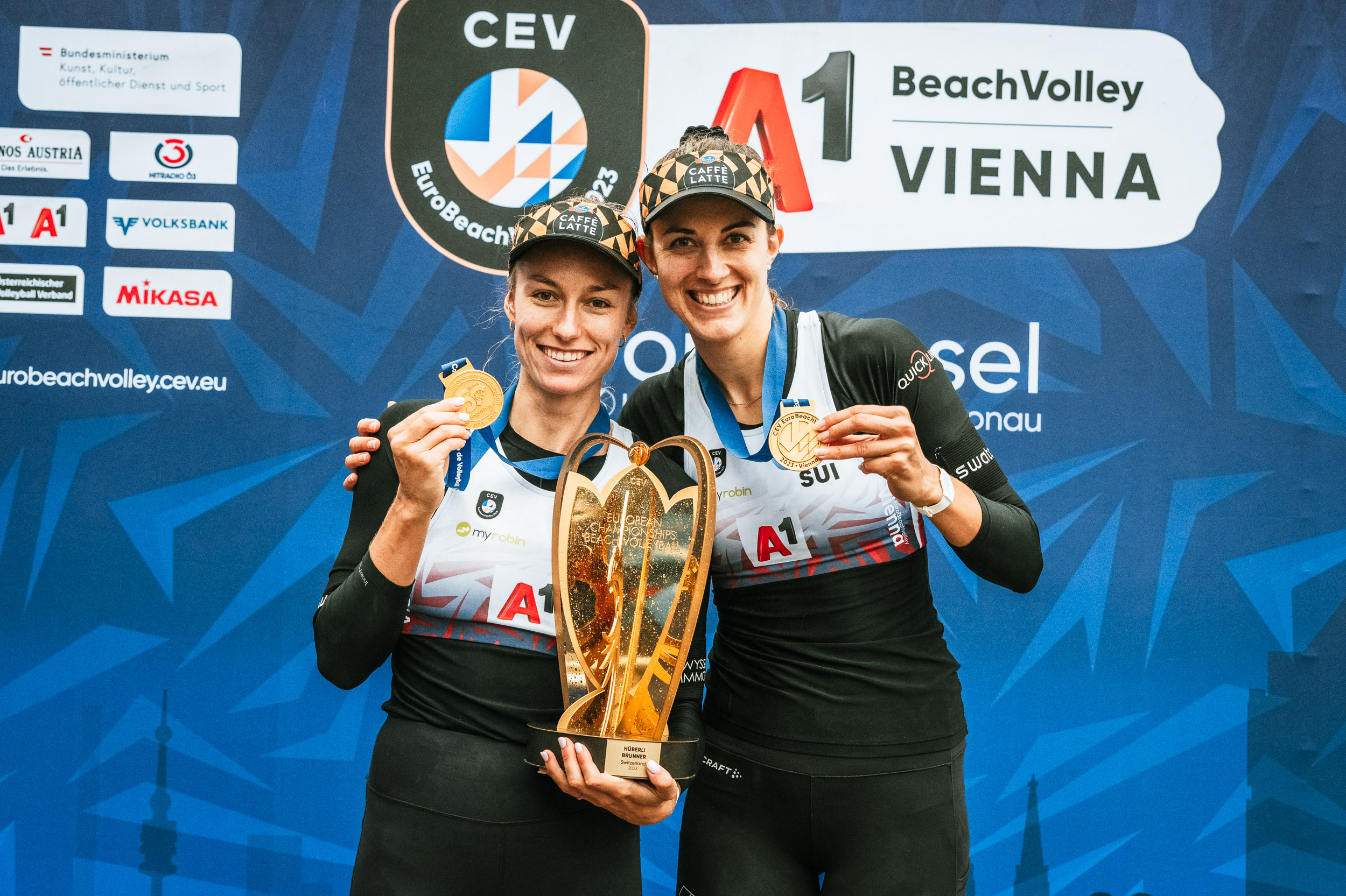 Brunner and Hüberli will look to move up in the Olympic Ranking in the second half of the season
Around 78,000 people headed to the Danube Island over the five days of event, witnessing the top teams in Europe battle for the continental titles. There were several exciting duels, numerous upsets and history was made in more than one way during the event, generating the elements that made of the 2023 EuroBeachVolley a special one.
At the end of the week, Switzerland's Nina Brunner and Tanja Hüberli and Sweden's David Åhman and Jonatan Hellvig stood at the top of the podium in Vienna, securing their second EuroBeachVolley title in three years – the Swiss won in 2021 and 2023 while the Swedish prevailed in the last two editions.
Although these are two teams that are already established in both the continental and the international scenes, their triumph at the highly-competitive EuroBeachVolley has the potential to help them make a strong push in the second half of the international season.
Brunner and Hüberli, who were ninth at the Tokyo 2020 Olympics, had to deal with some injuries during the first half of the season and because of that got to play in just four Volleyball World Beach Pro Tour events before the EuroBeachVolley.
The low number of events has kept outside the qualification zone of the FIVB Olympic Rankings, which will determine the teams that will compete at the Paris Olympics, and their confidence wasn't on a high after finishing 13th in their home tournament in Gstaad in July.
"Of course we came here thinking about winning in Vienna again, but the last few tournaments let us a bit unsure. I felt that after this week we found our rhythm again. Let's now see how we do in Hamburg, on the next Beach Pro Tour event."
Tanja Hüberli
Swiss Beach Volleyball Player
The sixth men's team to successfully defend its EuroBeachVolley title, Åhman and Hellvig will continue as the top duo in the continent for at least another year after their victory at the Danube Island.
The 21-year-old Swedes, however, had some difficult weeks leading up to the EuroBeachVolley as Hellvig fractured his right hand during the Ostrava Elite16 and had to sit out for about two months, only returning to the sand the weekend before the event, to play on a national tournament.
Looking to qualify for their first Olympics, Åhman and Hellvig had an excellent start to the race to Paris, going all the way to the top of the Olympic Rankings in March. The long inactivity, however, has pushed them down to 14th place, but after their victory in Vienna, they are ready to move up again.
"Although we came here with higher expectations after winning it last year, I had an injury a couple of months ago and we didn't get to play in the weeks leading up to the event, so we didn't really know what to expect. Our next goal is the Paris 2024 Olympics. We first want to qualify and then we'll prepare to do well there."
Jonatan Hellvig
Swedish Beach Volleyball Player