2023
Birthday boy Nicolai close to making EuroBeachVolley history
Being on the semifinals of the 2023 A1 CEV EuroBeachVolley in Vienna would have already made of Sunday a very special day for Italian star Paolo Nicolai, but the fact that the medal matches of the tournament held at the Danube Island will take place on the day of his 35th birthday just skyrocketed the potential for a truly memorable celebration for him.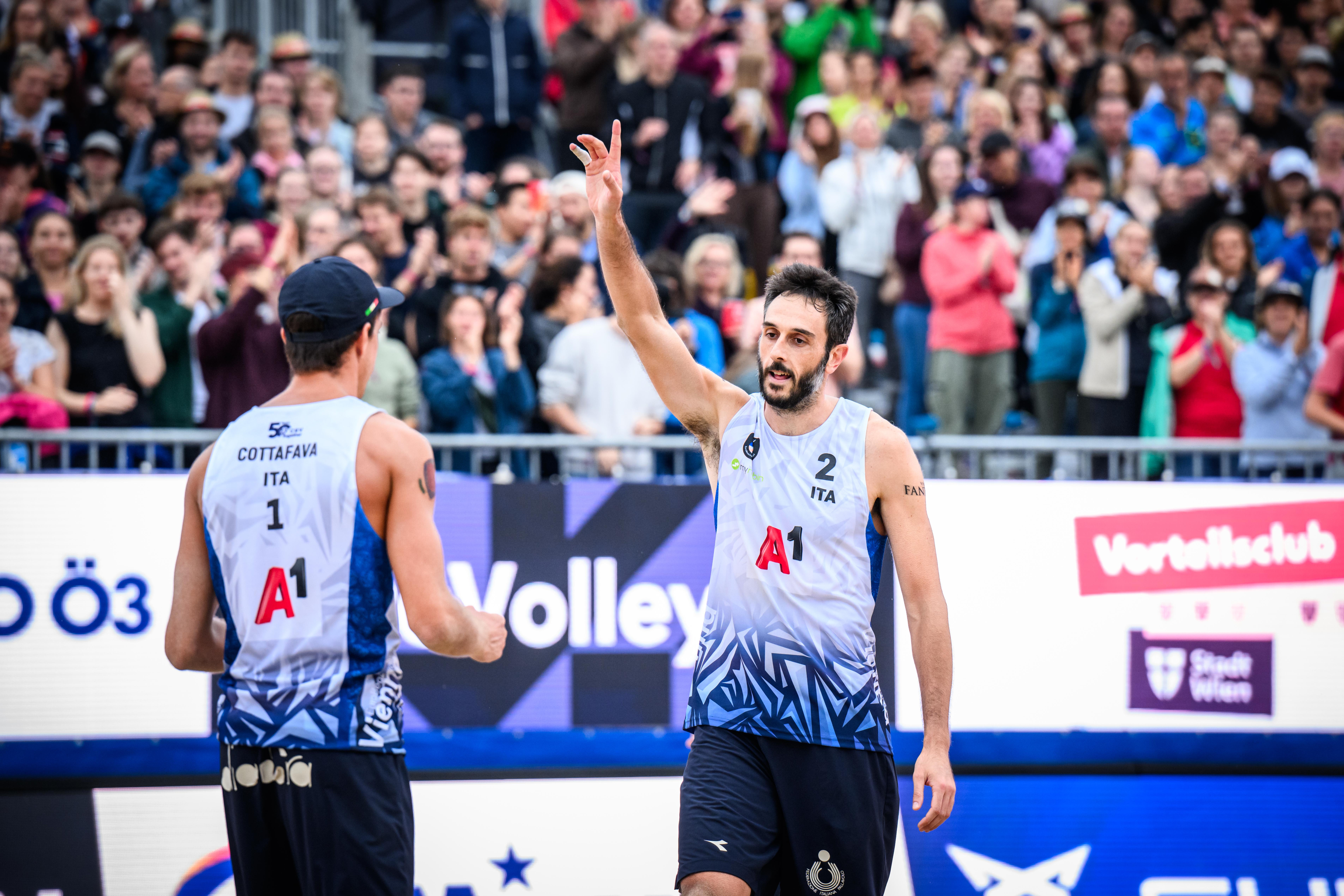 Nicolai and partner Cottafava had a big win over Immers and van de Velde in the quarterfinals
Nicolai, a Rio 2016 Olympic silver medalist, is already among the most accomplished players in the tournament's history, having won three golds (2014, 2016, 2017) and one bronze (2020) with longtime partner Daniele Lupo.
Another victory on Sunday in Vienna would make of the Italian just the fifth player to celebrate four EuroBeachVolley titles, joining Germans Jonas Reckermann and Laura Ludwig and Norwegians Anders Mol and Christian Sørum.
After Cottafava and him won their quarterfinal duel against Dutch Matthew Immers and Steven van de Velde, the veteran started making arrangements off the court to bring his wife and kids to Vienna for the last day of the event.
"We have a small baby at home, so we weren't really sure if they should come, but now, we'll try and see if they can make it here. If they're here, then it would be the perfect birthday for me. It's great to be in the semifinals. We'll face strong teams and we can finish anywhere from first to fourth. The only thing we can control is how well we play, so we'll try to focus on that and see where it takes us."
Paolo Nicolai
Italian Beach Volleyball Player
If the Italians do manage to claim the title, this victory will feel special to Nicolai in several ways and one of them is the fact that after three triumphs with Lupo, he would be able to take the gold medal with a new partner in Cottafava.
The two got together in 2022 and have had good results internationally, claiming five medals in 20 Volleyball World Beach Pro Tour events, including gold last year in Jurmala. The four-time EuroBeachVolley medalist looks rejuvenated alongside the 24-year-old Cottafava, having tweaked his playing style and even looking more energized on the court.
"I feel really good with Samuele. Every team has a different style of play and different characteristics. With him, we just try to explore our best skills, so we're moving more at the net on offense and playing more aggressively. It's been a lot of fun and we're just trying to enjoy every moment. Playing can be stressful at times, so when we make a good play, we feel the energy and we just want to share it with the fans, who are a big part of the game, especially here in Vienna."
Paolo Nicolai
Italian Beach Volleyball Player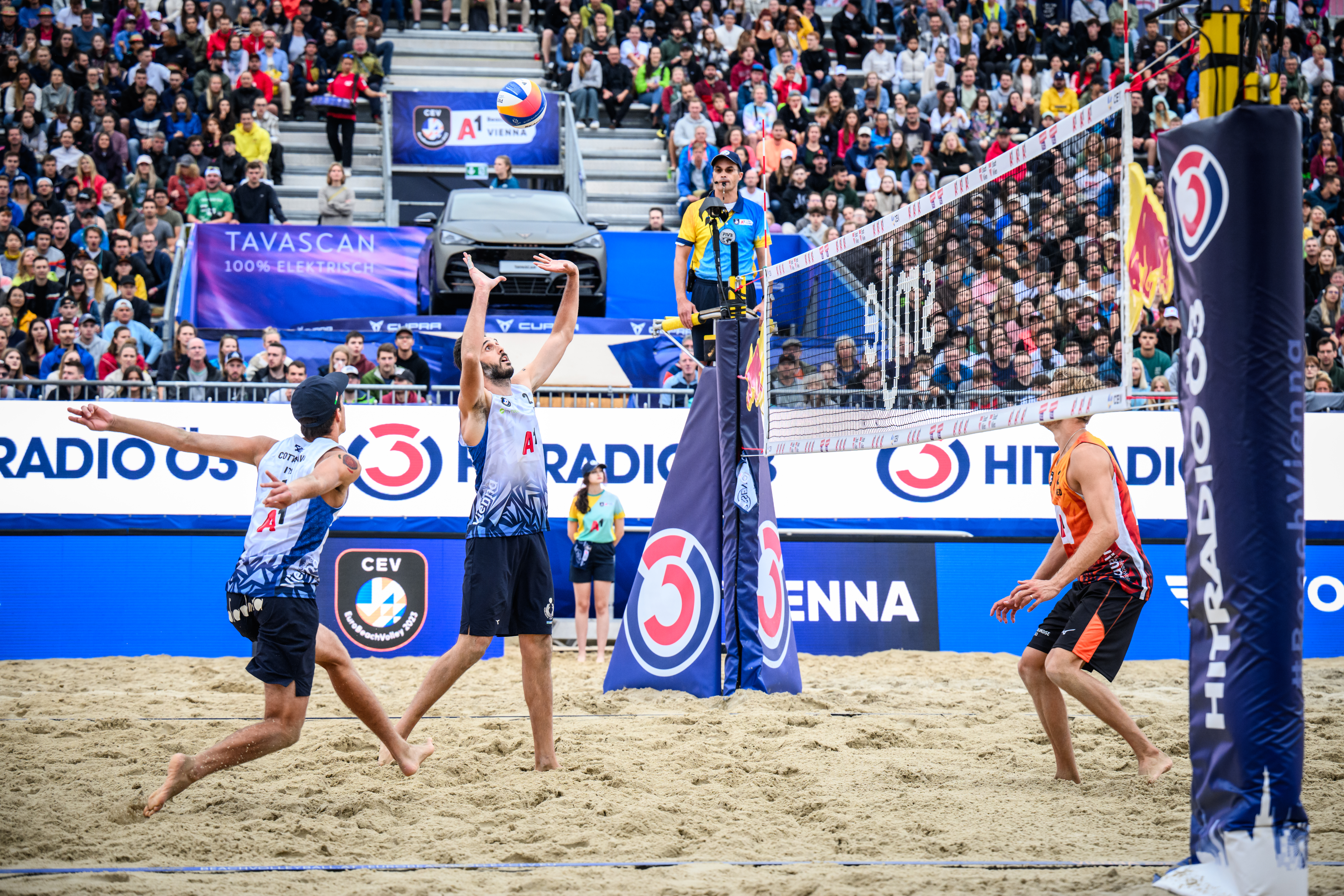 With Cottafava, Nicolai has been running a faster and more creative offense
Despite the 11-year difference between the two and his vast experience, Nicolai believes that one of the reasons for the team's success has been the fact that both players have been given equally important roles since they first joined forces.
"With us, really, there was never this thing of one leading the other, we have both been on the same level in the team. Age was never really a factor and I just trusted him from the start. He's a very smart person and we have coaches who tell us what to do, so I never really felt that I needed to do it. I always give my best and if I can be a good example, great, but one is just as important as the other in the team."
Paolo Nicolai
Italian Beach Volleyball Player