2023
Åhman and Hellvig defend EuroBeachVolley title in Vienna
The reign of David Åhman and Jonatan Hellvig in European beach volleyball is set to continue for at least another year as the Swedish jumpsetters successfully defended the continental title they won last year at the 2023 A1 CEV EuroBeachVolley, on Sunday, in Vienna.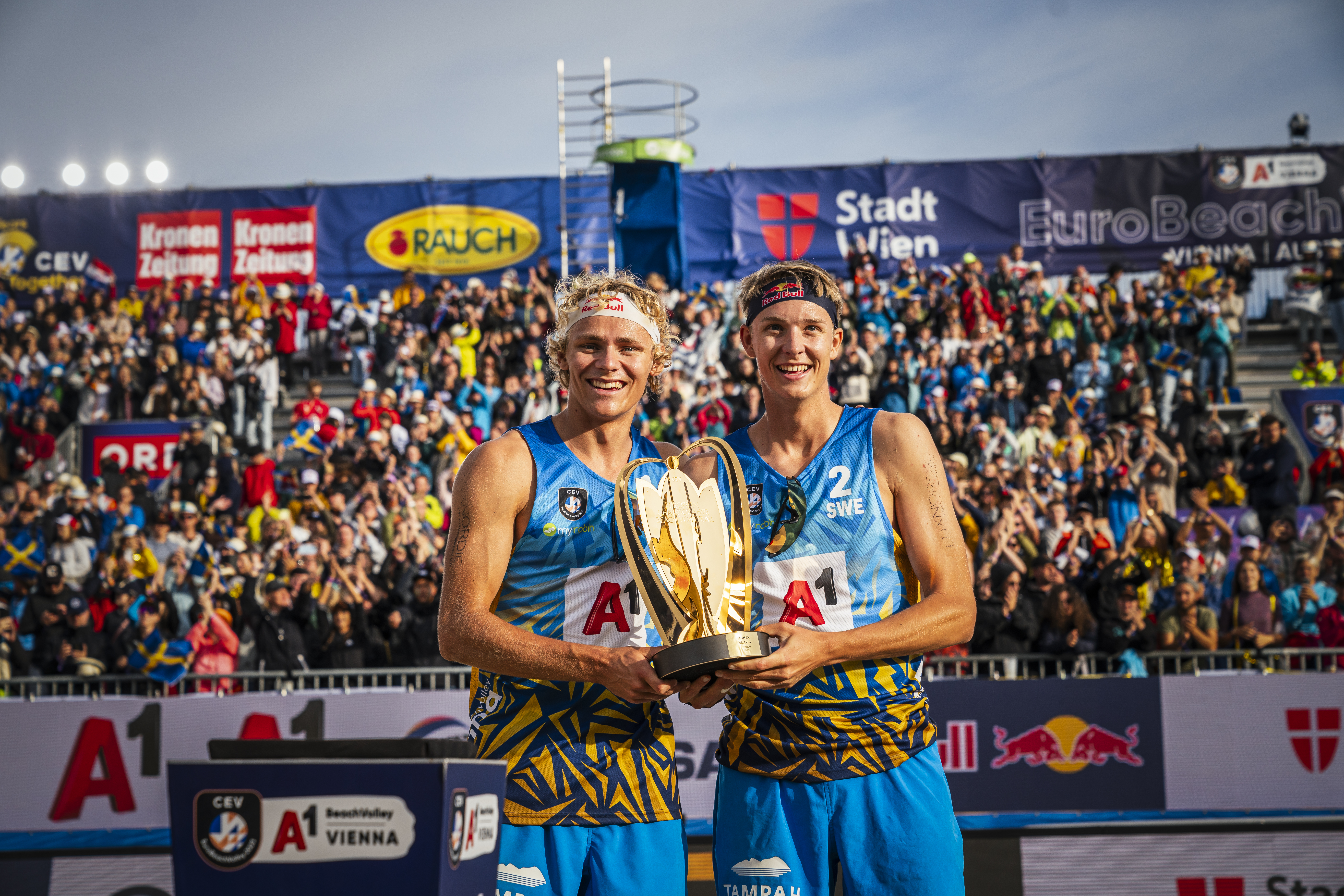 The back-to-back European champions pose with the trophy at the Red Bull Beach Arena
Playing in the Austrian capital for the first time in their still young careers, the 21-year-old Swedes won six matches in four days to remain at the top of the continent and give their country just the second EuroBeachVolley medal.
In the gold medal match played in a sunny and crowded Red Bull Beach Arena at the Danube Island, Åhman and Hellvig dominated Dutch temporary partners Leon Luini and Yorick de Groot to defend their title with a two-set (21-16, 21-18) win.
"Every match in this tournament was hard, but this was the last one, so we only gave everything we had and went for it. It's incredible to win the EuroBeachVolley again. Although we came here with higher expectations after winning it last year, I had an injury a couple of months ago and we didn't get to play in the weeks leading up to the event, so we didn't really know what to expect. I'm very happy with what we were able to show."
Jonatan Hellvig
Swedish Beach Volleyball Player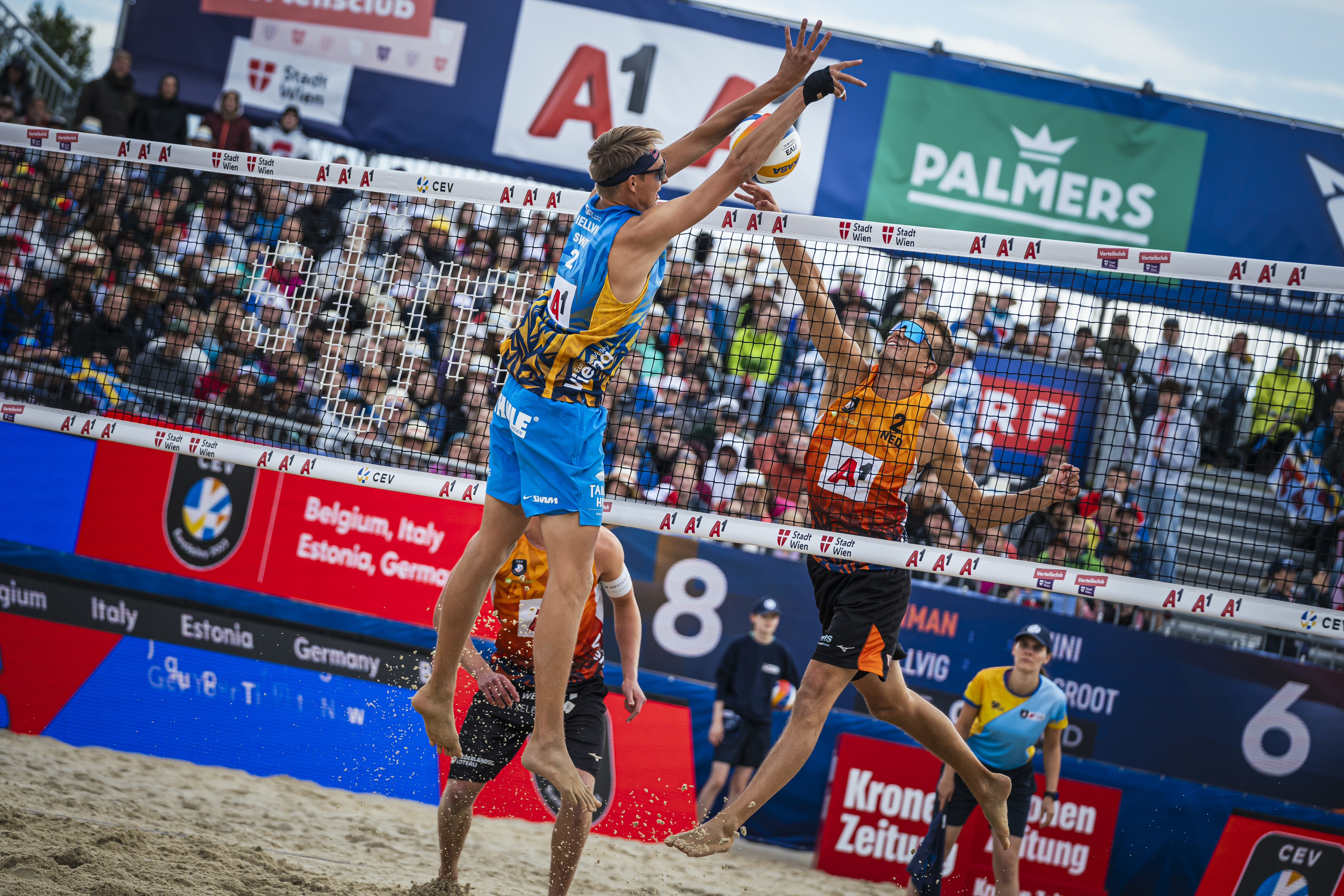 Hellvig gets a block on De Groot during the gold medal match
The Swedish stars became the sixth men's team in 31 years of EuroBeachVolley history to win back-to-back editions of the tournament and the seventh duo to earn the gold medal in different seasons.
With two continental titles and also three Volleyball World Beach Pro Tour victories under their belts, Åhman and Hellvig are quickly solidifying their spot as one of the top teams in the world.
"I still can't believe it, this is such an amazing thing, really a dream coming true. We're just so happy to be here and to make it all the way to the end. Coming as the defending champions, we knew we could beat every team here, but that we had to play really well to do it and that's we did. Today was a great day, with two very tough matches, but we played really well. I loved the atmosphere in Vienna and can't wait to play here again."
David Åhman
Swedish Beach Volleyball Player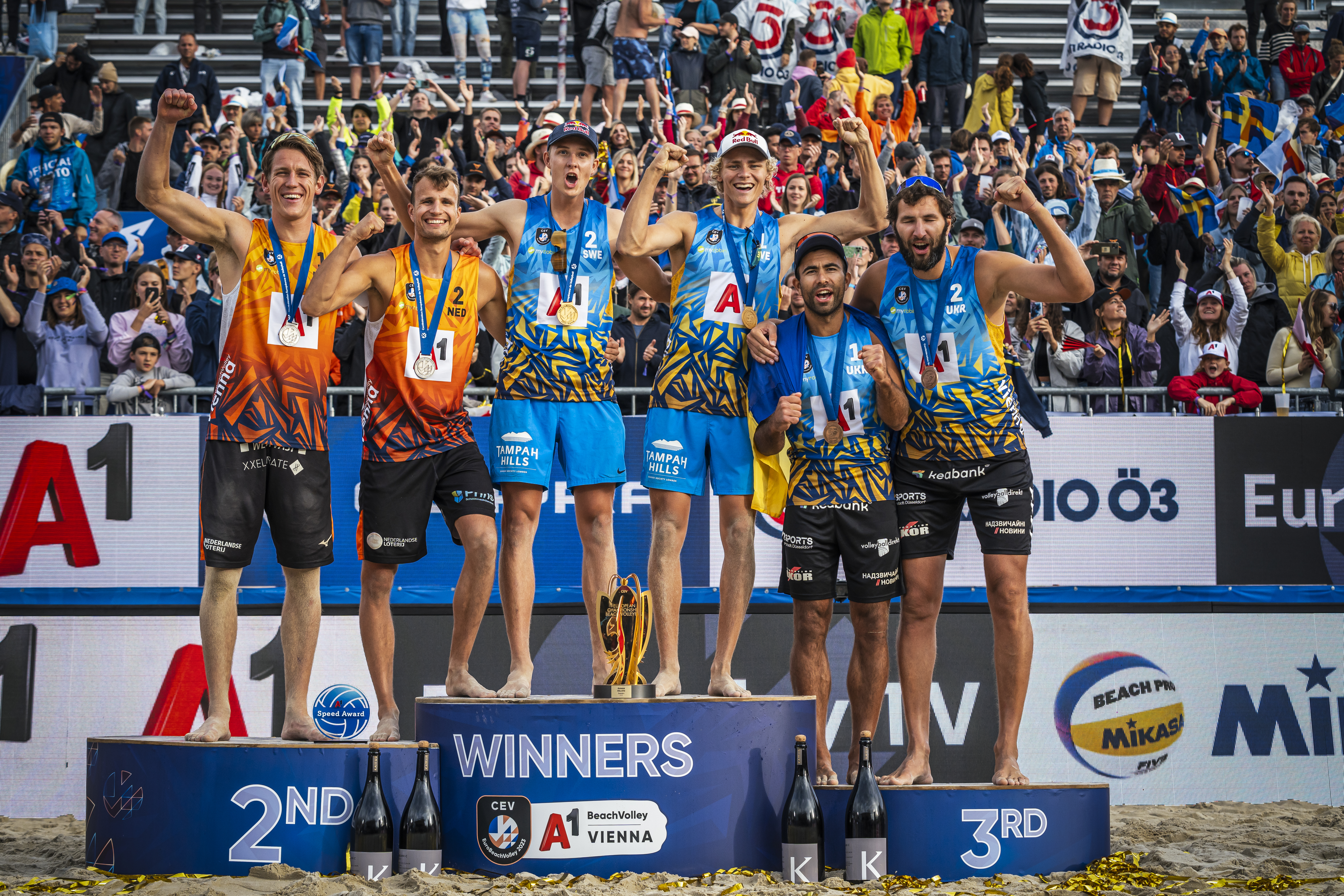 Teams from the Netherlands, Sweden and Ukraine stand at the podium in Vienna
De Groot, who also took silver in Vienna at the 2021 EuroBeachVolley, and Luini also left the Austrian capital with a positive feeling after reuniting just a few days before the start of the tournament. The two, who are originally defenders and joined forces due to injuries to their original partners, made the most of their individual skills to win some big matches over the week at the Danube Island.
"We really didn't expect we would be able to make it so far. We only found out we would be playing together on Sunday evening and only got to practice once, here in Vienna already. We tried to keep our side out steady because we knew we could make good plays on defense and get some aces. In the final, we really had no answer to their game. At the end, it's a little of a bittersweet to leave Vienna with silver again, but I'm also very happy with what we were able to do."
Yorick De Groot
Dutch Beach Volleyball Player
In the bronze medal match, Popov, who turned 32 on Sunday, and Reznik made history for Ukraine for a second-straight day by securing the country's first-ever medal on the EuroBeachVolley with a two-set (22-20, 21-13) victory over Italians Paolo Nicolai and Samuele Cottafava.
With the result, Ukraine have officially joined the elite of the sport in Europe, becoming the 16th different nation to make a podium appearance on the EuroBeachVolley.
"This is crazy, really hard to believe. This bronze medal is a great birthday present. We wrote the history of Ukrainian beach volleyball because it's the first big medal for our federation and our country. The situation in Ukraine is very difficult, and this medal is like a good motivation for everyone in our country. We beat some really good teams here and are really happy."
Sergiy Popov
Ukrainian Beach Volleyball Player
In the semifinals, Åhman and Hellvig defeated Nicolai and Cottafava in a dramatic three-set (12-21, 21-15, 23-21) battle while Luini and de Groot overcame Popov and Reznik in straight sets (22-20, 21-18).