2022
Plenty of electrifying pool matches in store at EuroBeachVolley Munich 2022
The EuroBeachVolley competition in Munich later this summer will provide exciting, electrifying fixtures right from the pool stage of the event held at the iconic Königsplatz as part of the multi-sport European Championships Munich 2022! The anticipation is already mounting after the Drawing of Lots confirmed the distribution of the 32 teams per gender across the pools whereby competition will get underway on German soil in mid-August.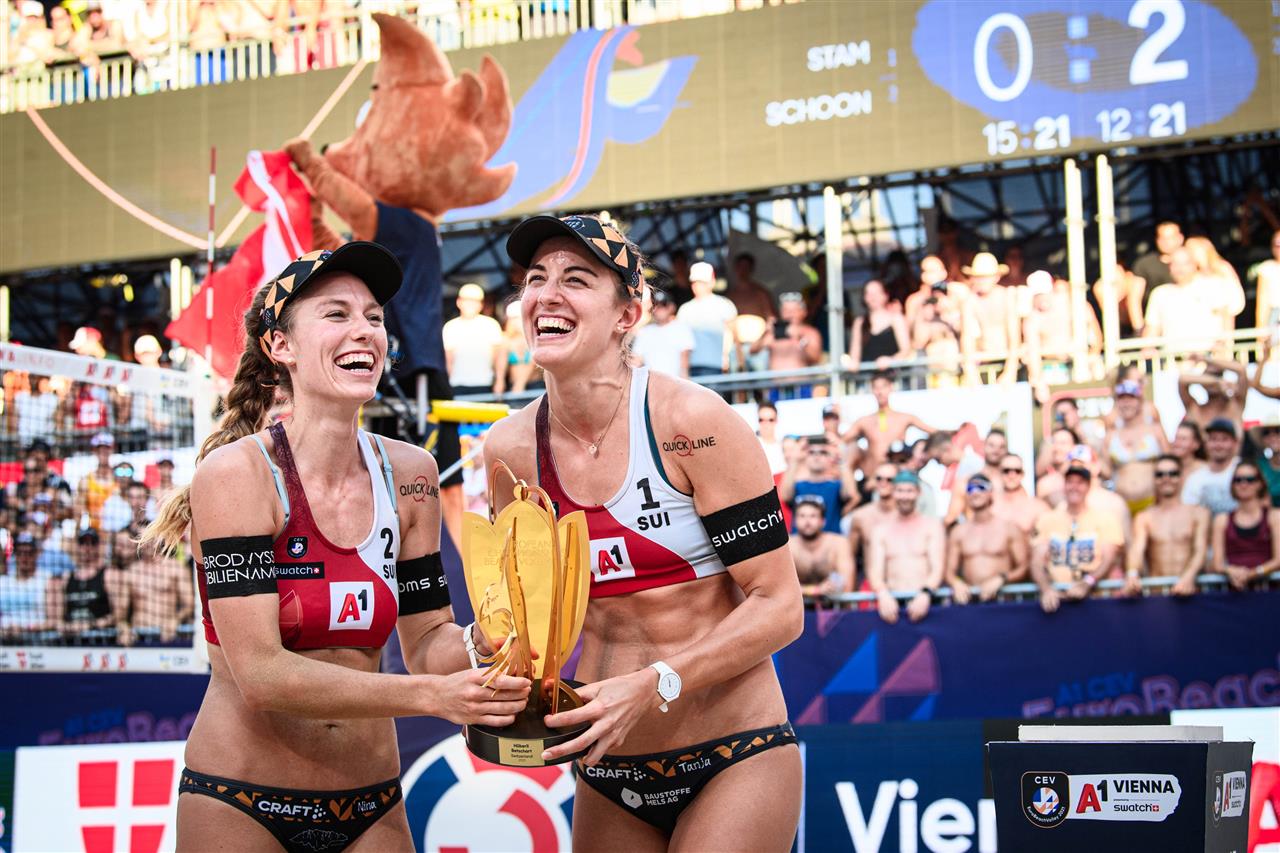 Nina Brunner and Tanja Hüberli will be trying to retain their European crown later this summer in Munich
In the men's competition, the event red-hot favourites, Norway's Anders Mol and Christian Sørum, may be playing their friends Hendrik Mol/Mathias Berntsen, who are Anders's older brother and cousin, respectively, in a very Scandinavian Pool A, which includes the likes of multiple age-group European champions David Åhman and Jonatan Hellvig of Sweden as well.
If we were to move to the other end of the spectrum, i.e. from energetic youngsters to veterans, Pool B may produce a clash between 2013 world champions and Rio 2016 Olympic bronze medal winners Alexander Brouwer/Robert Meeuwsen of the Netherlands and 2015 EuroBeachVolley winners Aleksandrs Samoilovs and Janis Smedins of Latvia.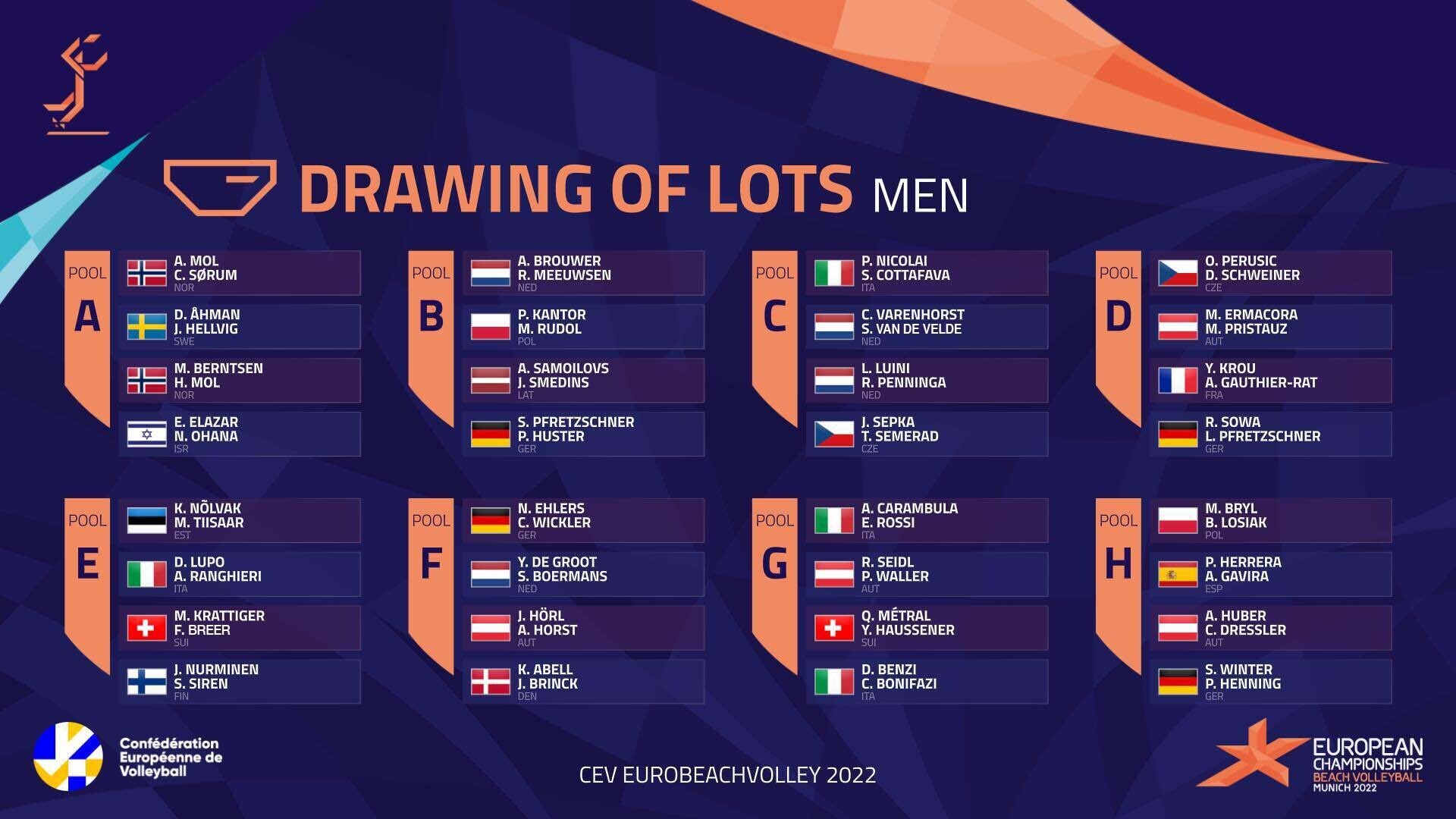 Estonia's Kusti Nôlvak and Mart Tiisaar, possibly the major sensation of the 2022 season this far, are likely to play Italian veterans Daniele Lupo – a three-time European champion – and his new partner Alex Ranghieri for the top spot in Pool E. Last year's EuroBeachVolley silver medal winners Yorick de Groot and Stefan Boermans of the Netherlands feature in the same pool as hometown hero Clemens Wickler and his partner Nils Ehlers.
Home favourites Svenja Müller and Cinja Tillmann of Germany will be trying to capitalise on their bronze-medal winning performance at the World Championships in Rome by going for even more glory on home sand. They will be starting their quest for European gold in a pool where they are due to play French newcomers Clemence Vieira/Aline Chamereau and potentially the newly crowned U22 European champions Daniela Alvarez Mendoza and Tania Moreno Matveeva of Spain.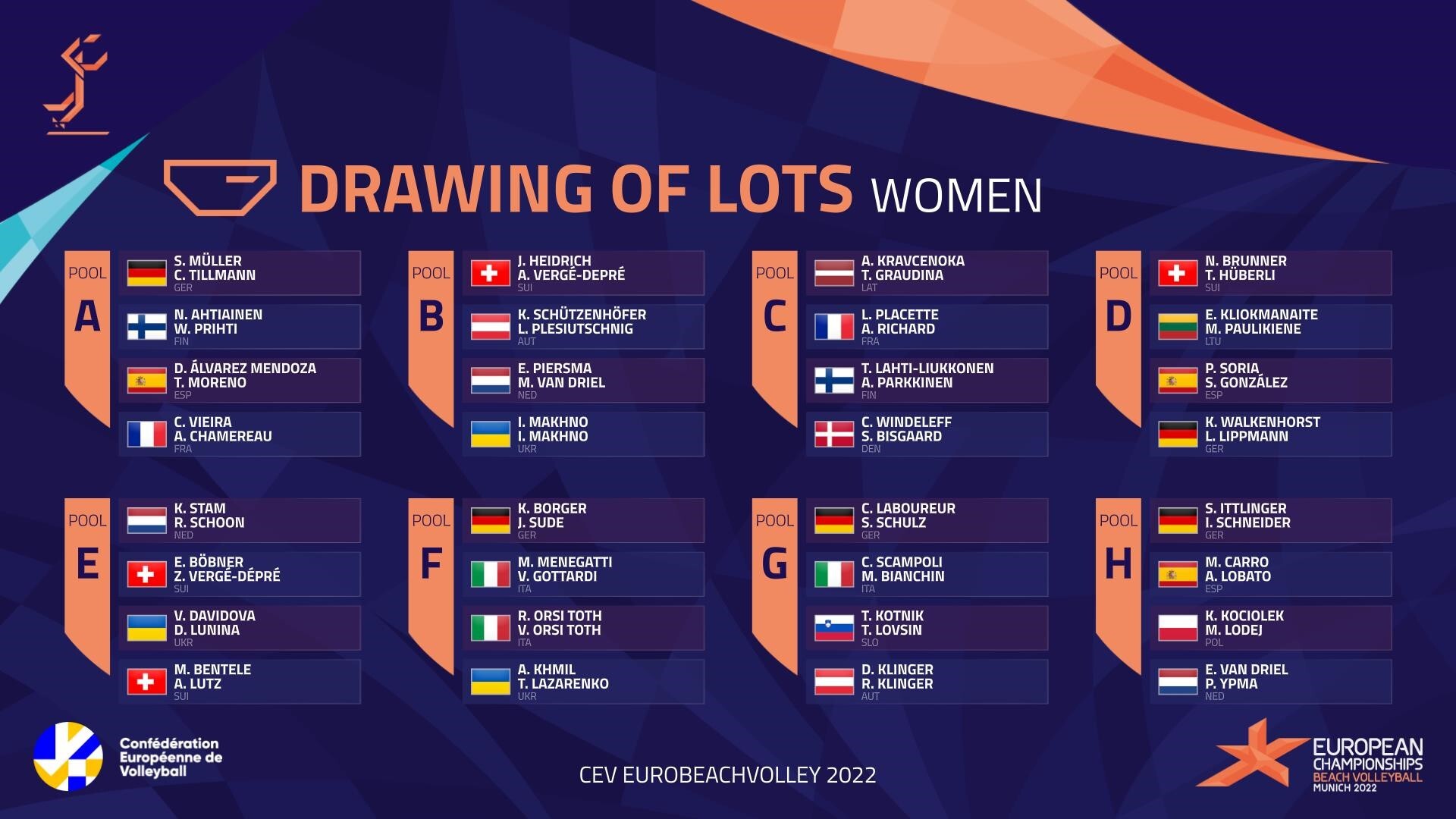 With the last three European champions all due to contest the event in Munich, the return to international competition of 2016 Olympic gold medallist Kira Walkenhorst has already drawn much curiosity. She and her partner Louisa Lippmann, best known as the opposite hitter of the German national team, will be testing their likes against reigning European champions Tanja Hüberli and Nina Brunner (Betschart) of Switzerland.
Another interesting match-up will feature an Italian derby with former partners Marta Menegatti and Viktoria Orsi Toth standing on opposite sides of the net – as Menegatti is playing this season with Valentina Gottardi and Orsi Toth has teamed up with her younger sister Reka.
At the end of pool play, 24 teams will continue their quest for glory at the iconic Königsplatz in a single elimination format, with semis and medal matches scheduled for Saturday and Sunday, August 20 and 21 for women and men, respectively.
For further information, visit also www.munich2022.com.