2022
Parade of Beach Volleyball stars as entries confirmed for Munich 2022
Olympic, World and four-time European champions Anders Mol/Christian Sørum of Norway, aka the Beach Volley Vikings, will be trying to add another chapter to their unprecedented success story in the sport as they will be starting their quest for further glory as the top-seed in the men's competition at the European Championships Munich 2022. Home favourites Svenja Müller and Cinja Tillmann, bronze medal winners at the World Championships last week in Rome, headline the women's entries, as this year's EuroBeachVolley takes place in conjunction with the much-anticipated multi-sport European Championships Munich 2022 at a very heart of the Bavarian capital city. The competition at the iconic Königsplatz will run from August 15 to 21, 2022. The Drawing of Lots to define the distribution of the teams across the preliminary pools will be taking place on Wednesday, June 22 in Munich at 7 pm local time, with live streaming available on both the official CEV and Munich 2022 channels.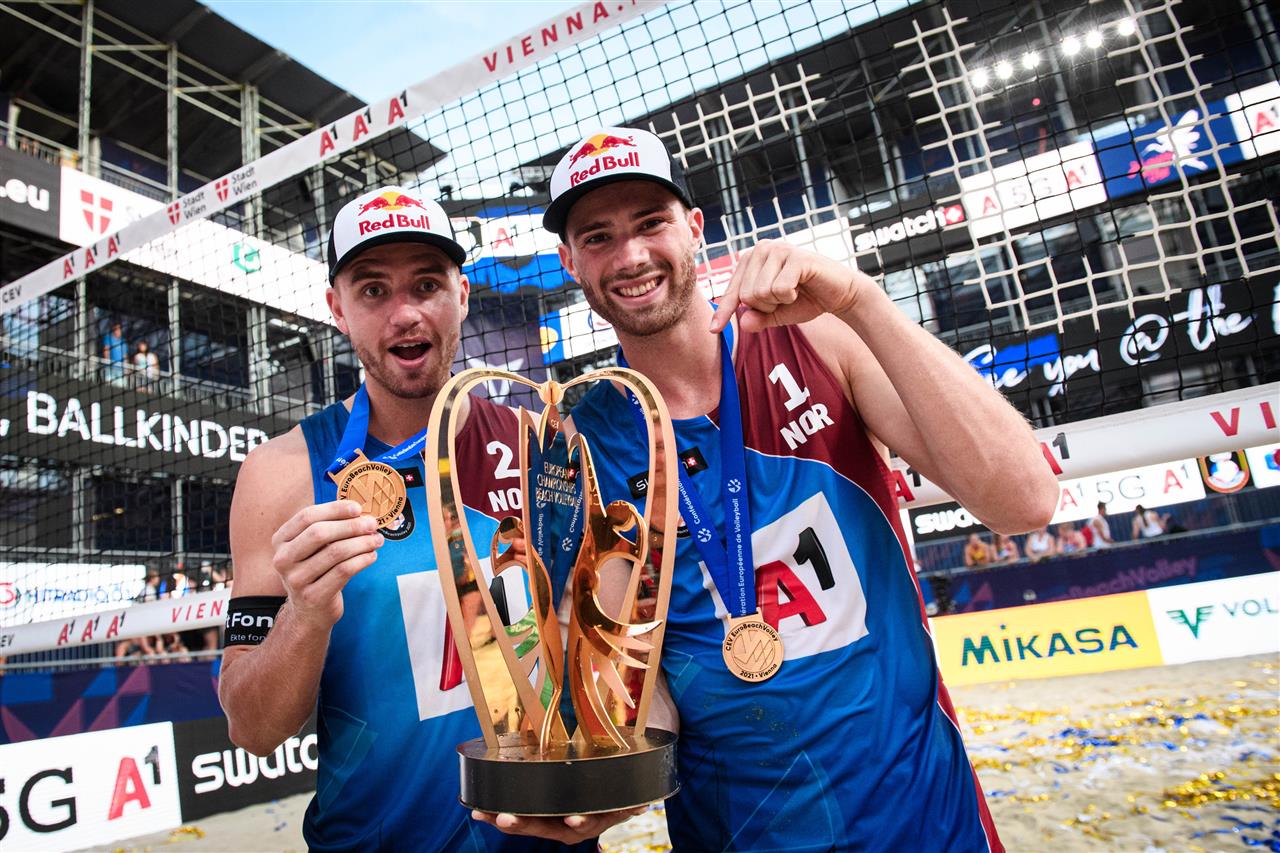 Anders Mol/Christian Sørum (NOR) will be chasing an unprecedented fifth straight European title in Munich
Click here to retrieve the full entries for the men's competition.
Last year, Mol/Sørum achieved an unprecedented feat by securing their fourth straight European title in Vienna only a few days after their historic success at the Tokyo 2020 Olympics. In their bid for a fifth European crown, they will be facing a large number of well-established as well as up-and-coming opponents, with the entries including – next to Mol/Sørum themselves – as many as six former European champions. Latvia's Aleksandrs Samoilovs and Janis Smedins won the European title in 2015 – while Italy's Paolo Nicolai and Daniele Lupo stood on top of the podium in 2014, 2016 and 2017 – but after parting ways at the end of last season, they will be contesting the Munich 2022 event with their respective new partners, Samuele Cottafava and Alex Ranghieri. Spain's evergreens Pablo Herrera/Adrian Gavira crowned themselves European champions in 2013.
With the eyes of German fans obviously on 2019 World Championship silver medallist, local favourite – as he is from Bavaria – Clemens Wickler and partner Nils Ehlers, Beach Volleyball enthusiasts will certainly follow very closely the actions of some up-and-coming teams as well, such as Estonia's sensation Kusti Nõlvak/Mart Tiisaar, last year's EuroBeachVolley silver medal winners Yorick de Groot/Stefan Boermans of the Netherlands and multiple age-group European champions David Åhman/Jonatan Hellvig of Sweden.
The experienced Dutchmen Alexander Brouwer and Robert Meeuwsen, the 2013 world champions and 2016 Olympic bronze medallists, remain a force to reckon with – as they recently reached the quarterfinals at the World Championships in Rome.
The men's tournament at Munich 2022 features teams from 16 countries – with hosts Germany, Austria, Italy, and the Netherlands the nations with the largest contingents (four teams apiece).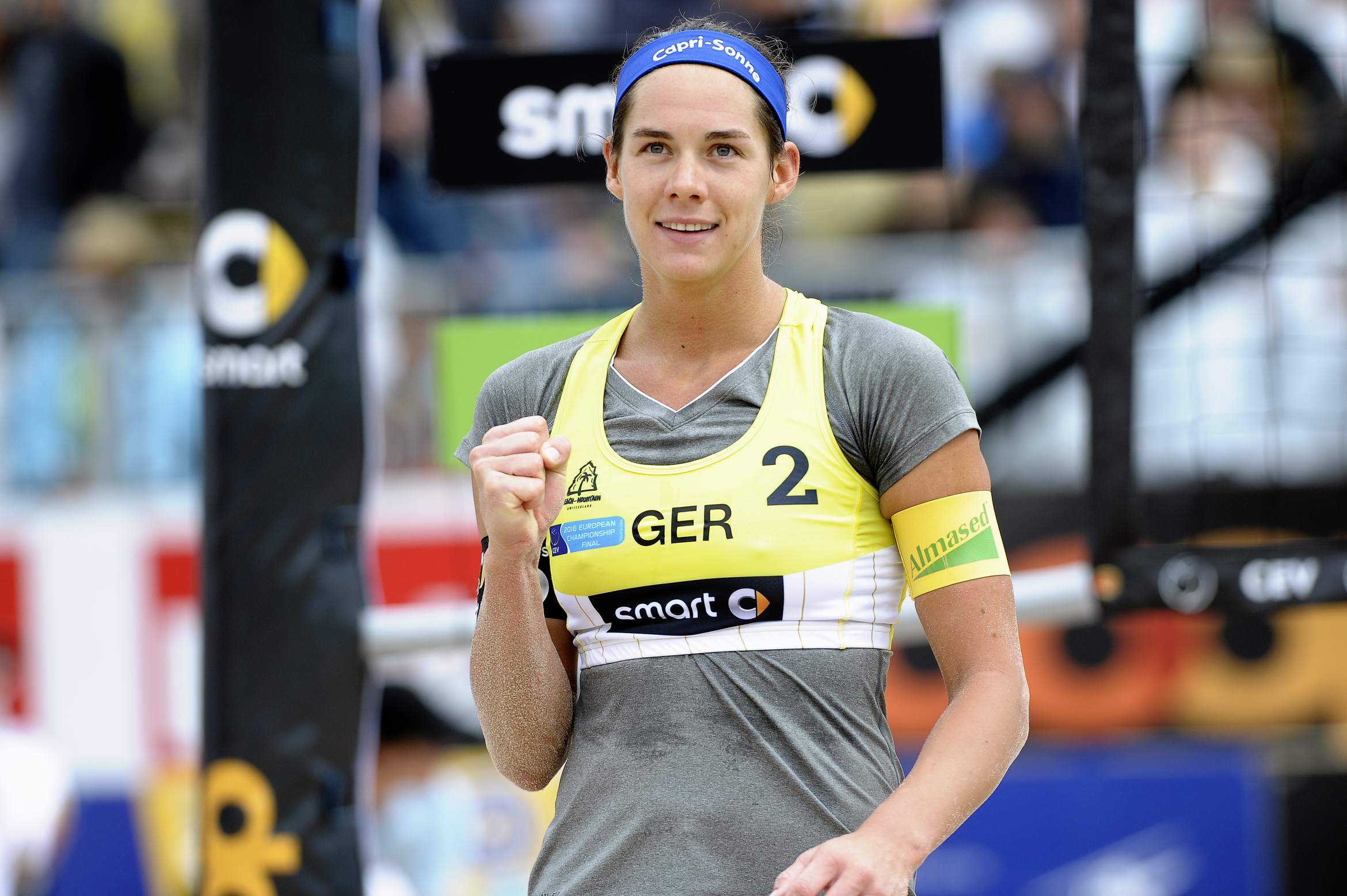 2016 Olympic champion and two-time European gold medallist Kira Walkenhorst will return to competitive action before a home crowd in Munich
Click here to retrieve the full entries for the women's competition.
Mol/Sørum are not the only Olympic champions due to take to the court at Königsplatz. German fans can look forward to the comeback of Rio 2016 Olympic gold medallist Kira Walkenhorst – who is returning to a major competition after many years plagued by injuries. Walkenhorst will contest the women's tournament together with German Volleyball star Louisa Lippmann – who recently announced her intention to transition from playing indoors to the sand. Walkenhorst and Lippmann have received a wild-card for the event and their participation will certainly spark much excitement among fans and media alike.
With teams from 14 countries composing the 32-strong field, next to World Championship bronze medallists Müller/Tillmann, who recently catapulted themselves to the international elite, Munich 2022 will welcome the last three EuroBeachVolley winners – Tina Graudina/Anastasija Kravcenoka of Latvia (2019), Switzerland's Joana Heidrich/Anouk Vergé-Dépré (2020) and Nina Brunner/Tanja Hüberli (2021). Kira Walkenhorst won two straight European titles in 2015 and 2016 with former partner Laura Ludwig. Marta Menegatti of Italy is another former European champion (2011) as well.
With men and women combined together, the Beach Volleyball competition at Munich 2022 will feature teams from 19 countries: Austria, Czech Republic, Denmark, Estonia, Finland, France, Germany, Israel, Italy, Latvia, Lithuania, the Netherlands, Norway, Poland, Slovenia, Spain, Sweden, Switzerland, and Ukraine.
For further information, visit also www.munich2022.com.