2022
German stakeholders hail great success of multi-sport European Championships Munich 2022 on publication of final sustainability report
The European Championships Munich 2022 local organisers have published their final sustainability report, with all German stakeholders united in hailing the great success of the new generation multi-sport event's environmental, social, and economic sustainability initiatives and impact. The report highlights that during the event the City of Munich achieved an advertising value of €486 million* through visibility in media throughout Europe and local added value of €122 million**, while the German economy achieved a total turnover of €349 million***.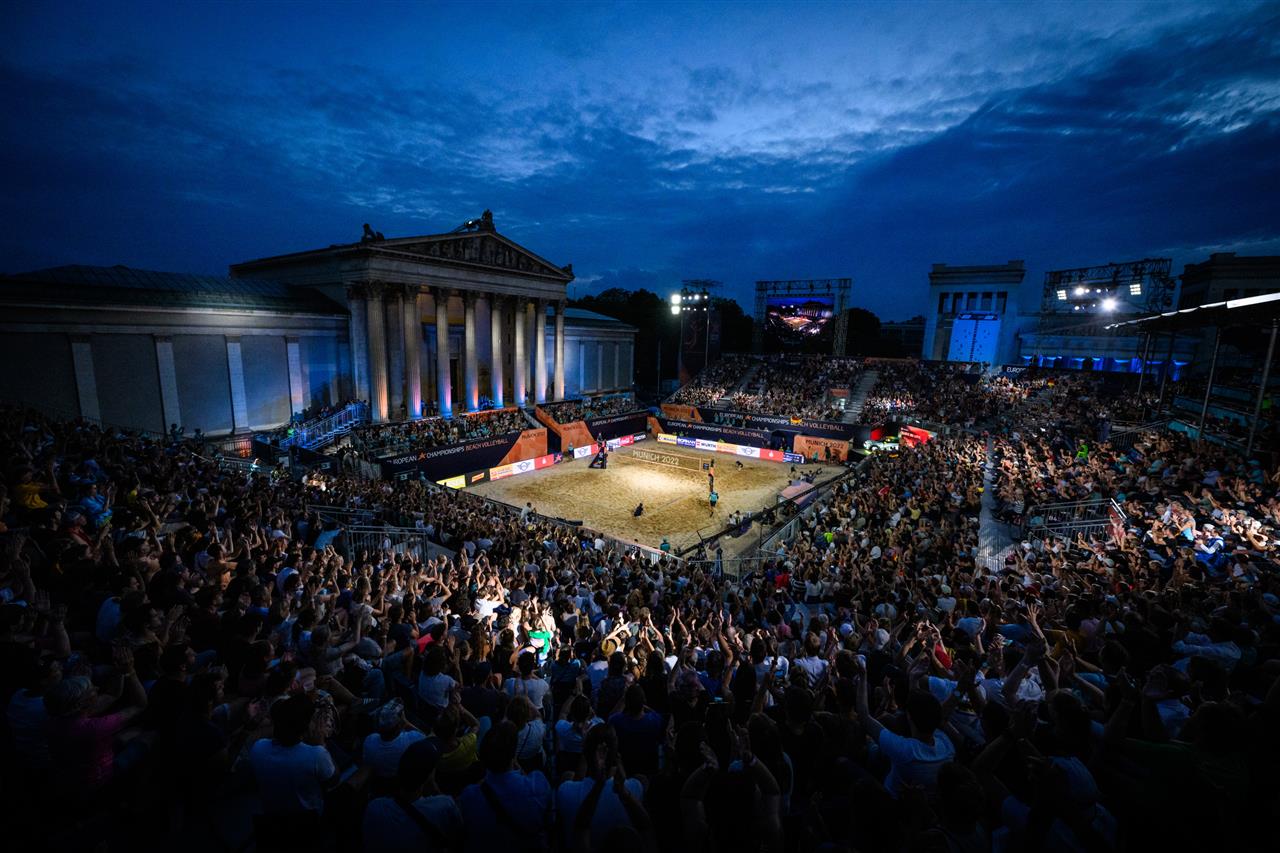 Beach Volleyball accounted for one of the major highlights at the European Championships Munich 2022
The advertising value was based on media coverage analysis by IRIS across TV, print, online and social media, including 3,200 hours of broadcasting time across 129 channels in 34 European countries with a cumulative reach of 1.19 billion TV viewers. There was also a cumulative reach of 1.69 billion in print media, 1.46 billion in online media, and 1.04 billion on social media.
Of the total €349 million turnover, summing up all the economic effects of the local organisers, spectators, other visitors as well as other relevant economic actors, about 68% was attributed to Bavaria and 32% to the rest of Germany. The organisers reported that these outstanding numbers show that their sustainable approach has created long-term effects at economic, environmental, and social levels, and with sustainability a core value in the planning and implementation of the European Championships, the Munich 2022 strategy has proven to be a model for future multi-sport events. The following facts and figures were highlighted in the report:
• 0% use of new buildings, 2% use of temporary buildings, 1% renovated areas, 97% existing sports infrastructure used.
• Over 83,000 children and young people set in motion as part of the Future Class of 22 initiative before and during Munich 2022.
• 4,000 participants completed the Munich 2022 sports badge during the event, in which sporting challenges had to be mastered in all nine sports.
• About 5,000 kg of banners and flag fabrics could be reused.
• Over 120 hours of inclusive services were provided (all medal decisions with audio description, inductive listening systems, sign language interpreting).
• 95.8% of the visitors with disabilities were (very) satisfied with the event experience.
• More than 500,000 PET bottles were saved by installing water dispensers and issuing reusable drinking bottles.
• Climate neutrality was achieved by offsetting the event-related CO2 footprint of 8,699.84 t CO₂.
• 10,962 climate protection contributions were made when buying a ticket.
The commitment of the European Championships Munich 2022 on this topic was recognised on 31 May with an award for sustainability in sport at the SPOBIS Conference 2023, Europe's largest sports business event. In the "Venue & Event" category, Munich 2022 was chosen as the winner for its outstanding sustainability initiatives.
Marion Schöne, Managing Director, Olympiapark Munich GmbH, said: "We are proud that we have managed to comprehensively integrate sustainable aspects, enable social participation, and raise awareness of environmental issues at a sporting event of this size and within budget. We have set ourselves this task and are certain that by hosting the European Championships Munich 2022 we have made a contribution to a more sustainable future for major sporting events. We are particularly pleased that this commitment has now also been recognized with the SPOBIS Award for Sustainability in Sport."
Nancy Faser, Federal Minister of the Interior and Homeland, said: "With the European Championships 2022 in Munich, Germany has presented itself as an excellent host of sustainable major sporting events. The event was an important milestone in the national strategy for major sporting events and is a model for the many future major sporting events in Germany as a sporting nation. The European Championships 2022 have shown that we are on the right track to establish Germany as a leading location for sustainable major sporting events."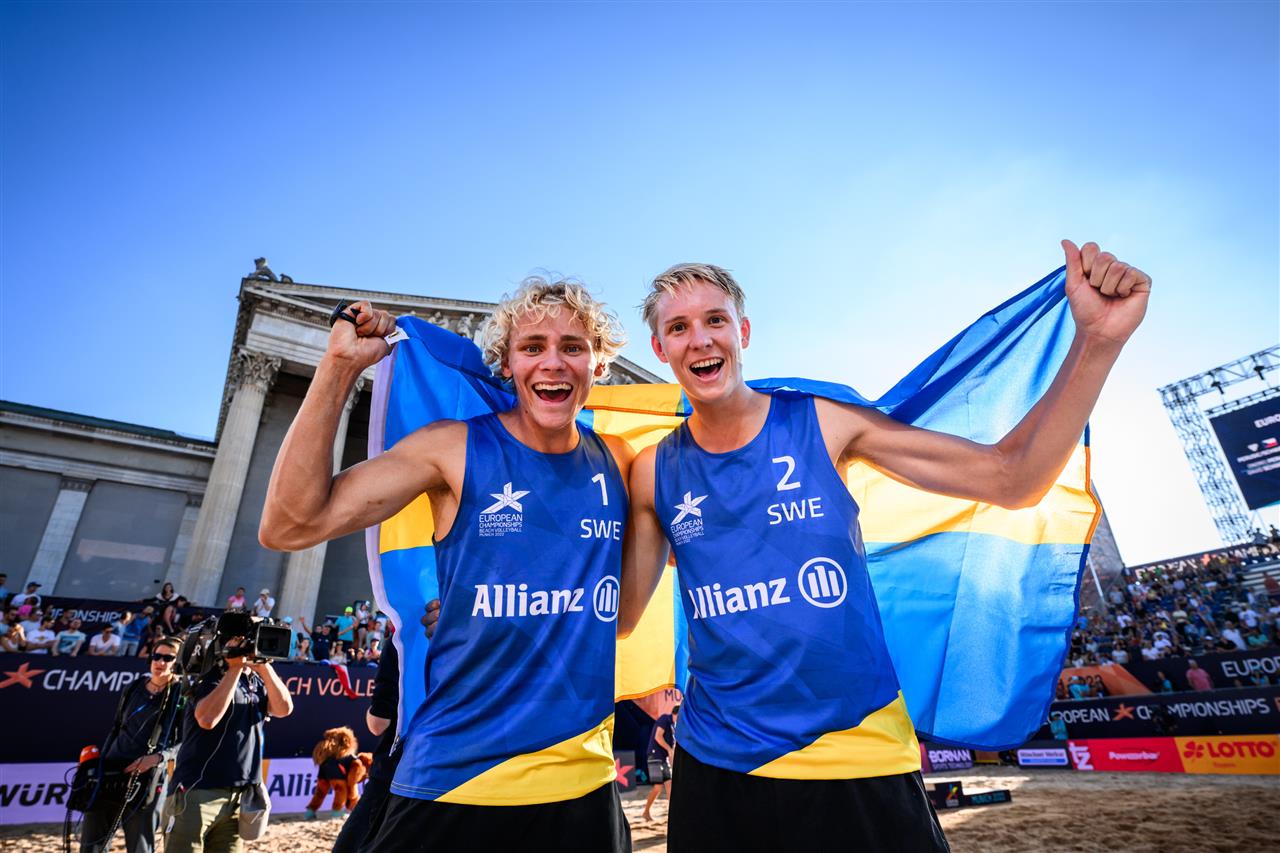 Sweden's David Åhman/Jonatan Hellvig were the sensational winners of the men's competition held at the iconic Königsplatz
Joachim Herrmann, Bavarian Minister of State for the Interior, for Sport and Integration, said: "The largest multi-sports event in Munich since the 1972 Olympics has lived up to expectations in every respect. The old Olympic sports venues shone in new splendour and the European Championships set exemplary standards with the topic of sustainability."
Dieter Reiter, Mayor of the City of Munich, said: "The European Championships Munich 2022 were a great success for the city of Munich. The topic of sustainability played a major role at the event and made a significant contribution to the fact that the event will remain in the hearts of Munich residents for a long time to come."
Paul Bristow and Marc Joerg of European Championships Management Sàrl (ECM), said: "As Munich has shown to great effect, hosting the multi-sport European Championships can significantly contribute to a city or a region's sustainability objectives. In embracing the hosting opportunity of such a cost-efficient, sustainable, and accessible event, a city or region can raise its profile globally, while engaging and empowering citizens, visitors, businesses, community organisations, and strategic partners."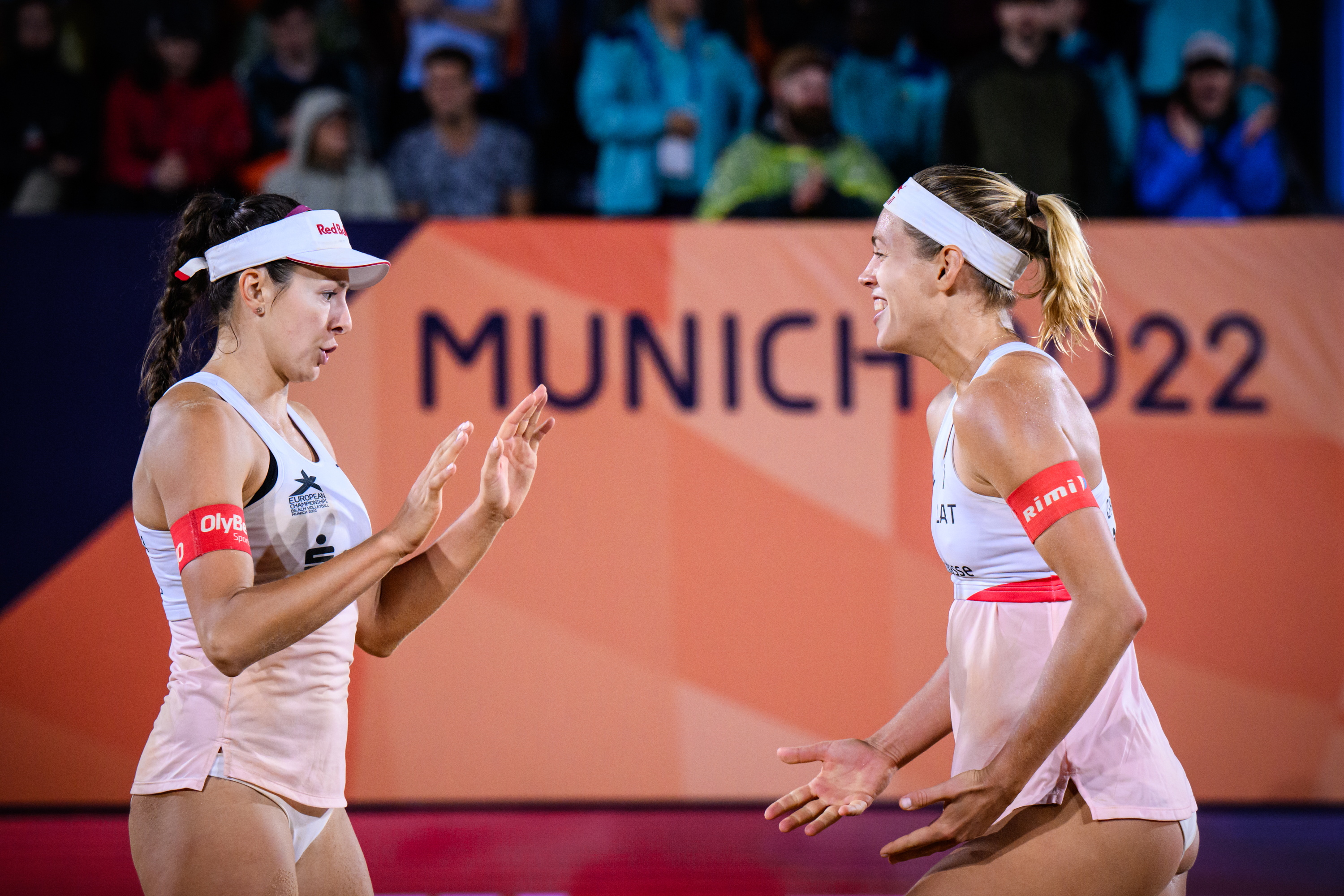 In Munich, Latvia's Tina Graudina and Anastasija Kravcenoka crowned themselves European champions for a second time after triumphing in Moscow back in 2019
About the European Championships Munich 2022
The European Championships Munich 2022, the largest multi-sport event in Germany since the Olympic Games in 1972, brought together the existing European championships of nine Olympic sports, including Beach Volleyball, and The Roofs Festival through 11-21 August 2022.
More than 4,000 athletes from 50 nations took part in athletics, beach volleyball, canoe sprint, cycling, gymnastics, rowing, sport climbing, table tennis, and triathlon. After 175 medal decisions, Germany took first place in the medal table and was awarded the European Championships Trophy. Sweden's David Åhman/Jonatan Hellvig and Latvia's Tina Graudina/Anastasija Samoilova (Kravcenoka) claimed the Beach Volleyball titles.
The date for the third edition of the European Championships in 2026 has been set for the period from 30 July to 9 August. The process of selecting host cities for future editions of the event is coordinated by ECM.
*Source: Department for Labour and Economics of the City of Munich
**Source: Intelligent Research in Sponsoring GmbH
***Source: EBP Schweiz AG