2021
Fans to enjoy top-quality matches right from pool stage of #EuroBeachVolley
Beach Volleyball fans from across the globe can look forward to enjoying exciting matches already in the pool stage of this year's CEV EuroBeachVolley in Vienna. Thursday's Drawing of Lots held at the iconic Vienna City Hall provided the scenario for the pool stage of the tournament – with top teams from across Europe due to lock horns already in the early stages of the competition.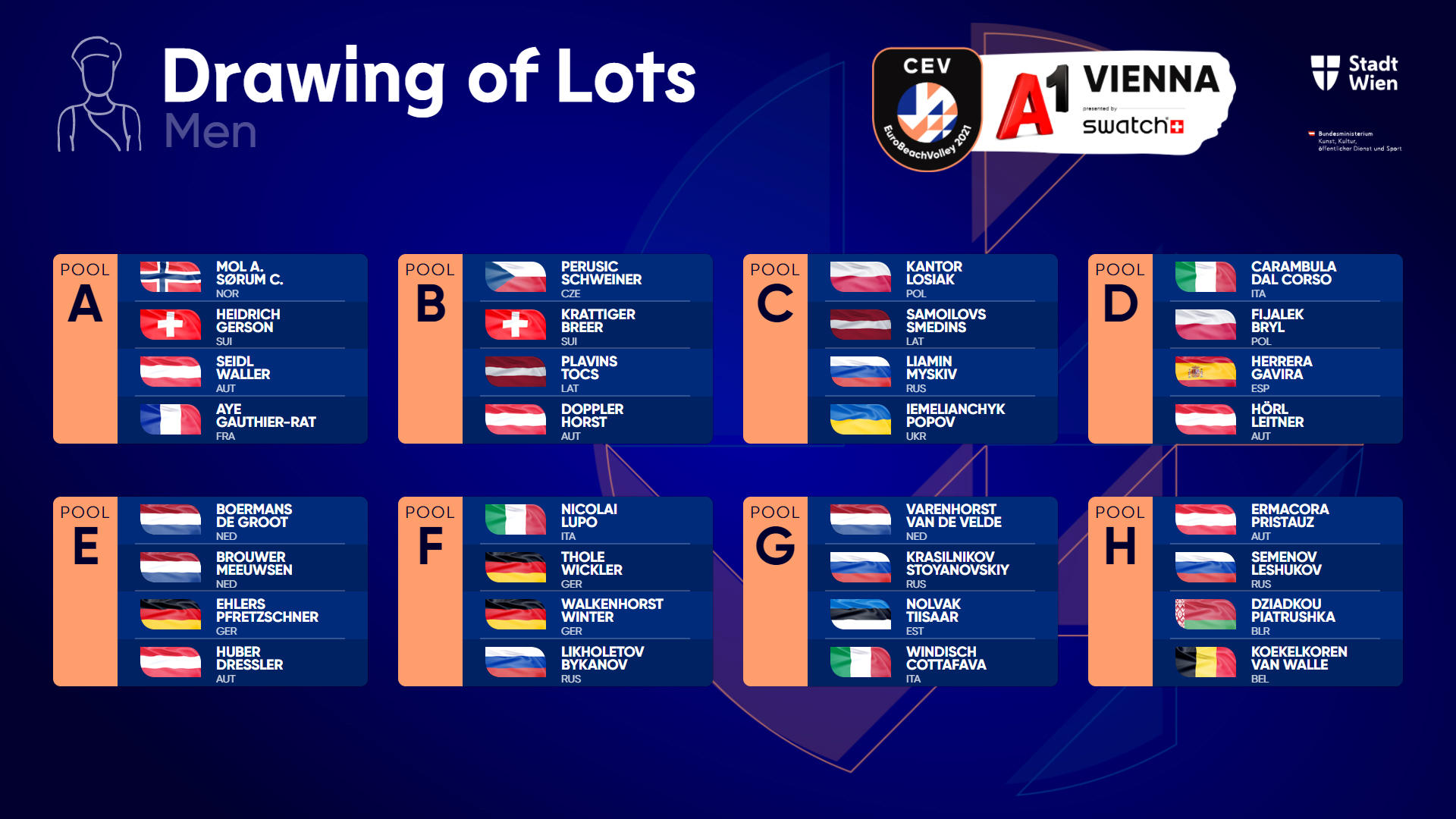 The composition of the groups in the men's tournament
"This year, the continental showpiece event will be taking place only a few days after the end of the postponed Tokyo 2020 Olympics. This adds even more flavour and an extra aura to the 2021 edition of EuroBeachVolley! It will be once again show time in Vienna with the very best athletes in Europe looking for revenge or trying to cement their status of kings and queens of the beach even further! "
Aleksandar Boričić
CEV President
With CEV President Aleksandar Boričić among a number of illustrious guests in attendance, the DOL defined the pool the 32 teams per gender will be featuring in when the competition gets underway on August 11 and 12 for women and men, respectively.
Three-time European champions Anders Mol/Christian Sørum of Norway will begin the quest for what would be a historic fourth straight crown in a group featuring, among others, Switzerland's Adrian Heidrich and Mirco Gerson, who recently qualified for the Tokyo 2020 Olympics through the CEV Continental Cup Final. Last year's EuroBeachVolley silver medal winners and reigning world champions Oleg Stoyanovskiy and Viacheslav Krasilnikov of Russia will have among their pool opponents Dutchmen Christiaan Varenhorst and Steven van de Velde.
Pool B has a lot of quality with Czech Republic's Ondrej Perusic and David Schweiner, the most consistent European team on the FIVB World Tour this year, Switzerland's up-and-coming Marco Krattiger and Florian Breer, Latvia's Olympians Martins Plavins/Edgars Tocs and Austrian home heroes Clemens Doppler and Alexander Horst. Other fixtures that fans can already look forward to include those featuring Italy's three-time EuroBeachVolley winners Paolo Nicolai/Daniele Lupo and Germany's Julius Thole/Clemens Wickler in Pool F – and Poland's Bartosz Losiak/Piotr Kantor against Latvia's Aleksandrs Samoilovs and Janis Smedins in Pool C.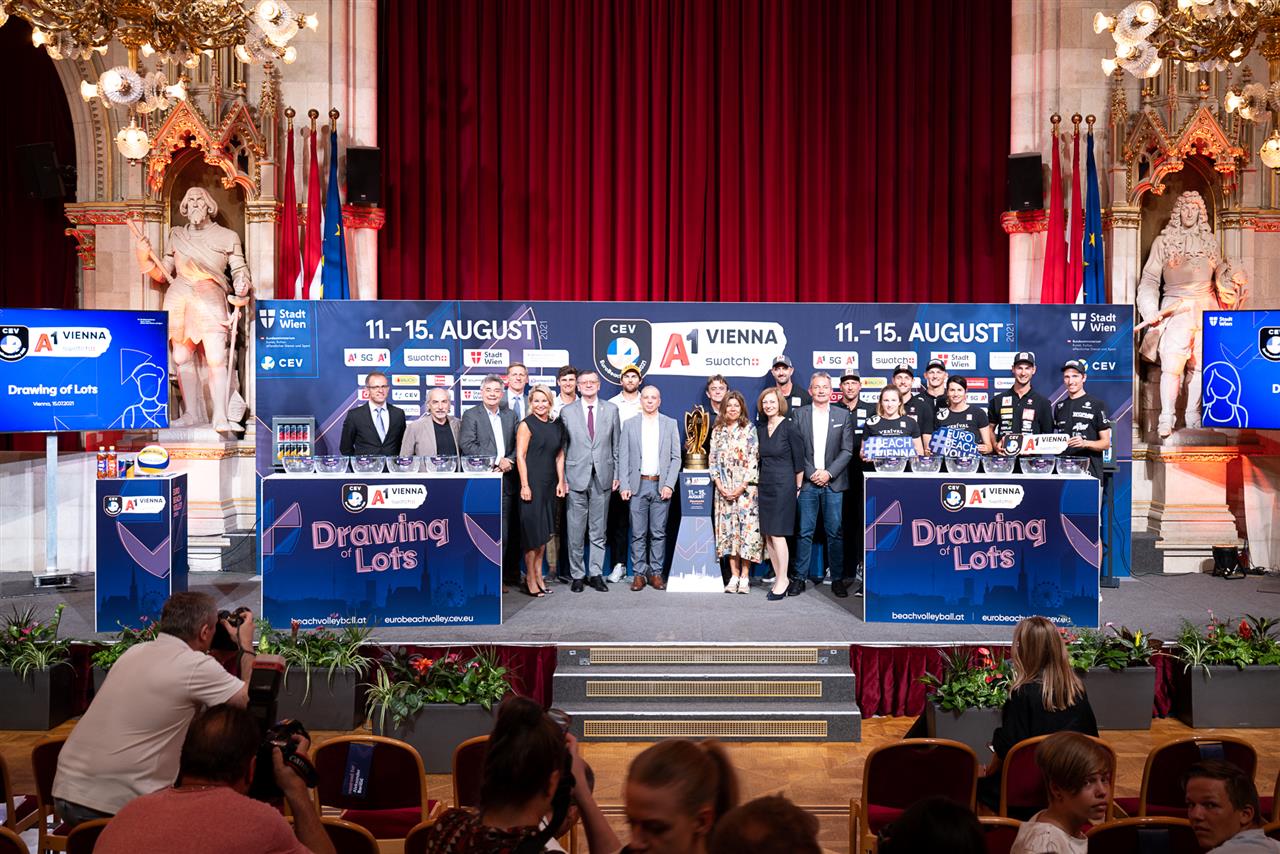 A group picture with VIPs, guests and players after the DOL held at Vienna City Hall
In the women's competition, Pool C is where you can probably find the highest concentration of quality. Four-time European champion Laura Ludwig and current partner Margareta Kozuch will play Switzerland's Tanja Hüberli/Nina Betschart, the top European team on the world ranking, as well as Russian prodigies Maria Voronina/Mariia Bocharova, who have secured an almost endless array of medals and titles at international age-group competitions.
Pool D will feature a remake of the 2019 gold medal match in Moscow – where Latvia's Anastasija Kravcenoka/Tina Graudina beat Kinga Wojtasik/Katarzyna Kociolek of Poland. Another mouth-watering matchup will pick Czech Republic's Barbora Hermannova/Marketa Slukova of the Czech Republic versus Karla Borger/Julia Sude of Germany in Pool E.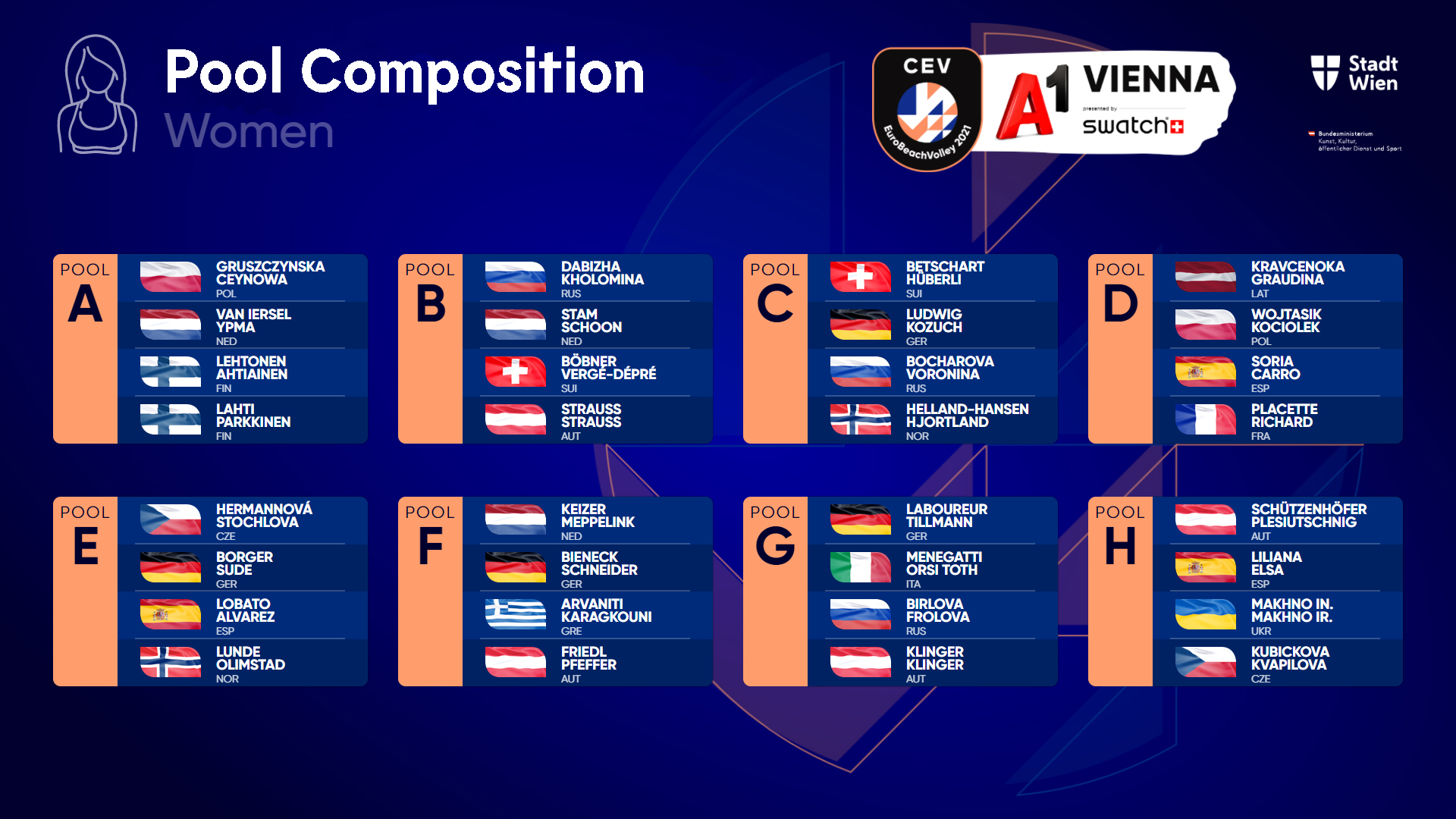 The full results of the DOL for the women's competition
The event in Austria's capital will account for the Beach Volleyball party of the year and provide European teams with an opportunity for immediate revenge or a chance to cement their status even further shortly after completion of the Tokyo 2020 Olympics.
For further information, visit the official event website https://eurobeachvolley.cev.eu.