Moscow, Russia, August 8, 2019. The pool phase of the Men's #EuroBeachVolley 2019 has ended on Thursday and the competition is about the reach its most interesting part – the direct eliminations, starting on Friday.  All of the teams, leaders of the eight pools, leave this stage of the competition with no loss, raising the expectations for outstanding play-offs phase where Beach Volleyball fans could enjoy world-class battles. As per formula of the tournament, the pool winners go directly to Round 2, while the second and third placed will have to first pass through Round 1. 

The Norwegian Duo Anders Berntsen Mol and Christian Sandlie Sørum topped the charts in Pool A after the dropping off of Latvia's Martins Plavins/Edgars Tocs due to an injury as no match was played. However, the Latvian players finish on third place in the pool and proceed ahead, meaning that they will have to further decide if to play their match or not. 
Almost the same scenario unfolded in Pool B as Adrian Heidrich/ Mirco Gerson (SUI) finish on third place after dropping off due to injury. They are still to evaluate their participation in the next Round.  
Aleksandrs Samoilovs/Janis Smedins in a battle for the leaders' position in the group. Supported by home crowds, the Russian tandem managed to take this win at 2-0 (21-17, 21- 18) and to collect three victories out of three matches.
Ilya Leshukov (RUS) in action
Konstantin Semenov stated after the game that on Thursday he and his teammate played well in reception and this helped them a lot to maintain the control of the game and to calmly finish the match.
Leshukov added that they are very happy to win and are looking forward to a little bit of relax and the result of the draw.
To the delight of the Russian supporters in Luzhniki Complex, Nikita Liamin/Taras Myskiv claimed their third consecutive victory in Pool D, this time at 2-0 (21-18, 21-18) over Grzegorz Fijalek/Michal Bryl from Poland and with this result continue directly in Round 2 of the competition.
The super clash for the first position between Paolo Nicolai/ Daniele Lupo (ITA) and Alexander Brouwer/Robert Meeuwsen (NED) was the highlight in Pool E. Both teams were determined to show their best and did so by delivering a great point-for-point two sets match, that eventually was won by the Dutch players (23-21, 21-18). 
"How did we win? We scored more points than the Italians. It was a difficult first set, we were behind but we loved how we kept the energy going and played like we wanted. The good serve today made the difference", the happy winners shared to us.
In Pool F the Spaniards Pablo Herrera/ Adrián Gavira finish the pool stage on first place after beating 2-0 (21-16, 21-16) the Italians Adrian Carambula/ Enrico Rossi.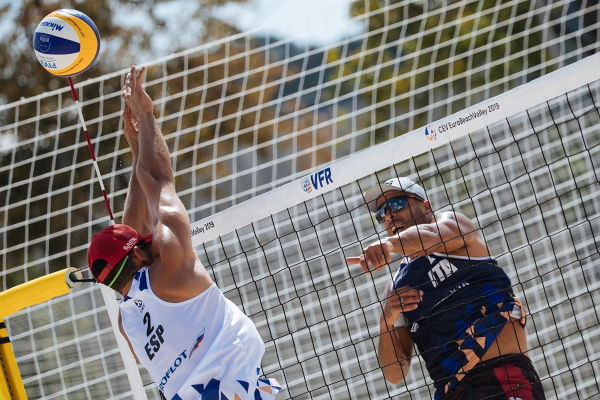 Adrián Gavira (ESP) vs. Adrian Carambula
"The match against the Italians was a complicated one. Adrian is a player who makes it very difficult also with his service, Mr.Skyball, we all know. We were good in the side-out and put some pressure on them and I think it went well for us"
Pablo Herrera
In the other match of the Pool, the Swiss team of  Nico Beeler/Marco Krattiger disappointed the Russian Hudyakov/Velichko after a difficult match, with both teams changing the leadership constantly. Eventually Beeler and Krattiger won at 2-1 (21-18, 18-21, 15-13), thus leaving the Russian players out of the competition. 
"I think we just have to play our game. However, at some point on Thursday we played really bad. We need to keep on playing, ball by ball. Today it was a victory, yesterday too, the first day – a loss, but I think we need to continue following our way. We finish second in our group, it doesn't matter which opponent we will play. We just need to play good."
Nico Beeler
Ondrej Perusic and David Schweiner (CZE) did their job right on the last day of pools' play in their Pool G, seizing a 2-1 (21-19, 19-21, 16-14) win over Piotr Kantor/ Bartosz Losiac (POL) and securing the first position in the group. The Polish finish therefore third, while Martin Ermacora/Moritz Pristauz (AUT) have 2 wins out of 3 matches and are on second position.
Only one match took place in Pool H on Thursday with Julius Thole/Clemens Wickler (GER) finishing their successful campaign in the group with 3 out of 3 wins, this time around outclassing Koekelkoren/van Waller (BEL) 2-0 (21-16, 21-17).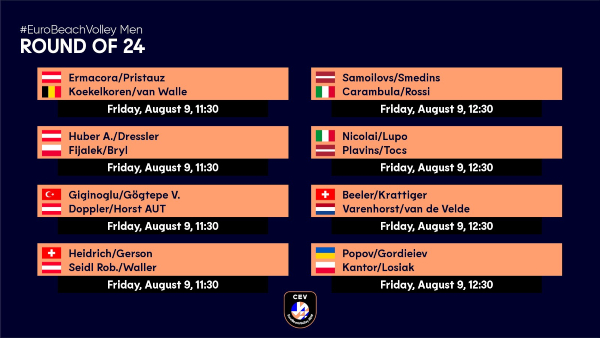 The draw of the elimination round is promising a lot of intriguing matches and top teams meeting in early stages of the play-off. In the round of 24 Murat Giginoglu/Volkan Gögtepe (TUR) will meet their old friends from Clemens Doppler/Alex Horst (AUT) – the teams have met on five occasions over the last years and only once the Turkish side managed to overcome their Austrian opponents. Two Latvian-Italian match-ups are scheduled as Nicolai/Lupo will fight Plavins/Tocs and Carambula/Rossi will measure strength with Samoilovs/Smedins.