2021
Betschart & Hüberli retain European title for Switzerland
The Swiss took gold in Vienna three years after settling for silver
Switzerland remains at the top of Europe when it comes to women's beach volleyball as Nina Betschart and Tanja Hüberli won the A1 CEV EuroBeachVolley Vienna 2021 presented by Swatch on Saturday, retaining the trophy for their country.
To take gold in Vienna, the 25-year-old Betschart and the 28-year-old Hüberli topped Dutch rising stars Raisa Schoon and Katja Stam in straight sets (21-15, 21-12) in Saturday's final at the Red Bull Beach Arena. The Swiss were back in an EuroBeachVolley gold medal match for the first time since 2018, when they took silver.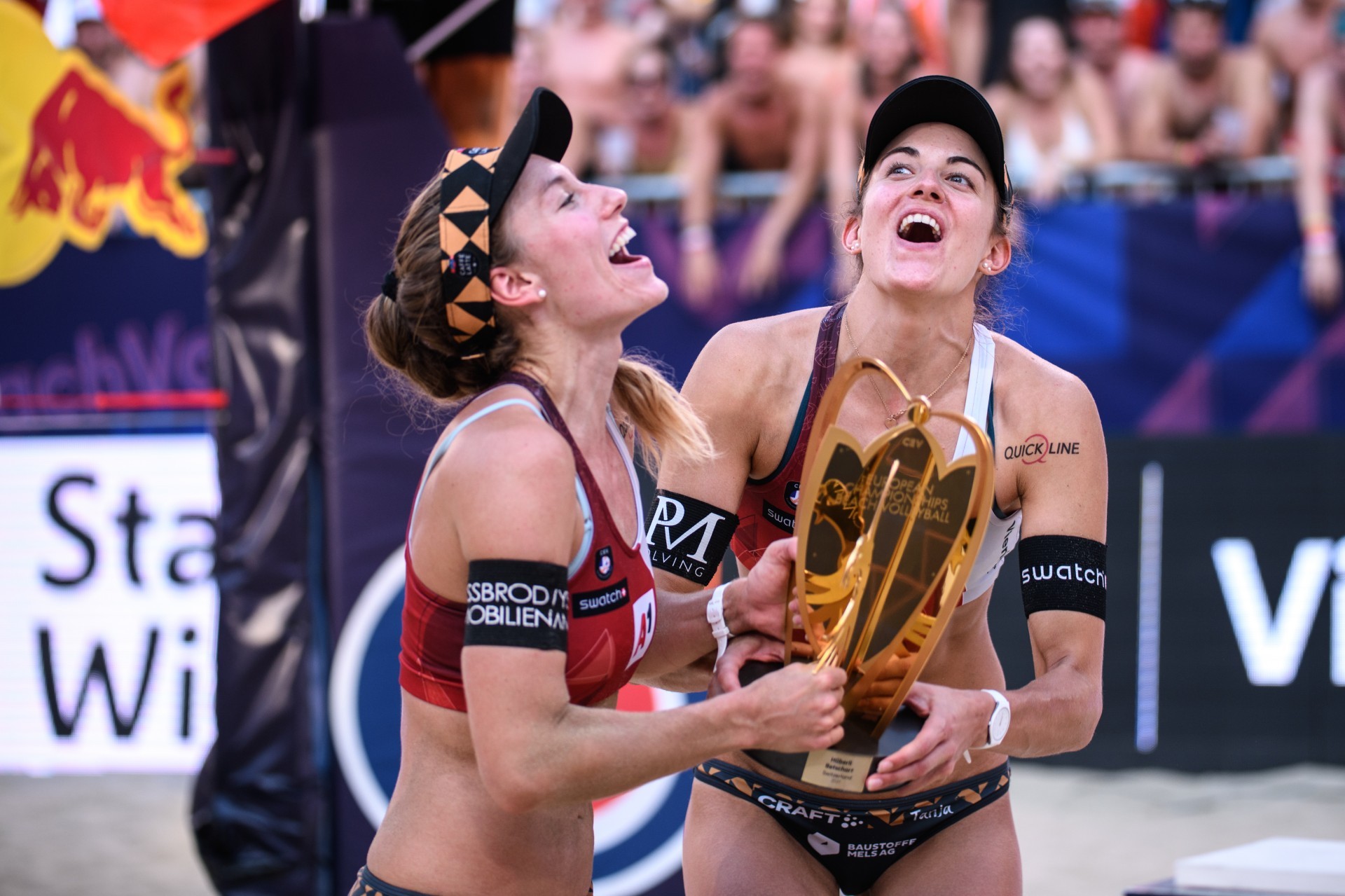 "We're so excited to be European champions. The Dutch are a great team but they aren't as experienced and maybe that played a factor in the final as we had been there before. We showed some really good beach volleyball this week and it was fantastic to play in front of such a special crowd again, it certainly gave us a lot of energy."
Nina Betschart
Defender for Switzerland
The victory of the Tokyo Olympians follows the one of fellow Swiss Joana Heidrich and Anouk Vergé-Dépré in 2020 and represents just the third occasion in which a country wins back-to-back editions of the EuroBeachVolley with different teams – Germany starred the other two, in 1994-1995 and 2016-2017.
Betschart and Hüberli's triumph was the third of a Swiss team – besides Heidrich/Vergé-Dépré, Simone Kuhn and Nicole Schnyder-Benoit also won the tournament in 2004. It was also Switzerland's seventh medal among the women (three gold, three silver and one bronze), the fifth-most in the continent.
Their victory also carried some weight to head coach Christoph Dieckmann, who won the EuroBeachVolley as a player in 2006 and returned to the top of the podium with the Swiss duo.
"We're thrilled to be European champions. The win by itself is something great, but to do it here, in Vienna, with this fantastic atmosphere, it's just so special. We didn't do well in the Olympics and wanted to put it behind us and there was no better way to do it. Our entire team really wanted to win this tournament and we need to thank them for believing in us and working so hard over the last five years. I'm so glad our dream came true."
Tanja Hüberli
Blocker for Switzerland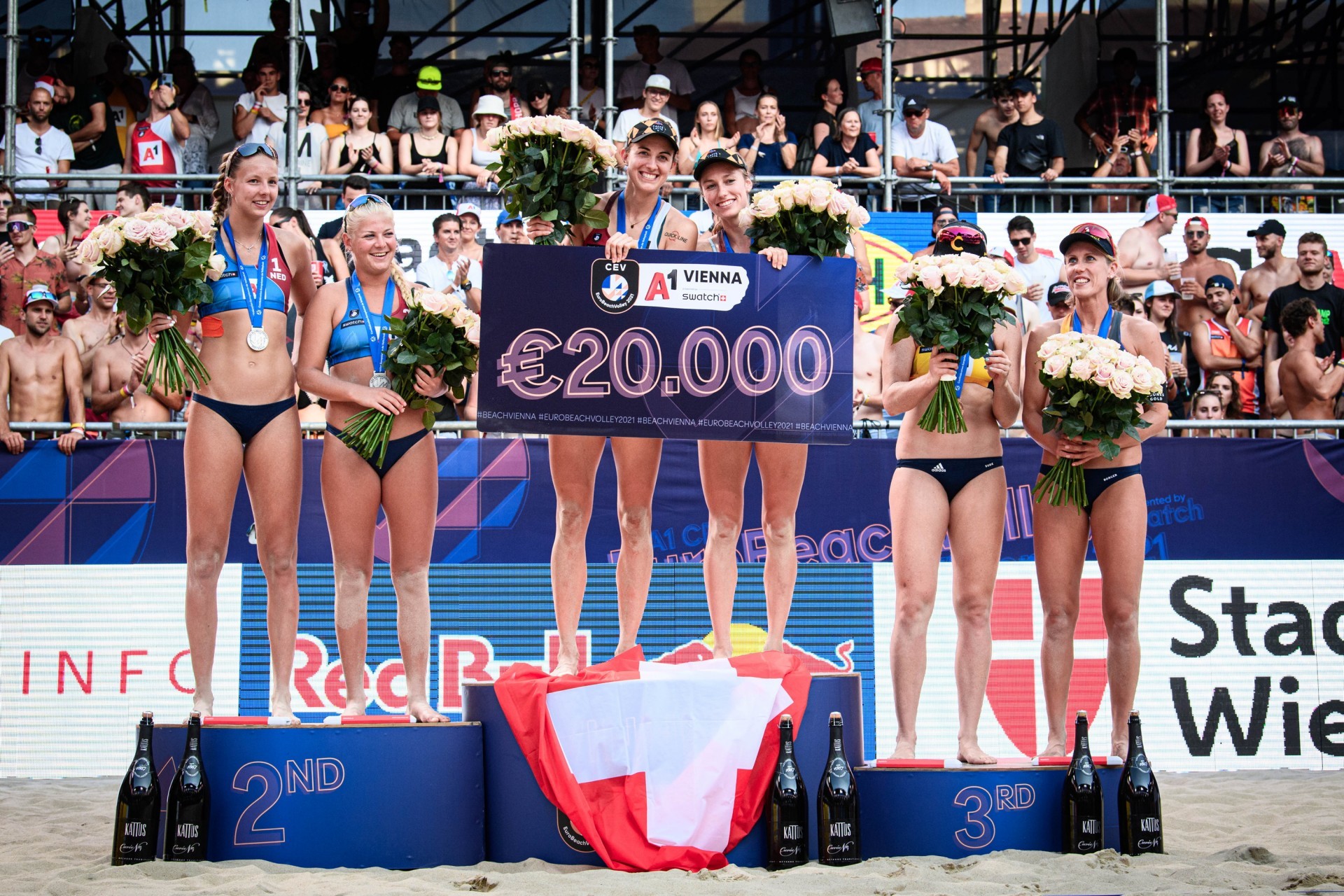 For the 19-year-old Schoon and the 22-year-old Stam, who were on the verge of becoming the youngest EuroBeachVolley champions in history, the pride of making it to the final makes up for the frustration of not taking gold in Vienna.
"I couldn't imagine we'd be here today, especially after losing our first match on Wednesday, but we made progress every day and deserved to be here. It feels bad now, and even more because I couldn't give all I wanted in the final, but I know I'll be really proud of it very soon. The way we fought in every match was incredible and that's the most important thing we take from this tournament."
Katja Stam
Blocker for The Netherlands